Have you just retired from your job or looking for a new place to settle down? San Diego County has several neighborhoods best suited for retirees near the beach, the suburbs, and urban areas that you can find the perfect place to call home.
Each neighborhood has its own unique set of amenities and features that make it perfect for retirees along with quick access to healthcare.
Each one of these neighborhoods will offer sunshine year-round to live an active lifestyle, but there is much more to that!
We all know that staying active comes with healthy eating. There are numerous breakfast, lunch, and dinner options in San Diego County with not only views of the beach but also healthy options to select from the menu.
Whether you are looking for a quiet neighborhood with plenty of nature trails, or a vibrant cityscape full of culture and activity, we have got you covered!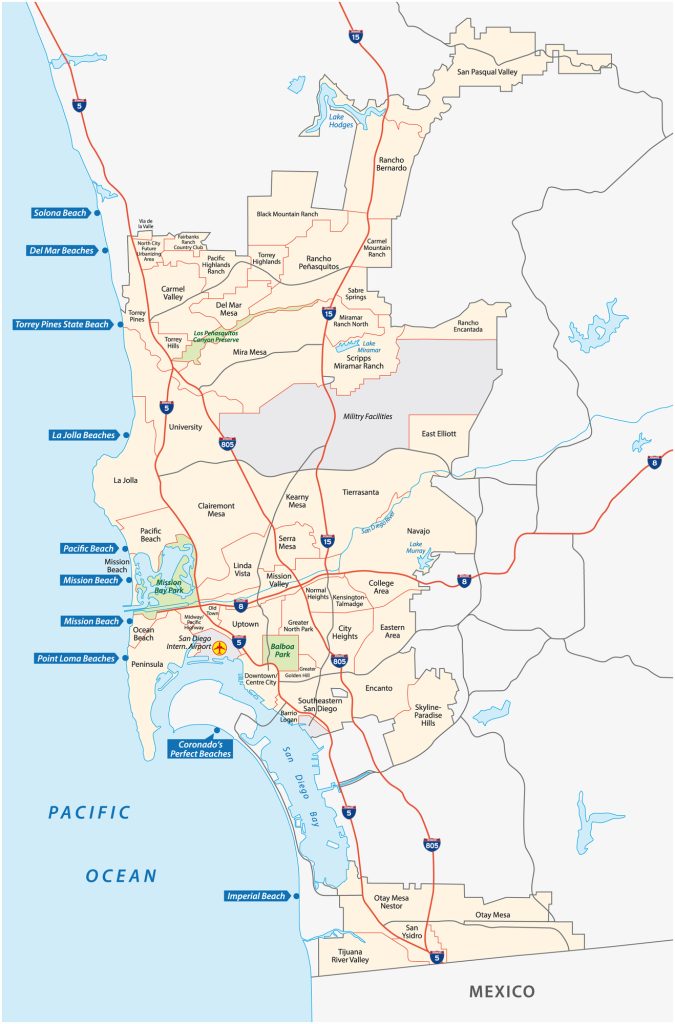 What Makes for the Best Neighborhood for Retirees?
The best neighborhoods for retirees in San Diego County are those that offer a combination of affordability, safety, and convenience. This is not always easy to find but there are some key factors we will consider when selecting our top three picks:
Cost of Living – While it may seem obvious that living near the ocean would be paradise, you may want to investigate the price that it comes with. Most of California can present a hefty price tag.
Renting a home can give you a sense of the area and prevent you from making a costly mistake and committing to purchasing your dream home.
Buying a house on the beach may sound like paradise. However, after you've seen how difficult it is to find parking, how busy the area becomes during peak season, and how young the crowd is, you may reconsider—and be thankful that you didn't buy so close to the coastline.
You will want to ask yourself, does the quality of life offered in San Diego outweigh the high cost of living?
Safety – This one is pretty self-explanatory! If you don't feel safe in your neighborhood, it won't matter how nice the homes are or how much money they save by having lower property taxes than others nearby with comparable amenities. Despite the recent rise, San Diego is still one of the safest metros in the country, with violent crime still well below its peak decades ago.
Always consider crime rates before buying any home anywhere and always keep them at least half a mile away from schools (in most cases). It also helps to be near police stations if possible since their presence can deter criminals too! You'll want to check out our article on Safest Neighborhoods in San Diego County for the crime statistics.
Convenience – Another important consideration when choosing where to retire is convenience factors like proximity of stores for groceries/supplies; public transportation routes; walking trails/bike paths close by that allow easy access into town without driving; and whether the neighborhood is age-friendly. This means that there are sidewalks, crosswalks, and other features in place to make getting around without assistance easy for those who may need it.
So now that we know what to look for, let's look at some of the best neighborhoods for retirees in San Diego County!
List of Neighborhoods
Quick statistics:
Area Feel: Urban suburban mix
Population: 48,467
Median Home Value: $905,103
Median Rent: $1,980
Pacific Beach is one of our favorite beach towns in all of Southern California! This town is worth checking out if you're more of a night owl and enjoy being out and about. It has a lively nightlife scene with plenty of bars and world-class restaurants to keep you busy.
It also boasts one of the lowest costs of living on this list thanks to its abundance of rentals as opposed to owned properties.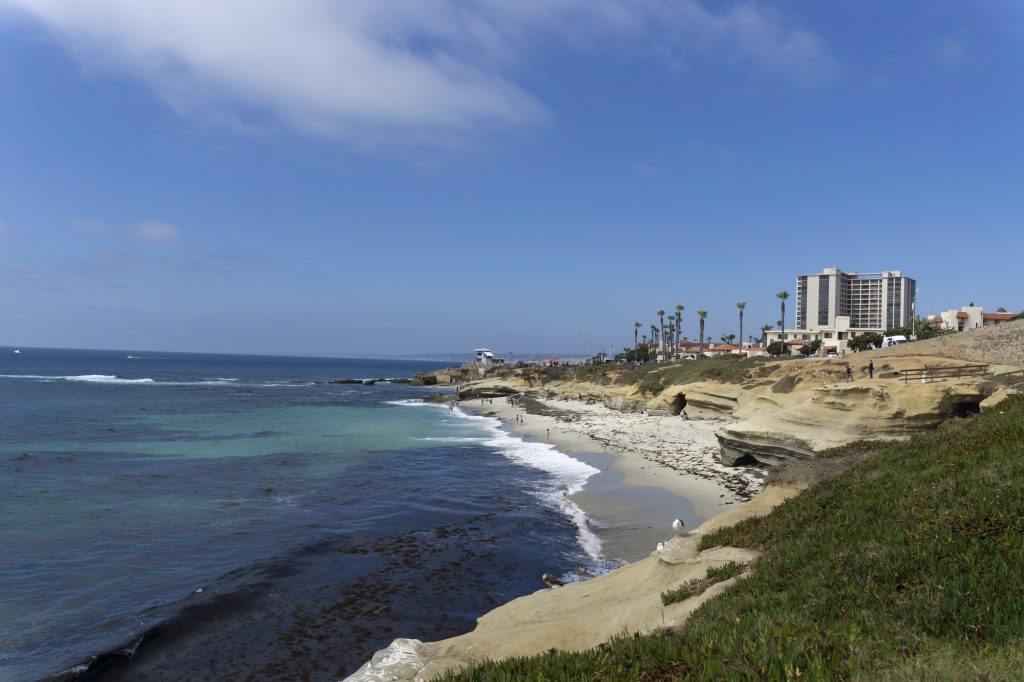 Quick statistics:
Area Feel: Urban suburban mix
Population: 4,331
Median Home Value: $2 million
Median Rent: $2,320
Del Mar, a picturesque seaside settlement on the California coast, completes our selection of the top San Diego neighborhoods for retirees. More than 20% of residents are age 65 and over in this picture-perfect beach city.
Luxury condominiums, Mediterranean-style dwellings, and modern houses with water views are available. Fresh local produce may be found at the year-round Del Mar Farmers Market, or you may visit the Del Mar Library Branch to discover a new book.
For nature lovers, you can hike or bike through Crest Canyon Park.
Quick statistics:
Area Feel: Urban suburban mix
Population: 13,356
Median Home Value: $1.2 million
Median Rent: $2,232
If you love shopping adventures and secluded beaches, Solana Beach would be a great fit for you!
It is most famous for its shopping, especially at Cedros Design District! There is a diverse assortment of museums and galleries, furniture shops, surfing outfitters, and other one-of-a-kind stores.
The Farmer's Market is also open every Sunday from 1:00 P.M. to 5:00 P.M.
Located on the northern coast of San Diego County, Solana Beach is a charming seaside community home to a vibrant train station that serves Amtrak and the Coaster.
Because of the numerous dead ends and kilometers of shoreline, many of the beaches in Solana Beach are not easily accessible, necessitating a long walk down a sandy trail or several flights of steps. Fletcher Cove Beach and Tide Park are two popular local hangouts.
Otherwise, if you're a golf enthusiast, you'll want to try out the conveniently located Lomas Santa Fe Country Club.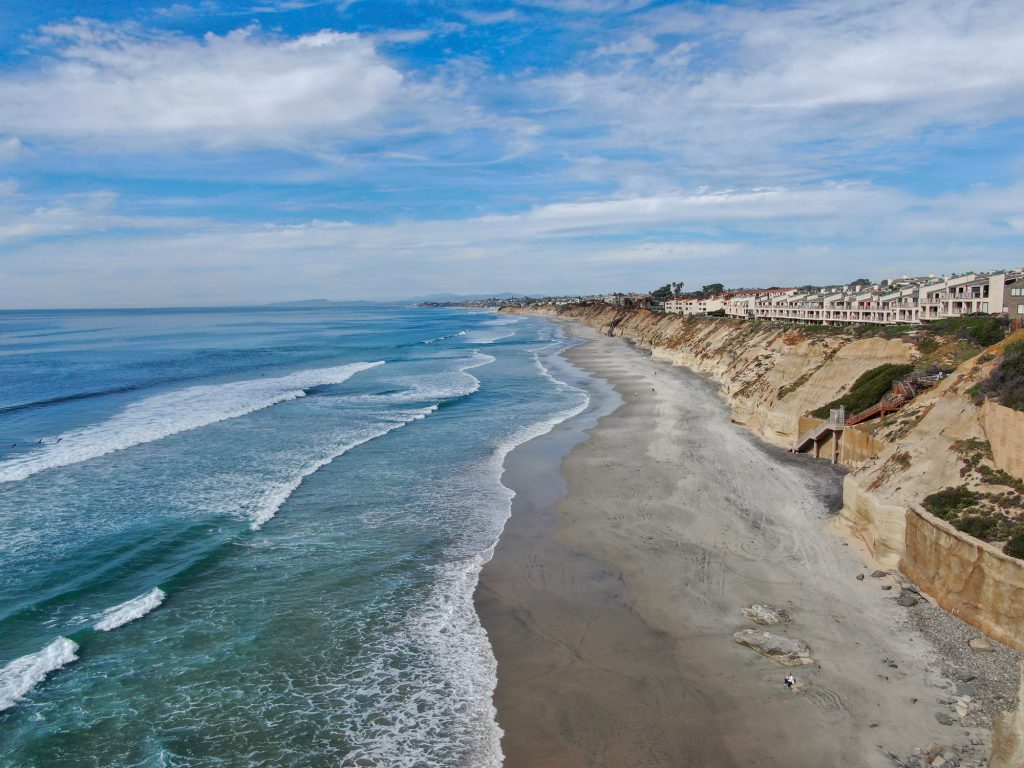 Quick statistics:
Area Feel: Urban suburban mix
Population: 62,780
Median Home Value: $947,700
Median Rent: $1,980
If you're looking for a more rural setting, Encinitas might be a good fit. This charming coastal town is known for its relaxed vibe, and it's surrounded by beautiful nature preserves and parks.
The Encinitas Ranch Golf Course is a popular spot for golfers to visit. The Encinitas Arts Festival, held each year, is an excellent opportunity to meet new neighbors and enjoy local talent.
Quick statistics:
Area Feel: Urban suburban mix
Population: 23,639
Median Home Value: $1.6 million
Median Rent: $2,479
Coronado located in San Diego is a world-famous beach town with a great atmosphere for retirees. The downtown area offers plenty of gourmet restaurants and luxury shopping, and the nearby beaches are perfect for enjoying the California coastline.
Active retirees may swim, boat, and stroll at Silver Strand State Beach or Coronado Beach while golf enthusiasts may play at the Coronado Golf Course and the Sea N Air Golf Course.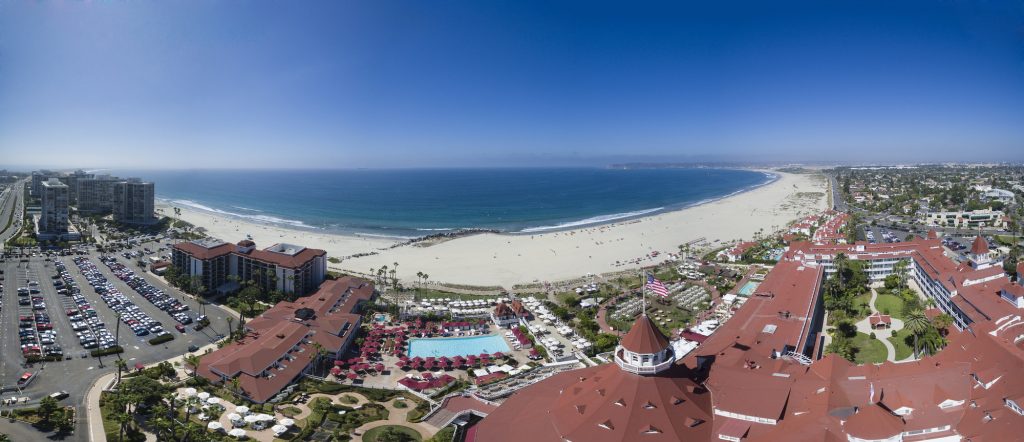 Conclusion Best Neighborhoods to Retire in San Diego County
Because of the warm, year-round weather in San Diego, many retirees choose to remain active and pursue new interests here.
Retirees can select from a variety of new and old senior living communities, fashionable condos in every part of town, and an area with a range of landscapes where the beach, mountains, and desert come together.
The city's coastal location provides retirees with plenty of opportunities to enjoy the beach lifestyle, while its small-town atmosphere makes it easy to get to know your neighbors.
Offering a wide range of activities and events that cater to seniors, this makes for the perfect place to spend your golden years!
San Diego County is full of great neighborhoods for retirees, so there's sure to be one that's perfect for you!
Other Articles you might like: