Address: 2260 Jimmy Durante Blvd, Del Mar, CA 92014
Phone: 858-755-1161
Email: hello@sdfair.com
Dates: Open from mid-June through the first week of July (closed most Mondays/Tuesdays)
Looking for something fun to do with the whole family?  The Del Mar Fairgrounds is a great place to spend a day or evening, with plenty of activities to keep everyone entertained.  The grounds feature a variety of amusement park rides, as well as plenty of food options and shopping opportunities.  From carnival rides and games to concerts and agricultural exhibits, there is something for everyone at the San Diego County Fair at the Del Mar Fairgrounds.  And don't forget the races – the fairgrounds are home to one of the most famous horse racing tracks in the country!
History of Del Mar Fairgrounds
The Del Mar Fairgrounds, located in Del Mar, California, is a 370-acre event location that hosts more than 300 annual events.
Built in 1991, the Del Mar Arena holds 3,500 seats used for sporting events, concerts, or other special events. The remodel and a roof were then added in 2009.
The Del Mar Fairgrounds features six exhibit halls and Pat O'Brien Hall is the largest seating up to 6,800.
The Del Mar Golf Center includes an 18-hole miniature golf course, a driving range, and the Golf Mart golf store. If you are looking to learn how to golf, there are private lessons, clinics, and classes.
The San Diego County Fair is held here every year since 1984 when it was known as the Del Mar Fair.
The Thoroughbred Club's founding member Bing Crosby led the effort to construct the Del Mar Racetrack in 1936.
By 1940, the Del Mar Fairgrounds was the popular go-to spot during the summer for many Hollywood stars. Due to the Second World War, the facility was closed for a couple of years.
After the war ended, attendance at these annual fairs continued growing until they reached their peak around 1975 or so when over one million people came every summer season just outside San Diego's North County area near where Interstate-15 now runs through town.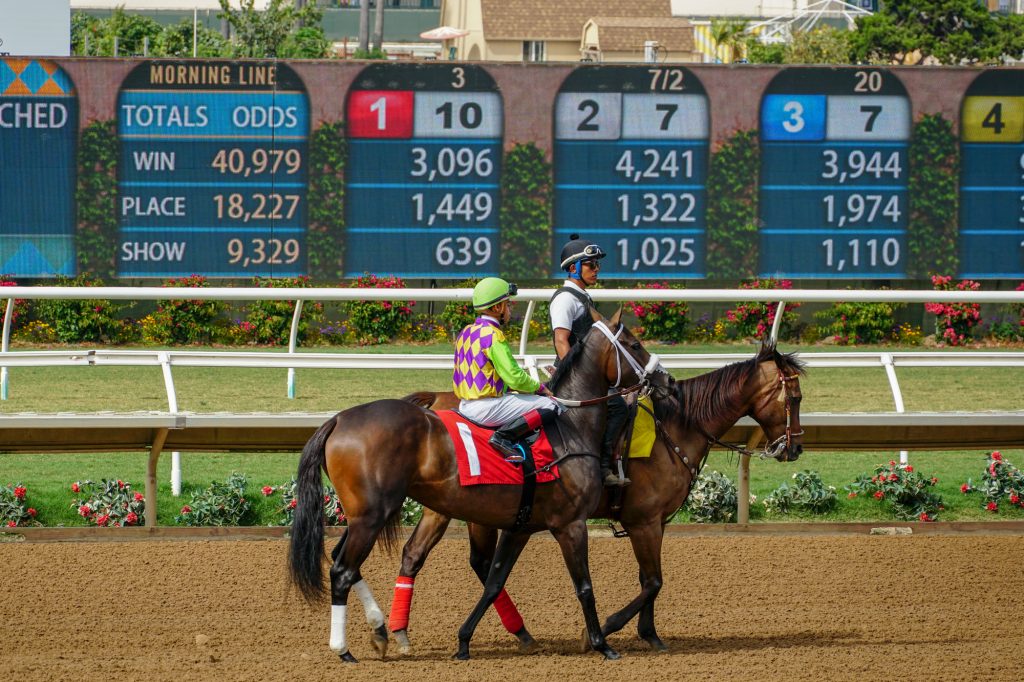 From the 1940s to 1970s, the Del Mar Fairgrounds became a huge racetrack that took bets on high stakes for horses.
Then in the 1980s, the field was opened to hold spectators and in 1984, Trevor Denman became the voice of it all.
In 1991, upon the demolition of the Del Mar Fairgrounds, the track held a huge race, Grade I Pacific Classic Stakes.
Beginning in 2000, there was a switch from races to fashion, changing the demographics of their audience.
Due to the closure of Hollywood Park, Del Mar began to run more races in 2014.  The track is exactly 1 mile long with a capacity of 44,000 seats, as the second-largest horse-racing venue in the western United States.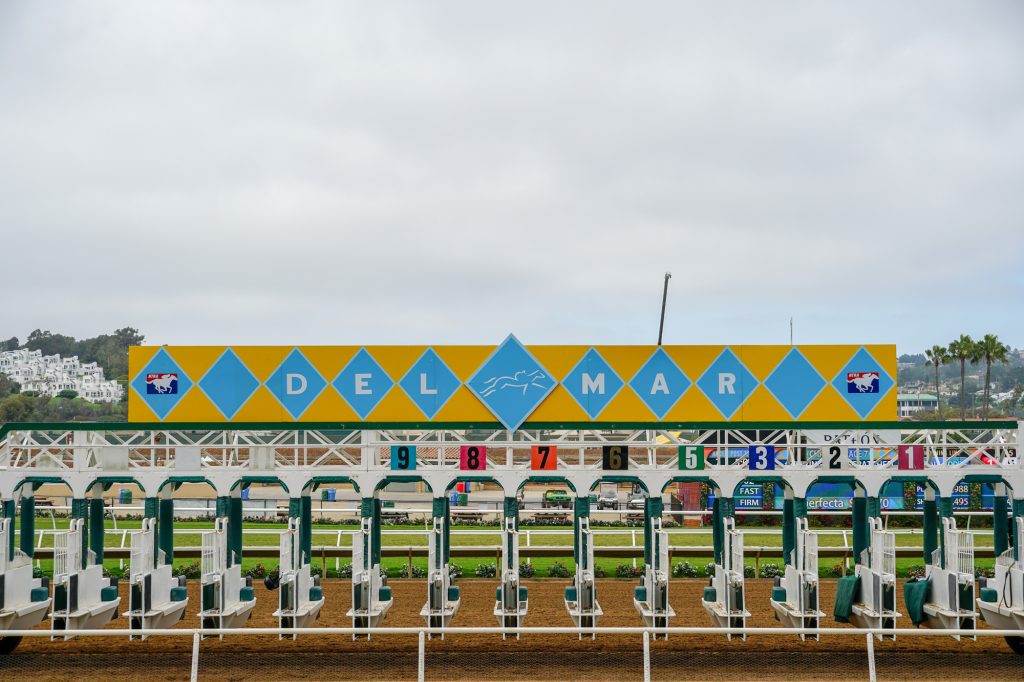 San Diego County Fair Overview
The San Diego County Fair is one of San Diego's most popular events attracting over a million visitors each year.
The San Diego Fair is a summer tradition for locals and visitors alike. There are amusement park rides, food options, and shopping opportunities available.
The amusement park has rides for all ages, from kiddie rides to thrill-seekers. The Fun Zone includes 39 exciting rides and Kiddieland has more than 40 rides for the younger kids. But be sure to check out the newest ride, The Giant Wheel!
Many games at different skills levels are located throughout the fair for all ages. Test your luck to see if you can win!
If you're looking for some excitement, check out the races. Racing season runs from July through September and there's always a great lineup of events. You can even watch the races from the comfort of your own seat with simulcast betting.
The animal exhibits include sheep, goats, pigs, cattle, poultry, rabbits, and pigeons. You can purchase food to feed the animals too.
Other exhibits feature fine art, an exhibition of photography, gems, minerals, and jewelry, home and hobby show, creative youth and best of K-6 schools, and student showcase.
There are also plenty of food options available, ranging from classic carnival fare to more upscale dining. Can you handle the deep-fried fair food?
Over 21? Make a pit stop at the San Diego International Beer Festival or the Toast of the Coast Wine Festival.
Don't forget about the music.  Live acts perform on stage each evening, so be sure to check out who's playing before you go!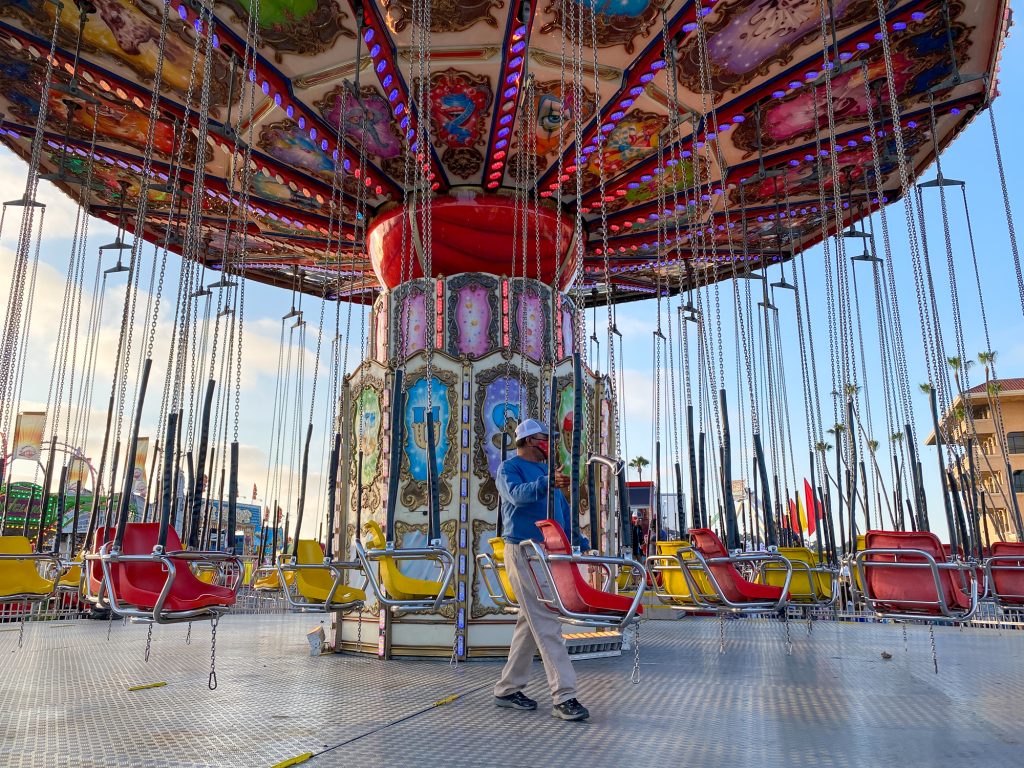 Parking and Getting to the San Diego County Fair
The Del Mar Fairgrounds charges a fee to park in their main lots during the San Diego Fair, however, there are other reduced fee options for parking at the below lots with shuttle services that will alleviate the stress of traffic and parking.
Mira Costa College San Elijo Campus: 3333 Manchester Ave, Cardiff, CA 92007
Torrey Pines High School: 3710 Del Mar Heights Road, San Diego, CA 92130
Try taking the Amtrak Pacific Surfliner or the Coaster trains if you want to avoid driving there. You can get off at the Solana Beach Station. Due to the increased traffic, there will be increased service during these events at the fairgrounds.
Disabled parking can be found at the Track, Training Track, and West Lot parking areas.
Special Notes on the San Diego County Fair
Only service dogs are allowed.
If you bring a backpack, we suggest you pack light! Be prepared for the bag to be inspected before you enter the Fairgrounds.
You may bring in food or drinks, however, the drinks but not contain alcohol and must be sealed.
We advise checking Costco for savings on ticket prices into the fair. Past deals include admission, drink coupons, parking, and ride tickets.
Conclusion for San Diego County Fair at Del Mar Fairgrounds
The San Diego County Fair is a great way to spend an afternoon or evening with friends and family. With so much going on during the day and night, this event offers something for everyone. Whether you're looking for fun rides and games or just want some good food while listening to live music in a beautiful setting, then this place has it all!