If you're new to San Diego, or if you're just looking for more information on the different transportation options available to you, read on for everything you need to know about transportation in San Diego.
We'll cover everything from public transportation to ridesharing services and beyond! We know there are pros and cons to each mode of transportation, so we will help you make an informed decision about which one is best for you.
So, whether you're a local resident or playing tourist for a few days, check out all the ways to get around town!
The Pronto Card is San Diego's public transportation system, and it consists of buses, trolleys, and the San Diego Trolley. The card can be used on all three modes of transportation, and it offers a variety of discounts depending on how often you use it.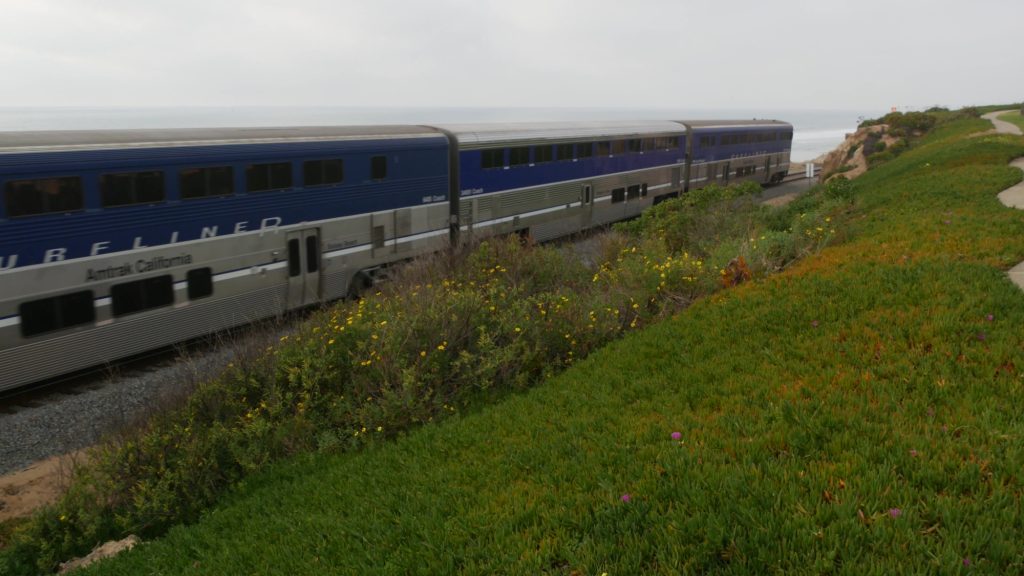 The San Diego Metropolitan Transit System (MTS) is the public transportation provider for the city of San Diego. MTS operates buses, trolleys, and a light rail system. There are many different routes that cover most of San Diego County, so there's likely a route that will get you where you need to go.
You can buy a $2 Pronto Card online at any local convenience store, or from one of the transit stations located throughout San Diego County. Once you have your card, simply add funds to it and start using it! Easily scan your Pronto card physically or via the mobile app before catching a ride.
One thing to note about MTS: their fares can vary depending on regular adults, seniors, disabled, or children's prices. However, if you're only using public transportation occasionally or during off-peak hours, then it may be worth it for you to purchase a day pass or monthly pass. For more information on fares and passes, visit the MTS website.
Day passes are no longer available or sold on buses.
Look for fare promotions offered on weekends for families or holidays where friends can ride free!
The iconic bright red trolley will transport you in and around San Diego if you're visiting the city. The San Diego Trolley runs from downtown to various places such as Old Town, Mission Valley, El Cajon, Santee, and San Ysidro on the Mexican border via downtown.
If you need to get around town quickly, the San Diego Trolley may be your best bet. It's fast, efficient, and can take you from downtown San Diego all the way out to Southeastern San Diego without too much hassle.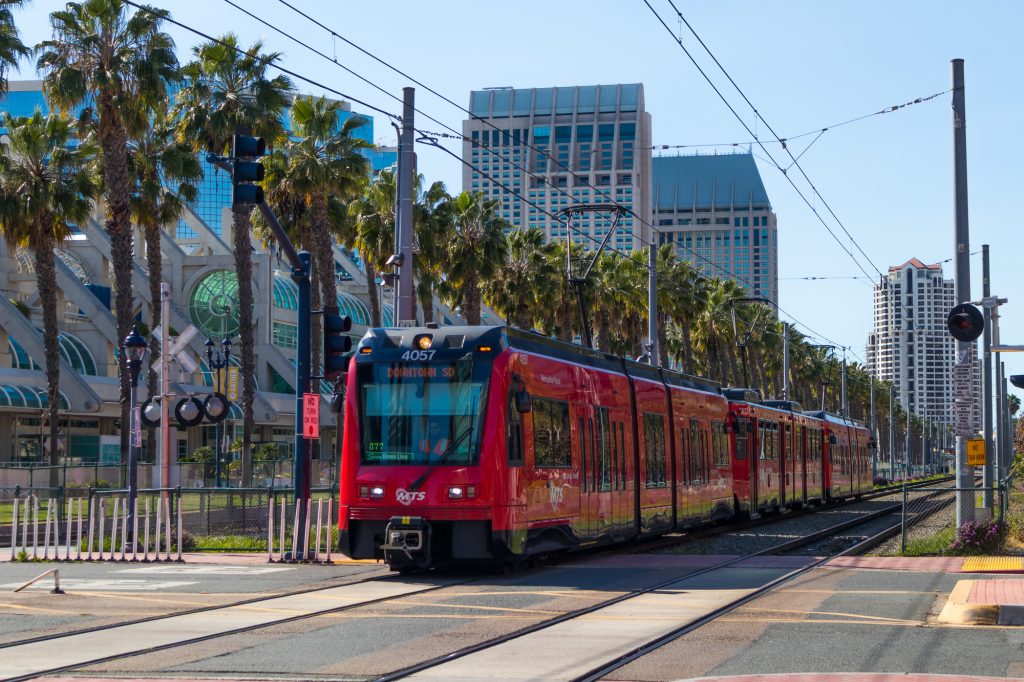 Trains
Trains are a great option for those looking to avoid traffic congestion on the freeway. The train travels along the coast, so you can enjoy beautiful views of the ocean as you travel. And since the train makes multiple stops along its route, it's a great way to explore different parts of Southern California without having to drive.
The Coaster commuter train takes passengers from Oceanside to downtown San Diego (and back). You won't be waiting long for the Coastal as there are more than 20 trains that run on weekdays and additional trains operating on weekends. Note, children under 5 ride free.
The Sprinter light rail line runs 22 miles long from Escondido all the way down through Vista and into central San Marcos before terminating at Palomar College Station near Lake Hodges Reservoir. Serving 15 stations and running every 30 minutes, the Sprinter can connect you inexpensively within these areas. Note, children under 5 ride free.
The Pacific Surfliner is a passenger train service operated by Amtrak between San Diego and Los Angeles. The trains make stops in Orange County, Riverside County, and San Bernardino County. There are also a few stops in Ventura County and Santa Barbara County.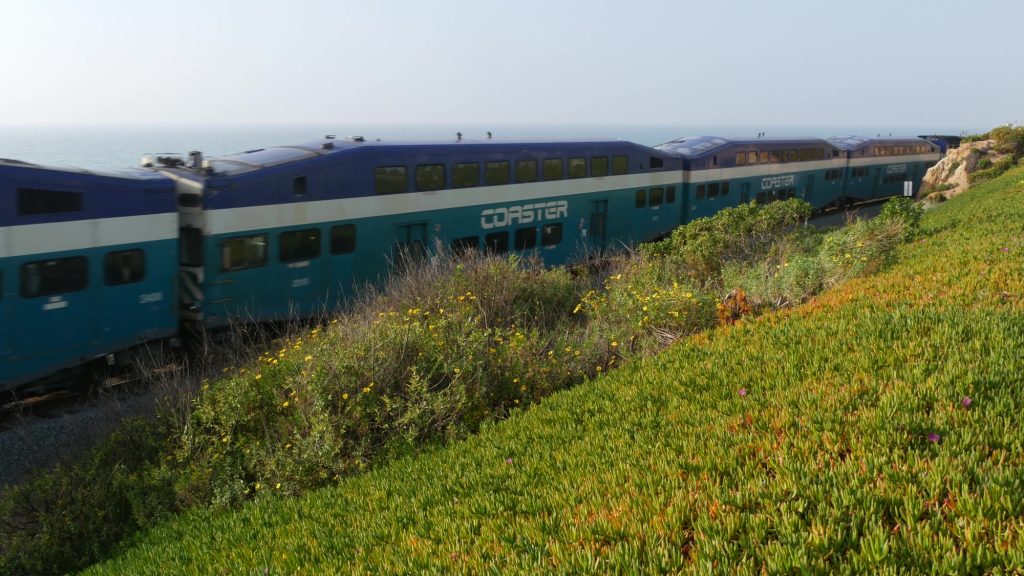 The bus system in San Diego is one of the most popular ways to get around town as it is considered one of the most economical ways to navigate through the city.
There are over 100 bus routes serving the city of San Diego, so there are several different routes that cover most parts of town.
So, you'll be able to find a route that's not only convenient for you no matter where you live or work but also very cheap!
Ridesharing Services
Ridesharing services like Uber and Lyft are becoming increasingly popular in San Diego, and for good reason! These services offer an affordable, convenient, and comfortable way to get around town.
One downside of ridesharing is that surge pricing can sometimes be quite high. However, if you're willing to wait a bit or travel during off-peak hours, you can usually find fares that are more affordable.
For more information on using Uber or Lyft in San Diego, visit their respective websites below:
Taxi Services
If you need to take a taxi for any reason, there are a few different companies that you can use below. Taxi's are generally slightly less expensive than Ride Share services such are Uber in San Diego County.
Phone: 619-358-5230
More than 7 years in the tax business, the Coast Cab Company represents premier customer service and comfortable rides.
Phone: 858-227-9272
If you are in a hurry from the airport, grab a taxi from San Diego Airport Taxi to get to your destination.
Phone: 619-422-2700
Serving the entire San Diego area, services are available 24/7.
Biking Around Town
While biking isn't necessarily the most convenient way to get around town, it is a great option for those who want to save money and stay healthy. The city of San Diego has been working hard to make the city more bike-friendly, with new bike lanes and trails popping up all the time.
If you're interested in biking around town, be sure to check out this map of San Diego's bike paths and lanes. And, if you need a new bicycle or just some repairs, head on over to one of San Diego's many local bike shops!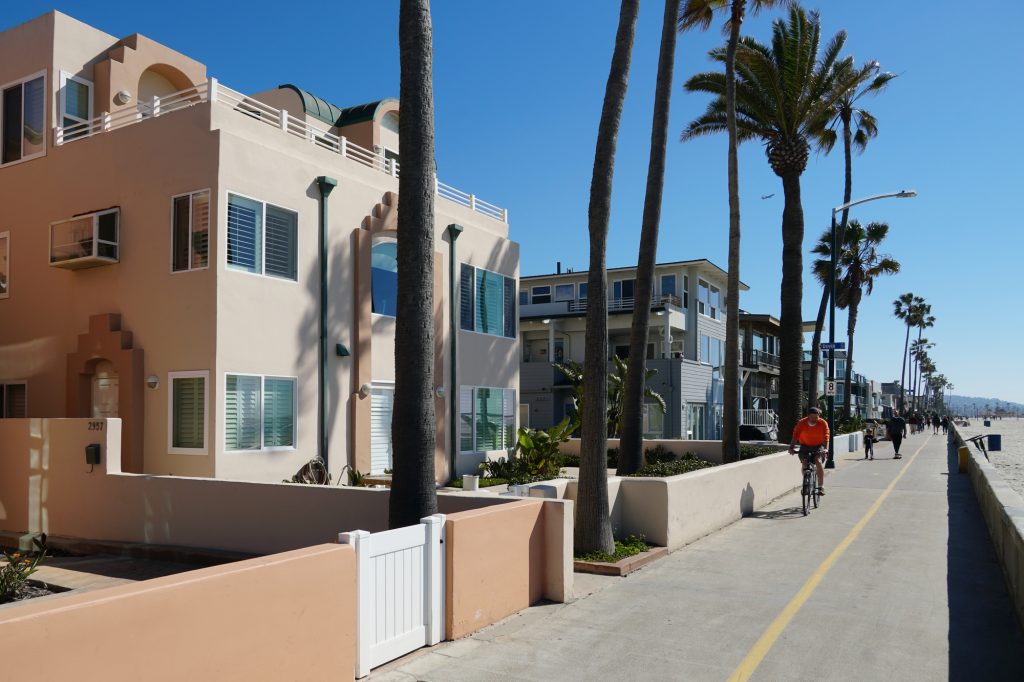 Driving in San Diego
If you have a car or are planning on renting one while here, it can make getting around town easier. However, there are some things to keep in mind when driving in San Diego. Traffic is bad during rush hour, parking can be hard to find downtown, and toll roads exist throughout.
Walking Around Town
For short trips or when the weather is nice, walking is always a viable option for getting around town. In fact, according to Walk Score, San Diego is considered a "Walker's Paradise" with a walkability score of 89 out of 100.
So, if you're looking for a way to get some exercise and enjoy the beautiful weather, walking is the way to go!
Conclusion for Everything You Need to Know About Transportation in San Diego
Public transportation in San Diego is top-notch, with buses, trains, and trolleys that can take you anywhere in the city. From downtown to the beaches and outlying neighborhoods, the San Diego transit system has you covered.
The downside to public transportation is that it can be slow, especially during rush hour.
However, public transportation is a great way to get around town if you're on a budget or don't' have a car.
If you're looking for a quicker way to get around town, ridesharing services like Uber and Lyft are a great option. Just make sure you account for surge pricing during busy times!
For longer trips or if you want to explore more of Southern California, renting a car is always an option. There are plenty of rental agencies in San Diego, and most major airports offer car rentals as well.
No matter what you plan to do in San Diego, transportation is made easy here.
Other articles you might like: