Seaport Village Address: 849 West Harbor Drive, San Diego, CA 92101
Parking: Seaport Village parking lot offers free self-parking for the first 30 minutes. Otherwise, be sure to validate at one of the shops or restaurants there to get a discounted rate. Always remember to take your ticket with you and pay for parking at one of the pay machines before returning to your vehicle as there are no cashiers upon exiting.
Seaport Village is a waterfront retail center located in the heart of downtown San Diego. It was originally built in 1978 on top of a landfill where anyone that died of scurvy was buried. Although this does not look anything like a landfill anymore, the village underwent a significant renovation. Now, home to more than 100 shops, restaurants, and services with an architectural style mixed with Victorian Spanish.
Encompassing 14 acres, the area itself was designed to be a car-free environment offering locals and tourists alike to explore on foot or bike. With an array of sunshine year-round, this is the perfect spot for couples to find a romantic meal on an outdoor patio featuring the harbor backdrop, kid-friendly entertainment during the day, or taking in the live music.
In this travel guide to Seaport Village, we are going to give you plenty of ideas to plan your next trip.
One of the stand-out features for the kids, the historic carousel first built in 1895, features 54 animals and two horse-drawn chariots.
Address: 857 West Harbor Drive, San Diego, CA 92101
Phone: 619-839-9591
Hours: Open daily from 11:30 A.M. to 4:30 P.M.
Cost: $4 per ride
If you are looking to get some exercise, take a walk or jog along the harbor boardwalk for beautiful views of San Diego. If you are looking for more of a relaxing time, take a look at riding one of the trolleys instead.
Visit the nearby USS Midway Museum that consists of the aircraft carrier Midway first opened in June 2004. It is a military and maritime history museum hosting the largest ship ever built when it was completed in 1945 and it served for more than three decades before being decommissioned in 1992. The museum offers visitors to explore over 60 exhibits throughout the aircraft carrier and experience the ship's decks to see how it operated during its time in service.
Address: 910 N Harbor Drive, San Diego, CA 92101
Phone: 619-544-9600
Hours: Open daily between 10:00 A.M to 5:00 P.M.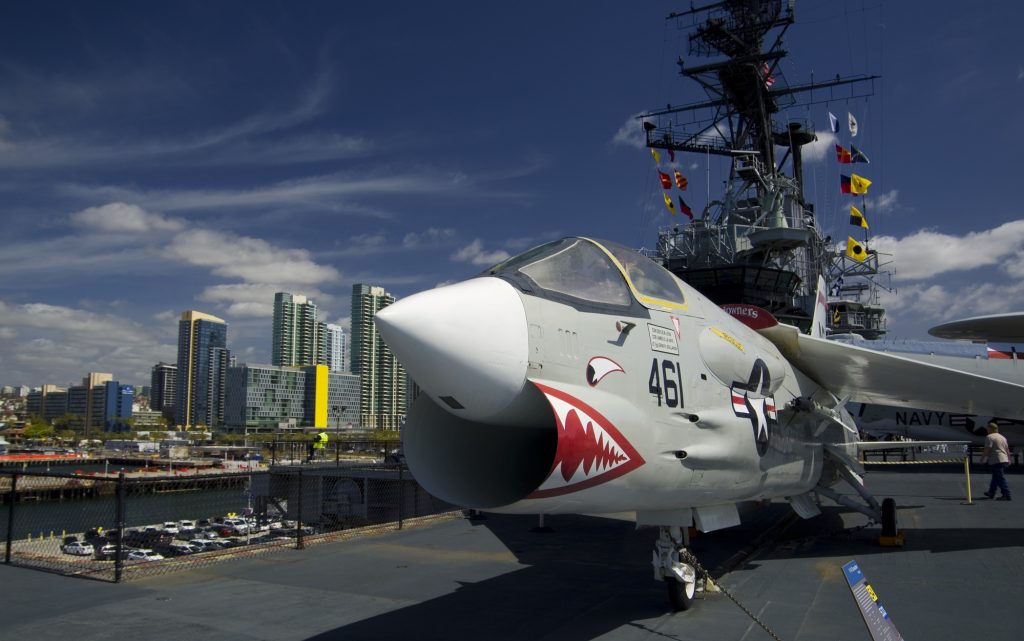 See a show at the Embarcadero Marina Park South that is only a 15-minute walk along the waterfront path from Seaport Village. A wide range of concerts are hosted here throughout the year. Be sure to check online for the latest schedule. If you aren't interested in shows, the waterfront park features piers for fishing, bike paths, basketball courts, and tables to have a picnic. You will also find a lot of people going for a nice stroll or walking their dog.
Address: 200 Marina Park Way, San Diego, CA 92101
Phone: 619-686-6200
Hours: Open daily between 6:00 A.M. to 10:30 P.M.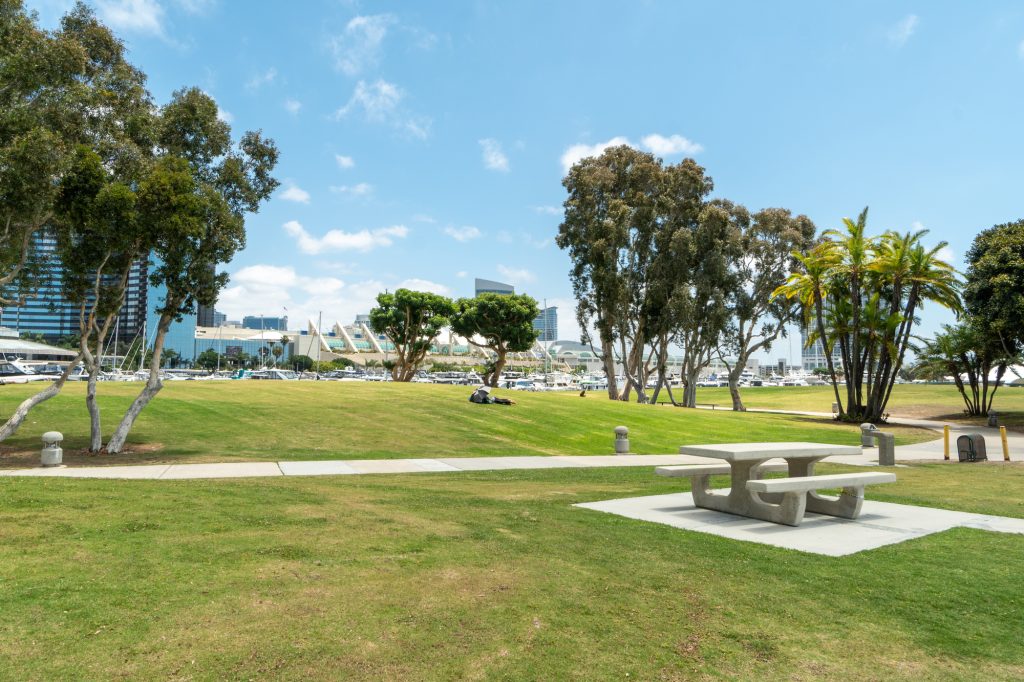 If you are feeling fancy, Seaport Village offers waterfront dining with views of the San Diego Bay. Enjoy your meal while watching boats and seagulls go by. Pick between the numerous waterfront restaurants serving a variety of cuisines, so there is something for everyone.
Here are a few suggestions:
Marion's Fish Market: A more casual spot that offers a variety of seafood but is most popular for its fish & chips. Come get this to-go and sit on a bench nearby overlooking the bay. Maybe enjoy a beer on tap or wine by the glass.
Address: 879 West Harbor Drive, San Diego, CA 92101
Phone: 619-233-1143
Edgewater Grill: A family-owned restaurant with stunning bay views and outdoor dining. Come for Happy Hour offered daily from 3:00 P.M. to 6:00 P.M. or host a private waterfront special event. Note, by the end of 2022, the Edgewater Grill is expected to be replaced by Gladstone's restaurant.
Address: 861 West Harbor Drive, San Diego, CA 92101
Phone: 619-232-7581
Pier Café: The most iconic and photographed building in San Diego, offering a seafood-based menu mostly known for their "Maine Lobster Roll," which tastes identical to the Maine coastline. Note, by the end of 2022, the Pier Café is expected to be replaced by Shorebird.
Address: 885 West Harbor Drive, San Diego, CA 92101
Phone: 619-239-3968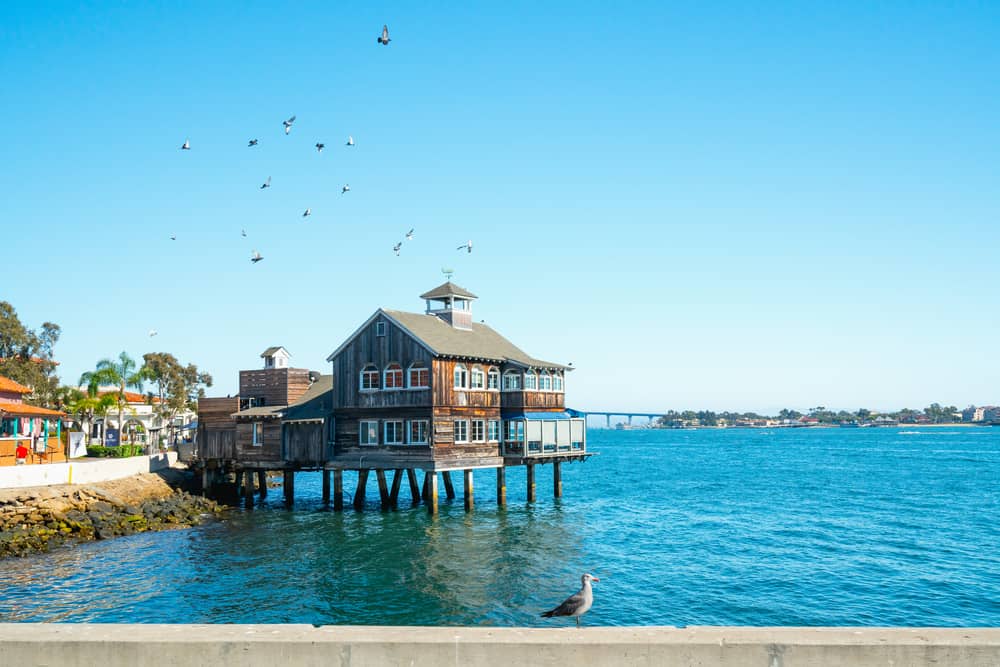 If you saved room in your stomachs, there are plenty of dessert options to satisfy your sweet tooth!
Here are some suggestions:
Seaport Fudge Factory Inc: Chose from a selection of 20+ sweets. Some of the most popular treats are the oreo Belgian waffle, cereal bowl, churro sundae, or soft served ice cream to name a few.
Address: 859 West Harbor Drive, San Diego, CA 92101
Phone: 619-239-3100
Something Sweet Shop: A family-owned candy store offering classic desserts resembling old school candy, sodas, and treat bags.
Address: 839 West Harbor Drive, San Diego, CA 92101
Phone: 619-243-0720
Ben & Jerry's: Get your classic ice cream, smoothies, shakes, sundaes, or even doggie desserts here.
Address: 859 West Harbor Drive, San Diego, CA 92101
Phone: 619-595-0412
Try walking off your dinner and dessert by exploring some of the shops in Seaport Village. Depending on what you are looking for, you will certainly find it here. From boutiques, galleries, handcrafted gifts, collectibles, sunglasses, hats, accessories, and much more, there are so many shopping options to choose from.
Take a ferry to Coronado Island. Broadway Pier is just a short walk from Seaport Village that offers a daily ferry service to Coronado Ferry Landing for only $7 per person for a one-way ticket. Your experience is a convenient 15-minute trip with amazing views, fresh air, access to more shopping, dining, and activities.
Address: 990 North Harbor Drive, San Diego, CA 92101
Phone: 619-234-4111
Conclusion for Things to Do in Seaport Village San Diego
If you are an outdoorsy person who enjoys the sunshine, Seaport Village is a great option to explore many restaurants on the harbor bay, shopping, or long walks along the scenic boardwalk. You can be sure to experience the area's rich maritime history here as well. The selection of shops and restaurants are open year-round with many other nearby attractions.
Be sure to plan ahead and make a reservation if needed due to the growing popularity of this iconic village. Get your camera ready for photo opportunities presented all over.
Other articles you might like: