Overview
Encinitas, California is a beach town in the North County region of San Diego County stretching about six miles of the Pacific coastline. It is located about 25 miles north of downtown San Diego and has a population of around 60,000 people.
Encinitas is a city that is divided into five distinct neighborhoods. Each of the five neighborhoods has its own distinctive flavor. The areas covered by this term include Old Encinitas, New Encinitas, Leucadia, Olivenhain, and Cardiff-by-the-Sea.
It is known for its rich history and charming cottage architecture. Encinitas combines old-world elegance with new-world flair to create a unique aesthetic.
This beautiful beach town located in Southern California is known for its great surfing, stunning beaches, and laid-back vibe.
Brief History
The Kumeyaay were the first settlers in Encinitas. During a 1769 trip through Baja California, Gaspar de Portolá met locals from the nearby Kumeyaay village of Jeyal or Heyal, near the San Elijo Lagoon, while on his way to explore California.
For the oak forest along El Camino Real where there was also a village that may have been known as Hakutl in New Encinitas, Portolá named the valley Los Encinos.
In 1842, Andrés Ybarra was granted land in what is now Olivenhain and New Encinitas by Mexican president Antonio López de Santa Anna to establish Rancho Las Encinitas, from which Encinitas took its name. The name Encinitas is derived from the Spanish word for "live oaks."
The town of Encinitas, California, was formed in 1881 by Jabez Pitcher.
The city was incorporated in 1986 and named after Encinitas, Mexico, which is just south of the border.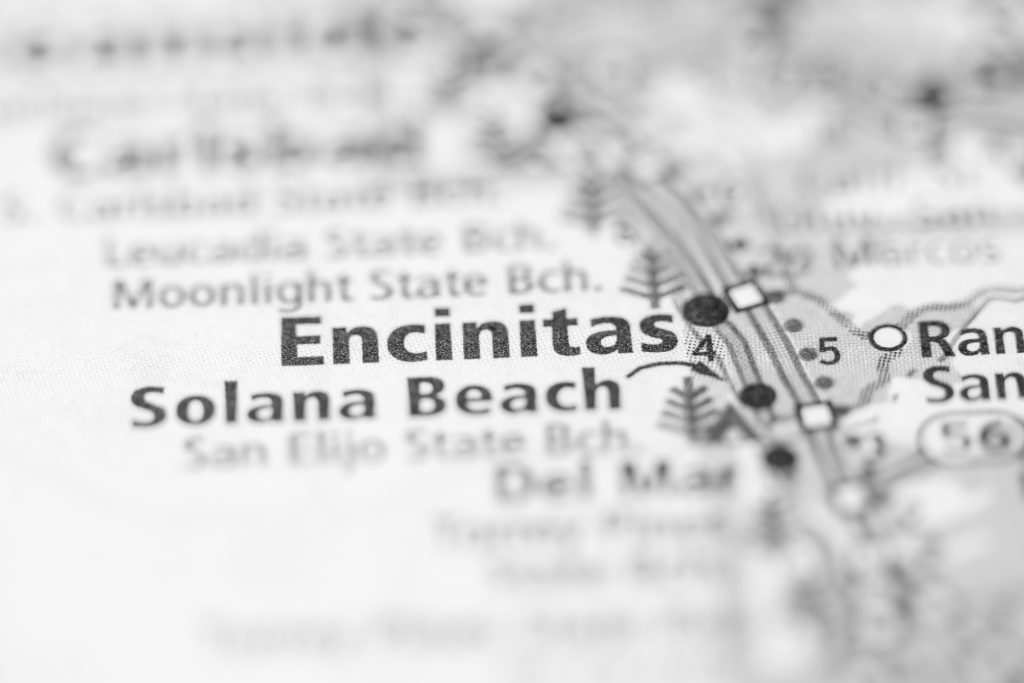 Demographics
The most common race in Encinitas overall is white, with 78.3 percent of the population. Hispanic people make up 13.8 percent of the population. People who identify as Hispanic are most likely to live in the southwest parts of town.
According to U.S. Census data, the average household income in Encinitas is $122,657 per year. With city family incomes at the 97th percentile, Encinitas's income is considerably greater than the median income in the United States. Education is generally most related to earnings, and 61% of adults in Encinitas have bachelor's degrees or more, compared with 31% across the country.
A city's median household income is the amount that half of all households make more, and the other half makes less. In some neighborhoods, family and household incomes are higher than average. Median income varies from a low of $61,695 to a high of $261,251 in certain areas.
Popular Restaurants in Encinitas
Herb and Sea (Californian)
Death by Tequila (Mexican)
Pina SD (Mexican)
Valentina (Contemporary European)
Le Papagayo Encinitas (American)
Union Kitchen and Tap (Contemporary American)
Vigilucci's Trattoria Italiana (Italian)
Pacific Coast Grill (Seafood)
Buona Forchetta (Italian)
Things to Know Before You Visit
The weather in Encinitas is pretty much perfect year-round.  The average temperature is around 72 degrees, and the sun shines almost every day.  Even in the winter months, the temperature rarely dips below 60 degrees.
Since the weather is nice the majority of the year, many people plan on making their trips to the beach, meaning parking can be difficult to find (and expensive). Be sure to plan ahead and give yourself extra time to find a spot.
The beaches can get crowded on weekends, so if you're looking for a more relaxed experience, visit during the week.
Encinitas is known for its great surfing, but beginners should be cautious as the waves can be strong.
Whether you're looking to catch some waves or just relax in the sun, Encinitas is the perfect place to do it. Be sure to remember to pack your sunscreen and your swimsuit before coming to this beautiful beach town!
Points of Interest
Swami's Beach is a popular spot for surfing!
Sea Cliff is a small park close to Swami's that makes for a great hang-out spot to picnic with barbecues and clean bathrooms.
The access point to the mile-long beach known as Boneyards that runs below the bluffs from Moonlight Beach south to Swami's Point is D Street.  D Street is a rocky cobblestone-obstructed location better suited to surfing than sunbathing, although some of those brave enough to travel all the way here is also bold enough to bare it all despite state law.
Moonlight Beach is perfect for swimming, sunbathing, and building sandcastles.   Moonlight State Beach, on the border of Encinitas and Carlsbad, is a popular beach for families and visitors seeking to spend the entire day at the beach because it has a shallow shoreline at the end of Encinitas Boulevard.
Be sure to check out Leucadia State Beach for stunning cliffs and tide pools.
The San Elijo Lagoon Reserve is California's largest coastal wetland, and it is home to around 300 species of birds throughout the year.
The San Diego Botanical Gardens include an Amazon Rainforest and the world's largest collection of bamboo, while the Self Realization Center's gardens offer magnificent views of the Pacific Ocean in a peaceful garden-like setting.
Golf fans may play a round of golf at the Encinitas Ranch Golf Course, which is a championship 18-hole par 72 course with panoramic ocean views. This public course offers five tees and can accommodate golfers of all skill levels.
Conclusion for Encinitas, California
Now that you know a little bit about Encinitas, California, it's time to start planning your trip! Whether you're looking to surf or just soak up the sun, this beautiful beach town has something for everyone.
If Southern California is still on your bucket list, do not miss out on a visit to Encinitas – you won't regret it!
Other articles you might like: