Balboa Park encompasses 1,200 acres located in the middle of San Diego that includes many significant natural and man-made attractions. Back in 1892, the park was originally known as "City Park," without formal landscaping or development for more than 20 years. First steps were made by planting 100 trees a year, as several popular species, were introduced during this time. A master plan was implemented for improvements that soon became a popular destination for tourist attractions, many including free museums.
Some of the listed museums below offer guided tours for individuals or groups who want to learn more about the history of the area or visit specific exhibits that are not self-guided. Residents of the City and County of San Diego along with active military and their dependents are offered free general admission on certain days throughout each month.
Free museums in Balboa Park San Diego are the best way to learn about history and culture!
Address: 1875 El Prado, San Diego, CA 92101
Phone: 619-238-1233
Resident free day: First Tuesday
The Fleet Science Center is the largest science museum in San Diego close to downtown and the San Diego Convention Center open daily between 10:00 A.M. to 5:00 P.M. This museum has a variety of exhibits, interactive displays, and programs that are designed to educate children and adults bout STEM. Some of the featured exhibits and shows include Great Bear Rainforest, Turtle Odyssey, Illusions, Pulseworks VR Transporter, and Space Gallery. Check the online calendar for diverse upcoming events that features something for the kids, families, or even 21+ older adults.
If you plan to visit more than a few times, they offer a membership with a full year of benefits. After a day of wandering through the museum, stop at Craveology Café for a bite to eat and North Star Science Store to buy a souvenir to remember the trip.
Look no further if you are looking to host an event! There are three spacious meeting rooms and a 274-seat Giant Dome Theater making this an optical space for group events of all sizes. Each event ranging from corporate meetings, school outings, weddings, receptions, dances, festivals, galas, etc., can be tailored to fit any occasion in the 30,000-square foot facility. It offers the perfect outdoor ambiance with a spectacular view of the iconic Bea Evenson Fountain.
Address: 1788 El Prado, San Diego, CA 92101
Phone: 619-232-3821
Resident free day: First Tuesday (not valid for films)
The San Diego Natural History Museum located at the California State University, San Diego has four floors of exhibits and galleries that are open for public viewing. It has been around for over 100 years being deemed the oldest scientific institution in Southern California. They are open between 10:00 A.M. to 4:00 P.M., closed on Wednesdays and Thursdays. Join their membership program that includes free general admission and unlimited entry to films, discounts, invite-only member events, and much more.
In 1874, about 15 years after Charles Darwin published On the Origin of Species and two years before the invention of the telephone, a group of devoted naturalists came together to form the San Diego Society of Natural History. Reaching students from all over became a primary focus for them as they developed an influential history.
When you visit, be sure to check out the research collection of more than 8 million specimens. Enjoy the Subaru Giant Screen Experience in the Charmaine and Maurice Kaplan Theater where nature comes to life. A unique feature this museum offers are hands-on classes, resources, and programs for Pre-K through 12th Grade. These guides provide in-depth knowledge on exhibitions and specimens, making each person feel like an expert after their visit.
Address: 2001 Pan American Plaza, San Diego, CA 92101
Phone: 619-234-8291
Resident free day: Second Tuesday
San Diego Air and Space Museum was first founded on October 12, 1961, located in the southwestern corner of Balboa Park. It is open from 10:00 A.M. to 4:30 P.M. 7 days a week.
It is a great place for anyone interested in aviation or space exploration. It has an extensive collection of historic aircraft and spacecraft from around the world, including a full-sized replica of NASA's Space Shuttle Orbiter. Some special exhibits include "American Women of Flight" and "SPACE: Our Greatest Adventure." It particularly engages the community with the past, present, and future of aerospace innovation. Check out the on-site restaurant called Care Andaluz for delicious Mediterranean food during your visit.
If you are looking to make a contribution to the museum, volunteers are welcome to provide support in all areas including tours, restoration, education, special events, collection care, and administrative duties.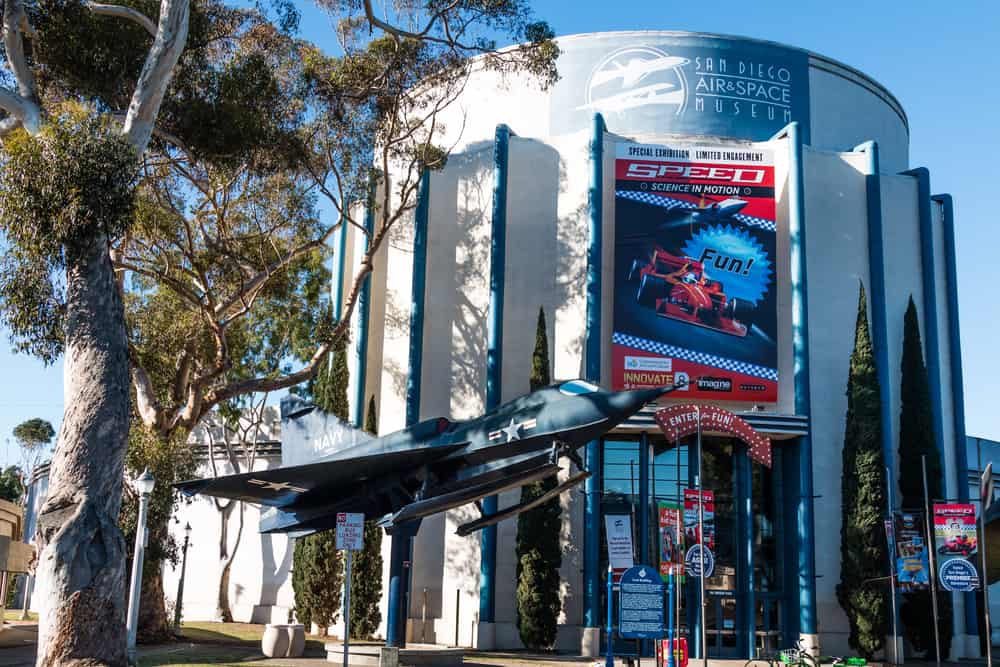 Address: 1450 El Prado, San Diego, CA 92101
Phone: 619-232-7931
Resident free day: Third Tuesday
San Diego Museum of Art opened its doors in 1926, as a nonprofit organization that collects and displays works of art from around the globe. Visiting hours are from 10:00 A.M. to 5:00 P.M., closed on Wednesdays only. It was founded by a group of individuals who wanted to "preserve and share the art of our time with diverse audiences." This is the region's oldest, largest, and most visited art museum in San Diego. It is a significant cultural resource presenting an encyclopedic collection of more than 20,000 objects.
Visitors can explore the Spanish Colonial-style architecture inspired by the 1915 Panama-California international exposition. In this special place, you can learn about the history of art and explore your own creativity through workshops. The beautiful garden provides a great space to host your corporate events, private parties, weddings, meetings, or seminars here.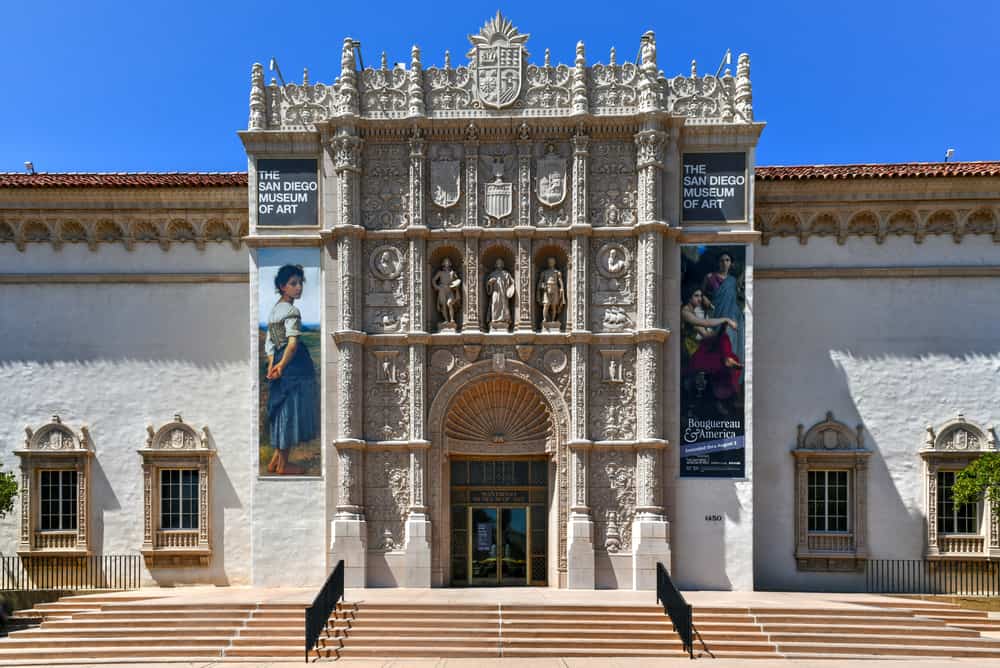 Address: 2215 Pan American Rd E, San Diego, CA 92101
Phone: 619-232-2721
Resident free day: Third Tuesday
The Japanese Friendship Garden opened to the public in 1991, attracting over 330,000 visitors from all over. Sitting on a 12-acre plot, this tranquil museum offers visitors the opportunity to learn about Japanese culture and history, explore the garden's vast areas, and enjoy the beauty of its natural surroundings.
The garden was built by the San Diego Garden Council as a gift from Japan to commemorate the 100th Anniversary of U.S.-Japan diplomatic relations. It is open daily between 10:00 A.M. to 6:00 P.M. with the latest admission by 5:00 P.M. Specials are offered for students, family members, or individual memberships.
It features a traditional teahouse, a koi pond, a bamboo forest, and a variety of other plants and trees from Japan. Immersed in Japanese culture, check online for programs such as Kamishibai, Ikebana, Kintsugi, Origami, Introduction to Tea, Wagashi, and more that are offered on select days.
Address: 1439 El Prado, San Diego, CA 92101
Phone: 619-239-0003
Resident free day: Third Tuesday
Mingei International Museum has been open for over 27 years and has been visited by over four million people since then. This museum primarily focuses on the culture of Japan, China, and Korea, but it also has an extensive collection of other cultures from around the world. It was first founded by Martha Longenecker in 1978, to share her love for Asian art with San Diego residents as a non-profit museum. The goal was to make art accessible to everyone, regardless of their background or financial situation.
Mingei means "folk art" in Japanese, developed by Yanagi Soetsu in the mid-1920s. Since Mingei's first inaugural exhibition, Mingei has shared over 183 exhibitions featuring unknown craftspeople and renowned artists. To name just a few, current exhibitions on display are "Humble Spirit/Priceless Art," "Global Spirit," "Art of the People for the People," and "Colorful Culture." Take a peek at the exhibition archive for more information.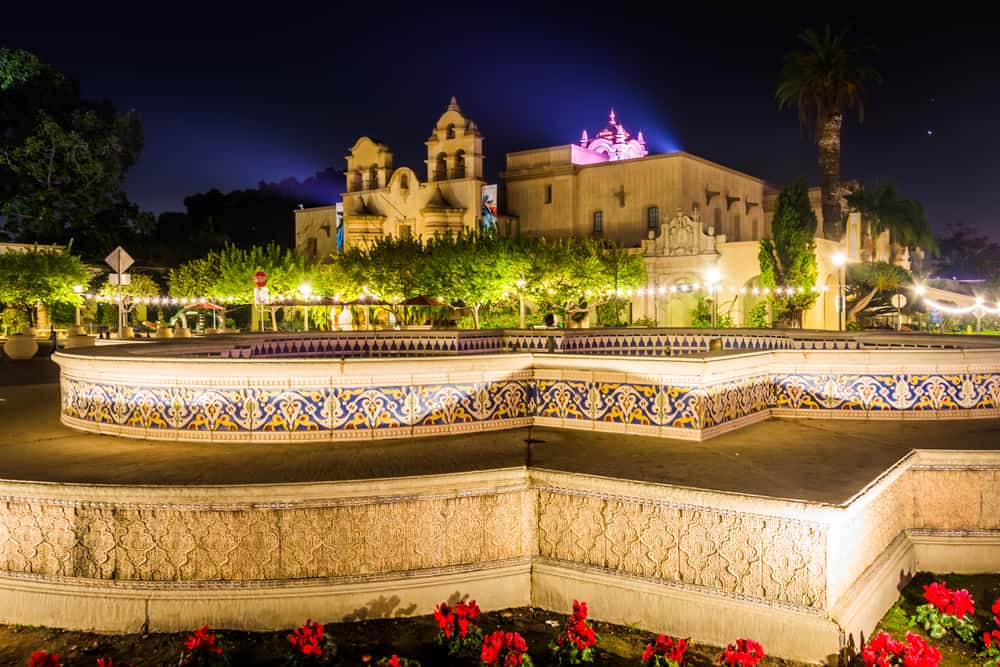 Address: 2080 Pan American Plaza, San Diego, CA 92101
Phone: 619-231-2886
Resident free day: Fourth Tuesday
San Diego Automotive Museum was founded in 1988 with a modest collection of antique vehicles on display in an old armory building near downtown San Diego. The museum is a non-profit corporation that tributes to the automobile and what it has meant to our culture.
Visit the museum from Tuesday to Sunday between 10:00 A.M to 5:00 P.M. Note, most Mondays are closed so be sure to check the calendar for details. Current exhibitions include, "International Motorcycles," "Indian Motorcycles," and "Barn Find."
Conclusion for Resident-Free Museums in Balboa Park San Diego
Take advantage of this free educational opportunity to explore each museum and what it has to offer if you are a resident of San Diego City and County or part of an active military family.  To reduce your time standing in line, visit the website to buy your tickets online. Have your identification card ready to show proof of your resident address.  Be sure to check ahead of time before you visit with individual venues for each of their hours of operation that are subject to change at any time.  There are plenty of interactive exhibits throughout the museum that will keep you on your toes while you learn more about history, nature, science, and much more, inspiring learners of all ages. 
Other articles you might like: