SeaWorld Parks & Entertainment Background
SeaWorld Parks & Entertainment is a theme park and entertainment firm committed to providing memorable moments for people of all ages while also encouraging visitors to protect animals and wild environments in our world.
They are one of the world's most renowned zoological organizations and a global leader in animal husbandry, behavioral management, veterinary care, and animal welfare.
Rescue and care for animals that have been injured or orphaned in order to return them to the wild. The SeaWorld and Busch Gardens rescue teams have assisted more than 40,000 animals in need over the last 50 years.
They have a portfolio of well-known trademarks like SeaWorld, Busch Gardens, and Sea Rescue. They've amassed a diversified collection of 12 destination and regional tourist attractions spread across key cities in the United States over their more than 50-year existence.
Many of the parks showcase our one-of-a-kind zoological collection and all of their parks offer a wide range of thrill and family rides, shows, educational demonstrations, and/or other activities with a broad demographic appeal that provides memorable experiences and a strong value proposition for visitors.
They've also developed shows that have won Parent's Choice and Emmy Awards such as Sea Rescue and The Wildlife Docs, which document the true and inspirational stories of rescue, rehabilitation, and return to the wild – by animal rescue, animal care, and veterinary teams at SeaWorld and Busch Gardens in collaboration with their partners who are likewise dedicated to caring for animals in need.
SeaWorld San Antonio Details
Hours: 10:30 A.M. – 9:00 P.M. (Sunday – Friday), 10:30 A.M. – 10:00 P.M. (Saturday)
Phone: 210-520-4732
SeaWorld San Antonio is a 250-acre marine mammal park, oceanarium, and animal theme park in the Westover Hills District of San Antonio, Texas, on the city's west side. It is one of the world's largest marine-life theme parks focused on conservation, education, and animal rescue and is owned and operated by SeaWorld Parks & Entertainment.
SeaWorld San Antonio Rides and Roller Coasters
Texas Stingray
Riptide Rescue
Sea Swinger
Wave Breaker: The Rescue Coaster
Great White Roller Coaster
Steel Eel Roller Coaster
Super Grover's Box Car Derby
Rio Loco
Journey to Atlantis
Tidal Surge
SeaWorld San Antonio Presentations and Activities
Soms do Brasil
Taiko Drummers
Brew Beatz
Orca Encounter
Ocean Discovery – Beluga Whales and Dolphins
Sesame Street Photo Ops
Sesame Street Party Parade
Elmo Rocks Show
Sea Lion and Otter Spotlight
SeaWorld San Antonio Animal Experiences
Ultimate Animal Experience
Penguin Interaction
In-Water Sea Lion Interaction
In-Water Dolphin Interaction
In-Water Dolphin Beach Interaction
In-Water Beluga Interaction
Beluga Whale Tour
Dolphin Tour
Killer Whale Tour
Penguin tour
Sea Lion Tour
Shark Tour
Dolphin Encounter
Animal Ambassador Tour
All-Swim Program
Animal Adventure Tour
Family Adventure Tour
Stingray Tour
Puffin Interaction
Tickets and Passes Comparison Between San Antonio Vs San Diego
One Day Ticket Prices
Ticket Only (Starting Prices)
San Antonio: $49.99/each
San Diego: $79.99/each
Ticket + All-Day Dining Bundle (Starting Prices)
San Antonio: $84.99/each
San Diego: $109.99/each
12 Month Annual Passes
SeaWorld Silver Pass (1 Park)
San Antonio: $124.99/each
San Diego: $165.00/each
SeaWorld Gold Pass (1 Park)
San Antonio: $149.99/each
San Diego: $195.00/each
SeaWorld + Aquatica Silver Pass (2 Parks)
San Antonio: $149.99/each
SeaWorld + Aquatica Gold Pass (2 Parks)
SeaWorld Platinum Pass (11 Parks)
San Antonio: $249.99/each
SeaWorld San Diego Details
Hours: 10:30 A.M. – 6:00 P.M. (Monday – Tuesday), 10:30 A.M. – 5:00 P.M. (Wednesday – Thursday), 10:30 A.M. – 9:00 P.M. (Friday), 10:00 A.M. – 9:00 P.M. (Saturday), 10:00 A.M. – 7:00 P.M. (Sunday)
Phone: 619-222-4732
The SeaWorld San Diego Complex is in Mission Bay. On March 21, 1964, four University of California, Los Angeles graduates established SeaWorld.
SeaWorld was originally a private company before going public in 1968, allowing it to develop and open additional parks. The second SeaWorld Park, SeaWorld Ohio, opened in 1970, followed by SeaWorld Orlando in 1973 and SeaWorld San Antonio (the largest of the parks) in 1988. In January 2001, after selling Sea World Ohio to Six Flags for $18 million, the partnership decided to go its separate ways.
SeaWorld San Diego Rides and Roller Coasters
Emperor
Manta
Electric Eel
Journey to Atlantis
Shipwreck Rapids
Tentacle Twirl
Abby's Sea Star Spin
Oscar's Rockin' Eel
Aqua Scout
Elmo's Flying Fish
Octarock
Riptide Rescue
SkyTower
Bayside Skyride
Sea Dragon Drop
Tidal Twister
SeaWorld San Diego Presentations and Activities
Orca Encounter
Dolphin Adventures
Trainer Talk at Sea Lion Point
Sea Lions Live
SeaWorld San Diego Interactive Exhibits
Explorer's Reef Touchpools
Bat Ray Shallows
Sea Lion Point
Tidepools
Aquariums
Ocean Explorer Animals
Orca Encounter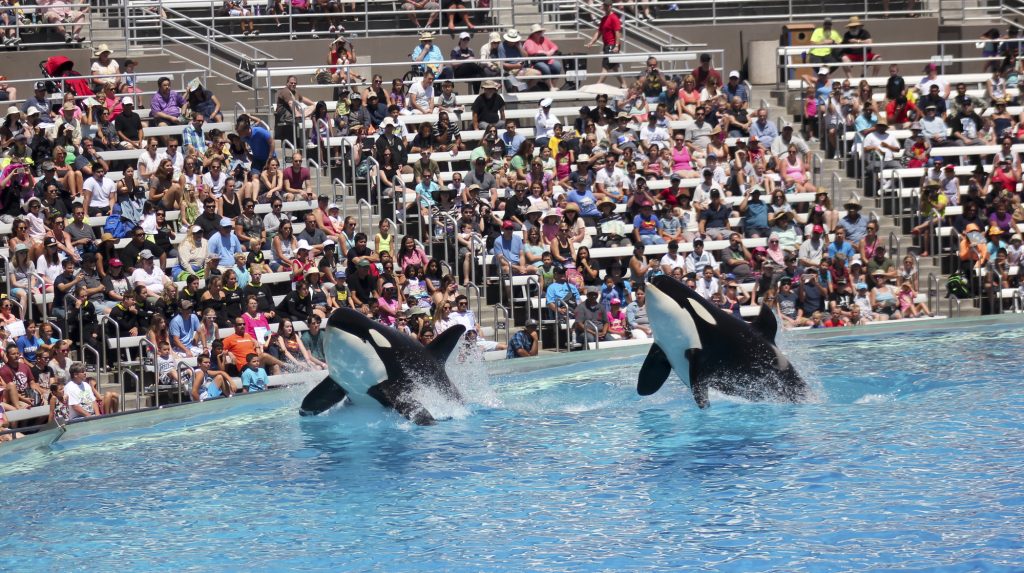 Planning a Trip to SeaWorld
Spring or fall are the ideal seasons to visit SeaWorld San Diego. You'll avoid the summer crowds and heat, as well as potential wetter winter weather, and you'll have a better chance of seeing gorgeous blue skies that will serve as a breathtaking backdrop for your visit. Visit in the winter if you truly desire to avoid crowds as much as possible. However, be aware that lingering rain, fewer personnel members, and colder temperatures may be on tap.
While you may want to snooze your alarm more than once on vacation, if you can get there as soon as the park opens, you'll enjoy at least an hour or two of shorter lines and fewer people. If you're looking for a way to kill some time before your trip, consider visiting the park just after they feed the animals.
Tips for Visiting SeaWorld
When the park is at full capacity again, you'll want to arrive early for performances to get the best seats and avoid disappointment. It's not unusual for seats to be filled during peak season, leaving some visitors annoyed.
The only way to buy tickets right now is online and ahead of time. There isn't a need to pay gate prices at any particular moment. Make this one of your SeaWorld San Diego tips – do whatever it takes to get entry ahead of time. Even if you buy directly from SeaWorld, their internet discounts will be cheaper than the gate price.
In December, you can still get sunburned in San Diego or San Antonio on a foggy day. Use sunscreen. Bring a cap and sunglasses with you.
If you're taking a lot of videos and photos, your smartphone will drain its battery. We highly recommend bringing an external battery if you're capturing a lot of footage.
Frequently Asked Questions
Can SeaWorld be done in one day?
With so much to see, most people spend a full day at SeaWorld. If you're a die-hard animal lover who wants to take advantage of the VIP tours, watch all the shows, and go on rides, you might want to consider staying an extra day – depending on your endurance! Annual passes are available for those who wish to visit frequently but two days will suffice for anybody visiting just once.
Do you get wet at SeaWorld?
Water rides, show splash zones at Shamu Stadium, splash pads, touch pools, and near water rides (such as the overflow from Journey to Atlantis) are all options for getting wet at SeaWorld San Diego.
On the water attractions, most bikers are fine with getting wet. Because San Diego has a year-round temperature of 70 degrees Fahrenheit, you'll likely dry off fast.
The following are the only circumstances where it is not necessary to change. Wet socks and shoes that take significantly longer to dry out than your T-shirt are the exceptions. For some people, the sensation of slopping around in wet shoes isn't appealing. As a result, it's not uncommon for people to bring a pair of flip-flops with them on park rides.
We would suggest packing a change of clothes for tiny children just in case. There's a splash pad play area within Sesame Street Bay of Play, which may get kids rather wet. During the summer months, they may wish to wear bathing costumes to the former.
Is All-Day Dining worth it?
The answer is that it is debatable. It's probably true if you plan to eat two complete meals and use store-bought snacks and beverages in between.
For a low price, dine and drink all day at SeaWorld San Diego. You may visit a participating establishment once per hour and receive one main dish, as well as one side or dessert, plus one soft drink or iced tea. At SeaWorld San Antonio, the deal is valid as often as every 90 minutes including one entrée and a side.
There were a few limits at certain locations, but honestly, there were enough other alternatives that it didn't make much of a difference. They scan your wristband at the checkout and provide you with a receipt that is time-stamped after you've finished shopping. You have one hour after checking out to return and purchase more food and beverages.
Other articles you might like: