Who doesn't enjoy skimboarding when in San Diego surrounded by all the beach cities?  We all do!  San Diego has some unique beaches that are also well-known for more than just skimboarding.  The best part of San Diego beaches is the constant warm days and secluded sandy stretches, which makes for many opportunities to spend a day outside.
What is Skimboarding?
Skimboarding, or skimming, is a type of water sport in which a skimboard (much like a surfboard but smaller and without fins) is utilized to ride an incoming breaking wave back to land.
Skimboarders ride the wave on a series of surface and air tricks out to and back with the break. "Wraps", "big spins" (360 spins), "180s," and other terms are used to describe these moves. Skimming starts on the beach when skimmers throw their boards into the thin wash of past waves. Skimboarding is similar to surfing in that it begins with skimmers catching the surf back into shore using their momentum.
Skimboarding also includes "flatland," which entails performing skateboard-derived tricks like ollies and shove-its on the wash of waves without catching the coast breaks. Skimboarding began in Southern California when Laguna Beach lifeguards wanted to surf the local beach break without risking injury.
It was originally developed to mimic surfing, performing aerial tricks, and pulling into the wave's barrel.
Dangers of Skimboarding
Skimboarders face a variety of hazards on a daily basis. Lower-limb fractures and dislocations are not uncommon, necessitating serious medical treatment. Lacerations, twisted ankles, and bruises are also all typical as a result of collisions with the board or rocks, logs, and other obstacles on beaches. Hamstring damage is also common owing to the quick and intensive movement of skimboarders' legs when they run into the water before jumping on the board.
Because skimboarding is usually done in shallow water, drowning is less likely among skimboarders than surfers. Even though there are circumstances that might induce these injuries, the primary factor is often the weather. Places with tranquil seas and modest waves have few to no injury cases.
Types of Skimboards
Foam core boards are frequently preferred by wave skimmers since they are lighter, thicker, and more flexible, allowing them to float more easily on top of the waves; their flexibility and buoyancy are appropriate for wavy situations. Foam boards are typically utilized by intermediate and advanced surfers or those who wish to perform tricks with waves.
Skimboards made of wood are particularly suited to flatland (also inland) surfing. Because they are heavier (have low buoyancy), wooden skimboards sink faster, so they're best used in shallow seas. Wooden skimboards are more suited to beginners (in terms of lower maintenance and cost) or riders who want to do tricks on ramps, rails, and other similar surfaces where the wood is more durable.
What size skimboard is right for me?
The size of your skimboard is determined by a number of factors, such as your weight, height, speed (how fast you can run to catch a wave or slide), and experience.
It all comes down to speed. The greater the speed you can attain, the more buoyant you are, making skimming easier. Buoyancy, on the other hand, is influenced by both weight and size of the board.
Smaller boards are preferred by skilled skimmers because they are more maneuverable and simpler to perform tricks on.
Skimmers who are less experienced, on the other hand, require a bigger board that supports their weight and allows them to skim on the surface more easily. It's also simpler to balance (due to expanded foot area) and is generally quicker because of it.
Black's Beach
Black's Beach is located along a stunning stretch of La Jolla shoreline. It has become a popular surf spot for locals and remains well-known as a clothing-optional beach in San Diego since it is just north of La Jolla Shores and the Torrey Pines Gliderport!
It runs from Torrey Pines State Beach in the north to Scripps Beach on the UCSD Oceanography Campus in the south.
The path down from the huge glider port parking area is steep and slick in certain areas. If you're carrying things and/or want assistance descending a steep trail, consider visiting another beach or taking a different road.
According to certain records, Peter Lusic, Don Roncy, John Light, and Joe Trotter were the first people known to surf Black's Beach in 1959.
The surfing at Blacks Beach in San Diego County is a beach break that offers consistent surf. Winter is the best season to surf here. Offshore winds from the east are ideal. Groundswells are more common than wind swells, and the optimum swell angle is from the west-northwest. Both left and right-hand waves can be found on this beach break. This makes for a great year-round area to skimboard!
Black's Beach Details
Windansea Beach
Windansea Beach is located at the western end of Westbourne, Nautilus, and Bonair Streets in La Jolla, below Neptune Place. The name is a truncated form of "Wind-and-Sea," after a hotel that burned down here in the 1940s.
This beach is comparable to a lot of La Jolla's beaches in that it's simply wide enough for sunbathing. Because of the rocks and powerful currents, Windansea is not a good swimming location during the winter. This picturesque beach has sandstone pinnacles jutting out into the water on both sides, making it an ideal photo opportunity.
At the southern end of the beach, near a small surf shack with a palm roof for shade that has been designated as a historical landmark, are some simple stairs that descend the steep bluff. If the sand is low, you'll have to clamber down rocky ledges off of sandstone cliffs. There are roughly ten free parking spots above the beach and on-street parking if necessary.
Windansea Beach Details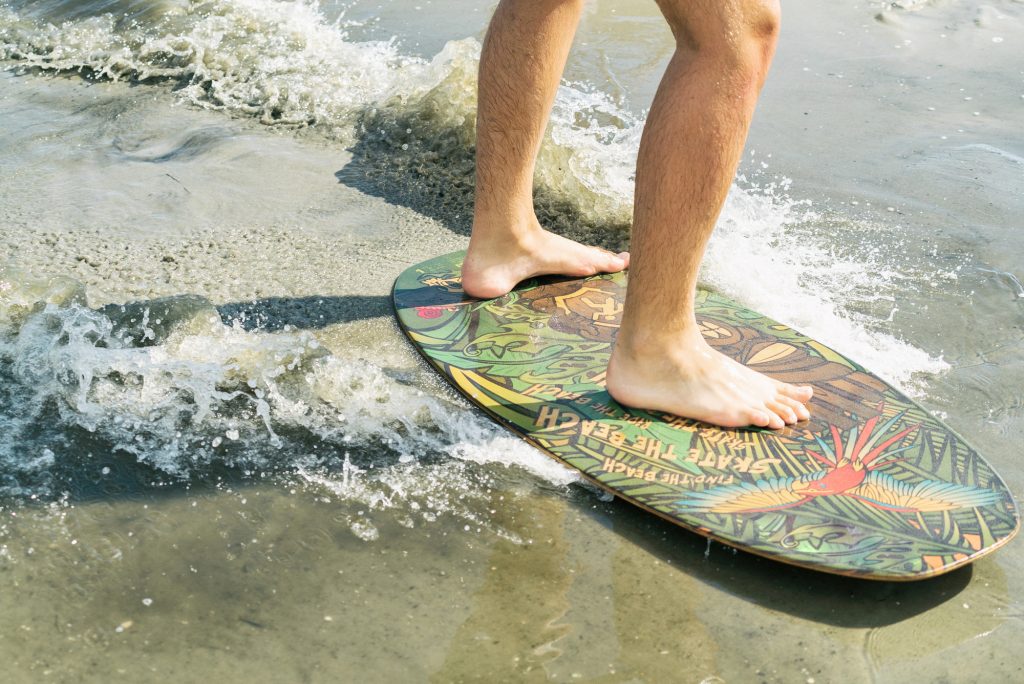 La Jolla Shores
La Jolla Shores Beach is a long, wide, and very popular beach in La Jolla's northern sector. When compared to the other La Jolla beaches that are tucked between rocky outcroppings, this one is a behemoth at over a mile in length.
Swimmers and surfers should avoid the beach during high tide. Kayakers can paddle out to see La Jolla Cave and other water-accessible attractions at the south end of the beach. Beach walkers may continue north for a long way by going under the Scripps Pier and all the way to Black's Beach (advisable but items optional).
Turn north onto Torrey Pines Road from La Jolla, then continue north on Torrey Pines Road before turning left onto Calle Frescota and approaching the parking lot.
La Jolla Shores Details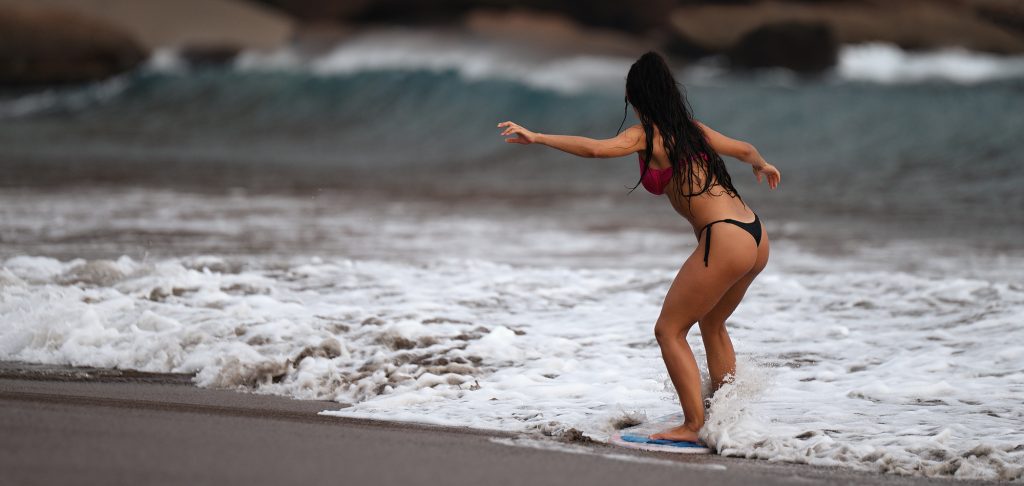 South Casa Beach
South Casa Beach is a tiny triangle-shaped cove located just south of Children's Pool Beach in La Jolla. Because this beach is also known as Casa Beach, it was given the informal name South Casa. Both locations are guarded by the same lifeguard station, illustrating how close they are.
When the waves are low and visibility is clear, this is a popular snorkeling and scuba diving destination. Seals and sea lions might take over portions of the beach, but humans are generally permitted to access the beach as long as the animals do not obstruct the bottom of the steps. If any animals are present, stay away from them.
Parking is available along Coast Boulevard and in the parking lot above the beach.
South Casa Beach Details
Conclusion for Where to Skimboard in San Diego
We hope that this list of beaches to skimboard in San Diego will guide you in getting to ride some waves.
For your own safety, before going into the water, check with the lifeguard station to ensure that they are on duty and are familiar with the current water conditions.
Other articles you might like: