San Diego is a city known for its amazing waterfront views. If you're looking for a great cup of coffee and some beautiful scenery, then you need to check out these waterfront coffee shops!
From North Park to Point Loma, these cafes offer the perfect combination of delicious coffee drinks and gorgeous coastal scenery.
Whether you're looking for a place to relax and enjoy the view, or you need to get some work done, these cafes will be sure to please.
Portside Coffee and Gelato
Address: 2614 Shelter Island Drive, San Diego, CA 92106
Address: 1360 North Harbor Drive, San Diego, CA 92101
Phone: 619-814-8081
Hours: 6:00 A.M. – 7:30 P.M. (Daily)
Website: www.portsidecoffeeandgelato.com
We would come here for a breakfast burrito and coffee on the go as this place is steps from the beach. With a few tables outside, you can enjoy your morning brew with the sunny Southern California weather. This is also a perfect dessert spot to come back to after dinner to get a scoop of creamy gelato.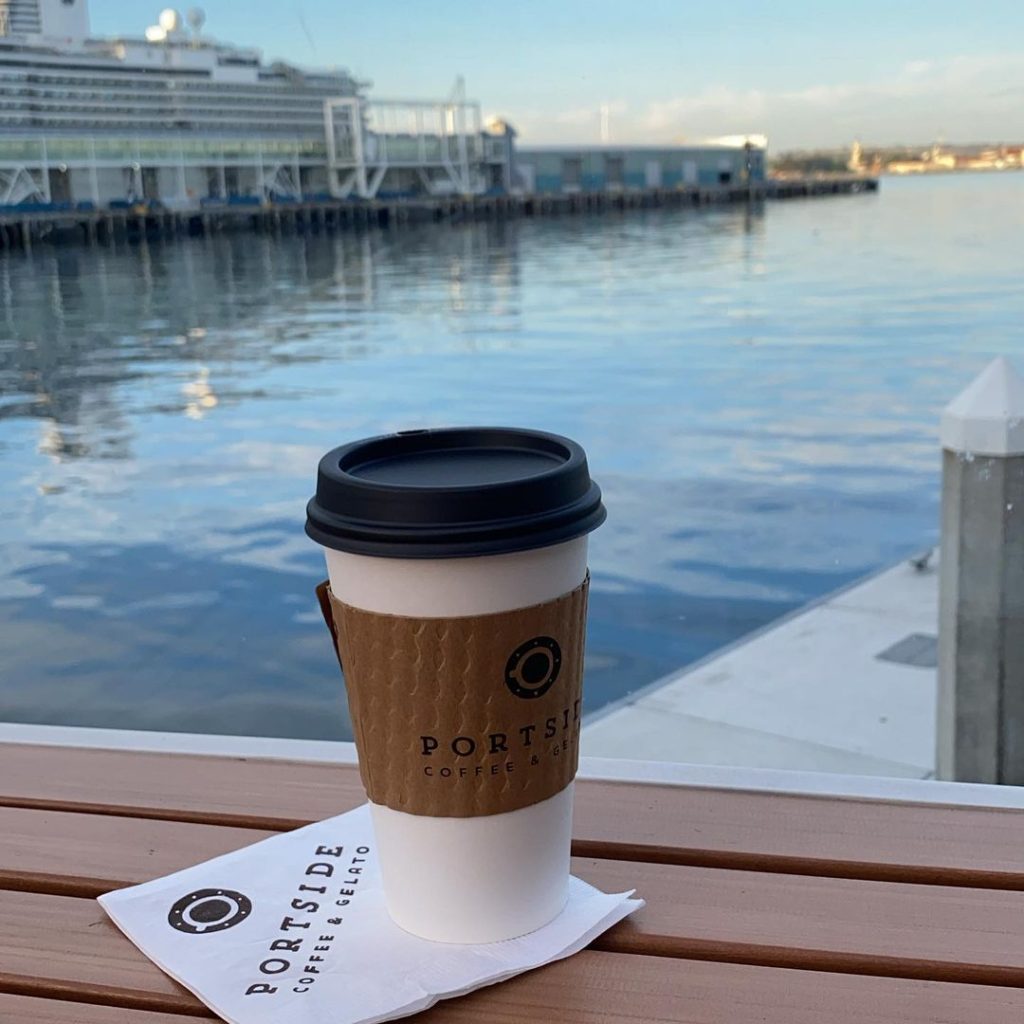 Walking on Water Café
Address: 5091 Niagara Avenue, San Diego, CA 92107
Phone: 619-226-3474
Hours: 8:00 A.M. – 8:00 P.M. (Daily)
Website: www.walkingonwatercafe.com
Walking on Water Café is a popular spot located on the Ocean Beach Municipal Pier, a landmark in San Diego County since it is one of the longest cement piers on the West Coast.
Since 1993, it has been a family-owned business. The CEO, Chuck Fisher, ensures that the guests receive the finest meals while still sitting on the beautiful pier.
One of the award-winning items to try is the fish tacos or fish and chips.
We enjoy coming for the amazing sunsets on the pier.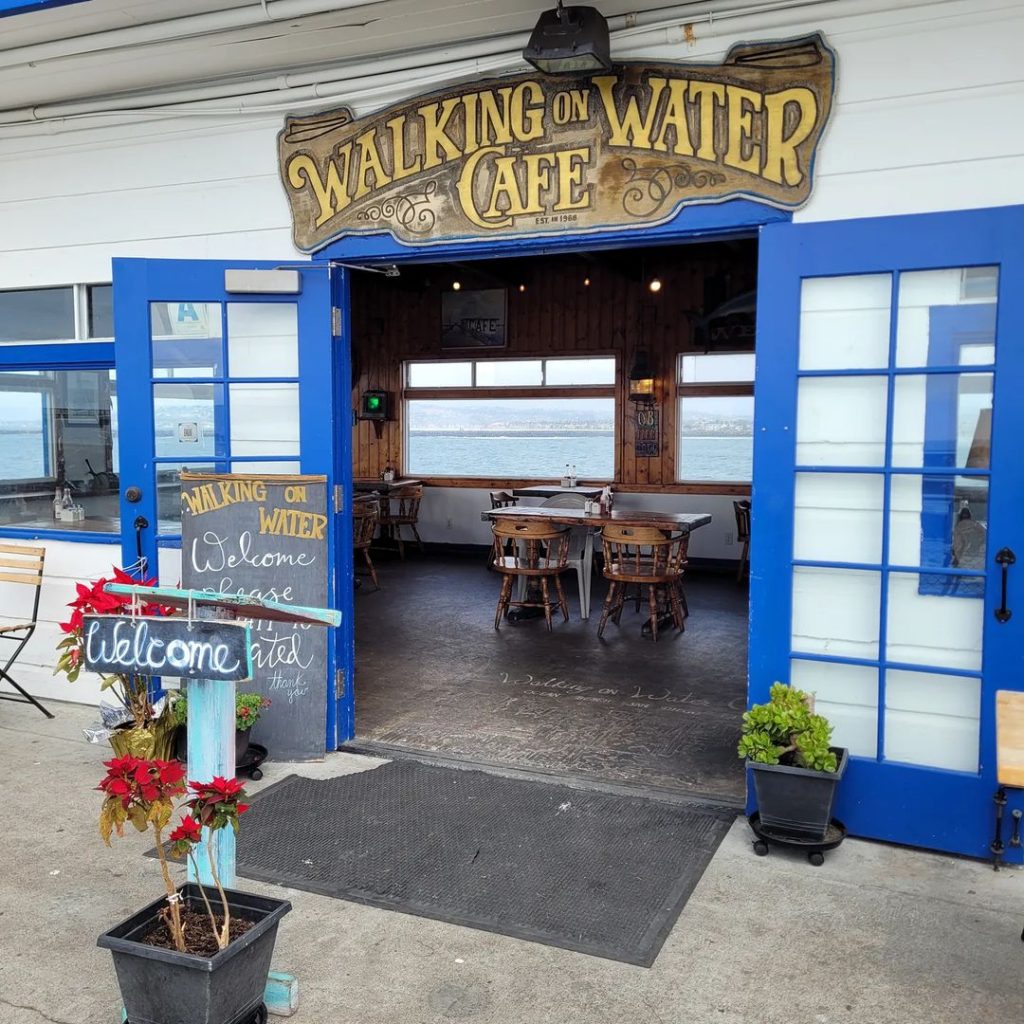 Newbreak Coffee and Café
Address: 1959 Abbott Street, San Diego, CA 92107
Phone: 619-224-6666
Hours: 7:00 A.M. – 2:00 P.M. (Daily)
Email: newbreakcafe1959@yahoo.com
Website: www.newbreakcafe.com
Newbreak Café is the "most famous secret." Located in a remote spot, the café became a secret location nestled in the OC community.
They also serve a wide range of smoothies, in addition to our delectable specialty coffees. They specialize in nutritious dishes like the Birchirmuesli, Super Bowl, and homemade hummus, among other things.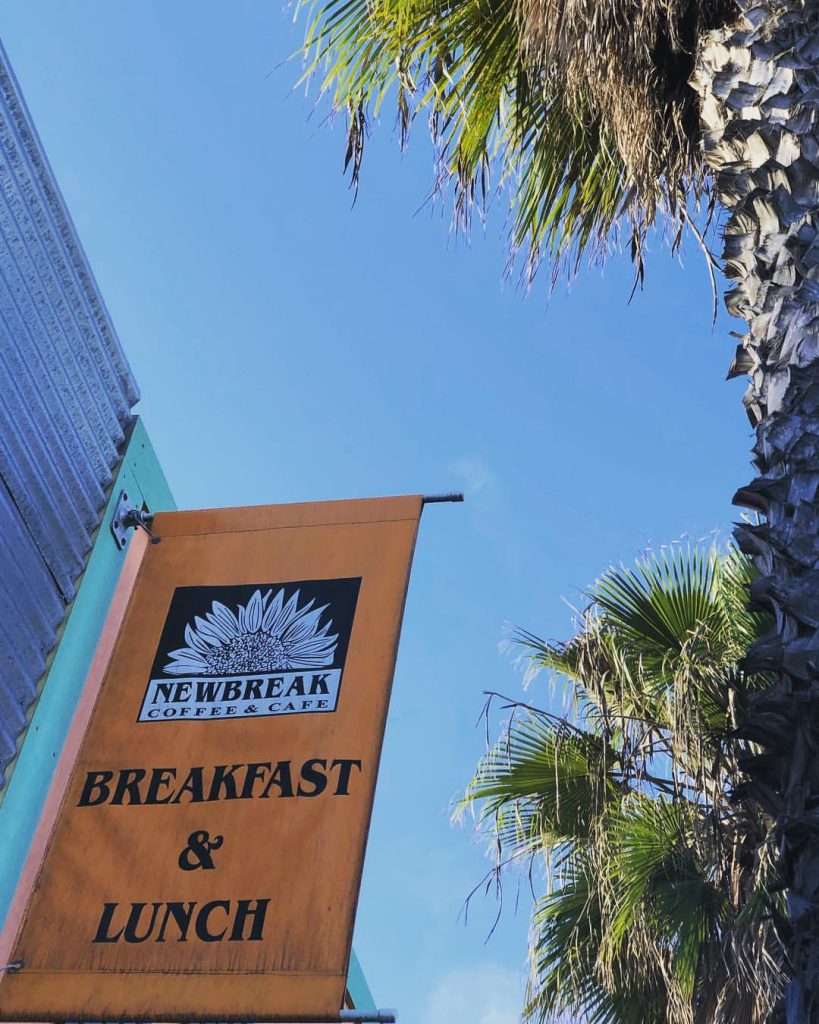 Pinpoint Café
Address: 8755 Biological Grade, San Diego, CA 92037
Phone: 858-952-2550
Hours: 7:30 A.M. – 3:00 P.M. (Monday – Friday), Closed (Saturday – Sunday)
Website: www.pinpoint-cafe.com
Pinpoint Café was first established in 2016 by two sisters located by the La Jolla Scripps Pier at UCSD Institution of Oceanography. It was first created with the vision in mind to make sure their guests enjoy a good coffee with an amazing view.
There are two other prime locations in San Diego to check out! If you are in La Jolla, the shop is in the Village or on the other side of town, Carmel Valley is their newest shop.
If you happen to have a large event coming up, they offer a catering service that we would recommend because of their pristine service and quality of food and beverages.
Jennings House Café
Address: 1018 Rosecrans Street, San Diego, CA 92106
Phone: 619-222-6857
Hours: 6:00 A.M. – 2:00 P.M. (Sunday – Tuesday), Closed (Wednesday – Thursday)
Website: www.jenningshousecafe.com
Jennings House Café is situated in the heart of Point Loma Village, serving breakfast all day and other signature dishes including homemade berry brioche French toast or hearty breakfast burritos.
Stop by on the weekend for brunch that is serving bottomless mimosas, cocktails, or other beverages of your choice. The menu also features fruit smoothies, gelato, or dessert pastries.
Feel free to bring your dogs to join as there are water bowls located on the outside porch.
We highly recommend this spot for the cozy spacious atmosphere, heated patios with the outdoor feel under their new canopy. The atmosphere itself makes you want to stay for hours over a cup of coffee, but they even cater to those with dietary restrictions, providing gluten-free or vegetarian options as well.
Parking is available in the back.
Kono's Café
Address: 704 Garnet Avenue, San Diego, CA 92109
Phone: 858-483-1669
Email: konoscafepb@gmail.com
Hours: 7:00 A.M. – 3:00 P.M. (Monday – Friday), 7:00 A.M. – 4:00 P.M. (Saturday – Sunday)
Website: www.konoscafe.com
Kono's Café was first opened in July of 1991 by Kathy and Steve who previously owned Lamont Street Grill. They decided on a restaurant near a prime location by Crystal Pier where surfers became their first regulars.
They coined the name Kono's after an Ensenada eatery that served cone-shaped tacos.
In July of 2016, Kathy and Steve opened a new location, Konito's, in the Pacific Plaza Shopping Center with long-time manager Pablo. Whether you're seeking a beautiful seaside view or something more low-key, these five locations have everything you need.
The menu has been kept simple with classic American cuisine with a few Southern California twists.
Their hot or cold drinks pair well with their breakfast sandwiches and egg burritos that are very filling!  They have a sit-down option to stay and eat or feel free to get anything to go for a nice walk along the pier.
Caroline's Seaside Café by Giuseppe
Address: 8610 Charles F Kennel Way, La Jolla, CA 92037
Phone: 858-202-0569
Hours: 8:00 A.M. – 3:00 P.M. (Daily)
Email: carolines@giuseppacatering.com
Website: www.carolinesseasidecafe.com
This is a perfect spot to unwind and take in the views of La Jolla with a nice coffee. There is a large outdoor dining section with all glass windows to take in the coastal breeze and scenery with a covering over the top.
With a variety of eggs, pancakes, sandwiches, soups, or even healthier options, there is something for everyone to choose from.  If you are looking for more than coffee, there is wine, beer, bloody Mary's, or other non-alcoholic juices.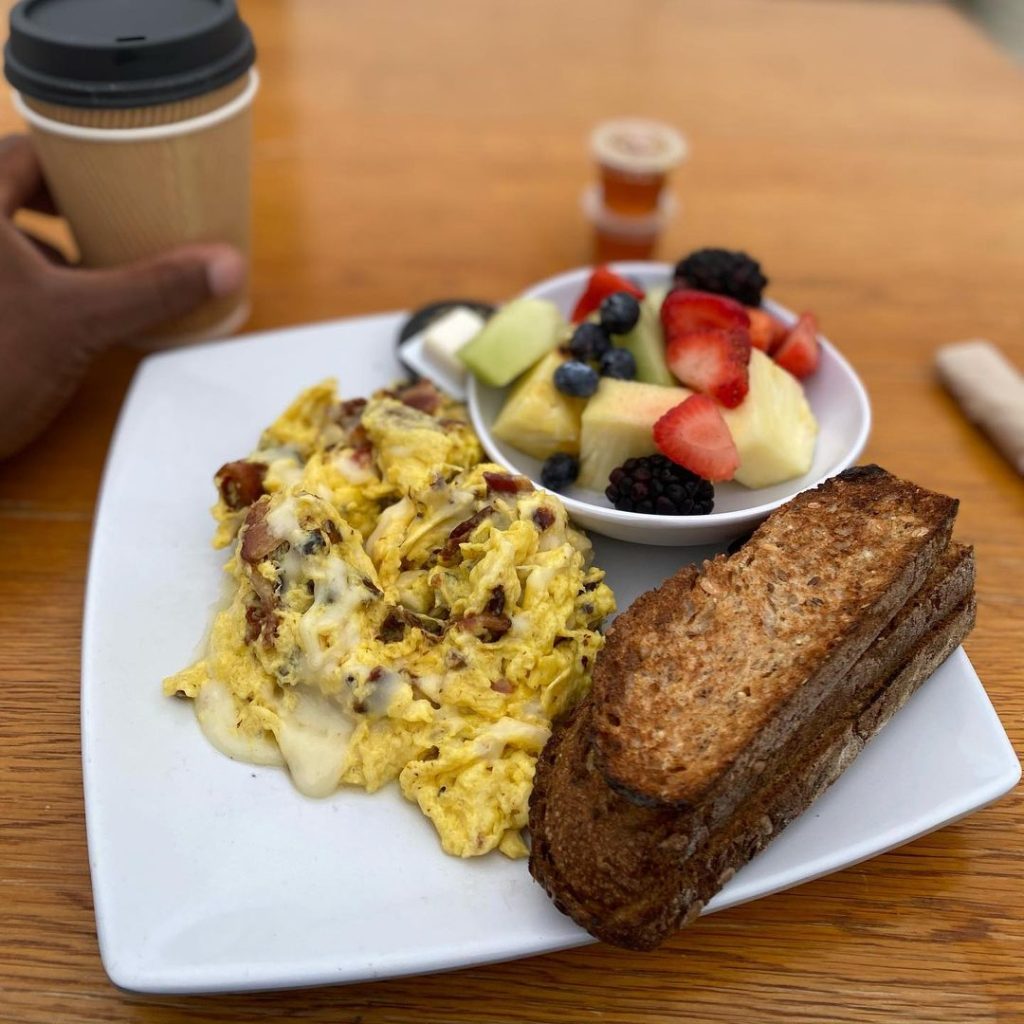 Conclusion for the Best Waterfront Coffee Shops in San Diego
There are plenty of waterfront coffee shops in San Diego to choose from, but we have narrowed down some of the best with a convenient walk to the beach and great views.  Each one offers a unique experience and stunning views that make them well worth a visit.
Other articles you might like: