On vacation, many of us like to have a drink or two, and for smokers, a drink is generally paired with a cigarette, vape session, or a little herb to relax things. It's a sociable and relaxing habit, therefore we've put up a list of clever ways to smoke without leaving any traces behind.
Although, note that smoking is strictly prohibited in public areas under California legislation.
Hotels that Allow Smoking in San Diego
San Diego Mission Bay Resort
Discover our completely transformed San Diego Mission Bay Resort, where you may enjoy everything the Southern California lifestyle has to offer — sun, sand, and lots more. Explore the life of San Diego, where you'll find waterfront dining, plenty of outdoor excursions, luxurious spa treatments, poolside downtime, and – best of all – proximity to everything you need in the San Diego city.
Take advantage of this tropical getaway to enjoy some sun and relaxation poolside in a lounge chair or your own private cabana…or jump right in. Our resort pool comes complete with children's activities (including wading pool) as well as appealing snacks and beverages from our pool bar.
Our delectable California cuisine is prepared to amaze your taste buds with three waterfront dining alternatives. Sip, unwind, and take in the salty air while you dine.
San Diego Mission Bay Resort Details
San Diego Mission Bay Resort Amenities
Waterfront pool
Wading pool
Poolside cabana rentals
Spa
Fitness center
Free WiFi
Tennis court access
Beach chairs and umbrellas
Board games
Resort games including volleyball, basketball, giant chess, giant checkers
Seasonal weekly s'mores night
Pet friendly
Homewood Suites by Hilton San Diego Airport-Liberty Station
Visit the Hilton Family's newest hotel in San Diego, Homewood Suites San Diego Airport-Liberty Station, which is located just minutes from downtown. This is the ideal place to stay while visiting sunny San Diego.
The Homewood Suites San Diego Airport-Liberty Station California hotel is located in the center of Liberty Station, an urban village formed from the re-development of the NTC the Historic Naval Training Center, originally built in 1921. The Homewood Suites San Diego Airport-Liberty Station California hotel has a lot to do.
Homewood Suites by Hilton San Diego Airport-Liberty Station Details
Homewood Suites by Hilton San Diego Airport-Liberty Station Amenities
Free hot breakfast
Free WiFi
Airport shuttle
Pool
Fitness center
Pet friendly
Business center
Meeting rooms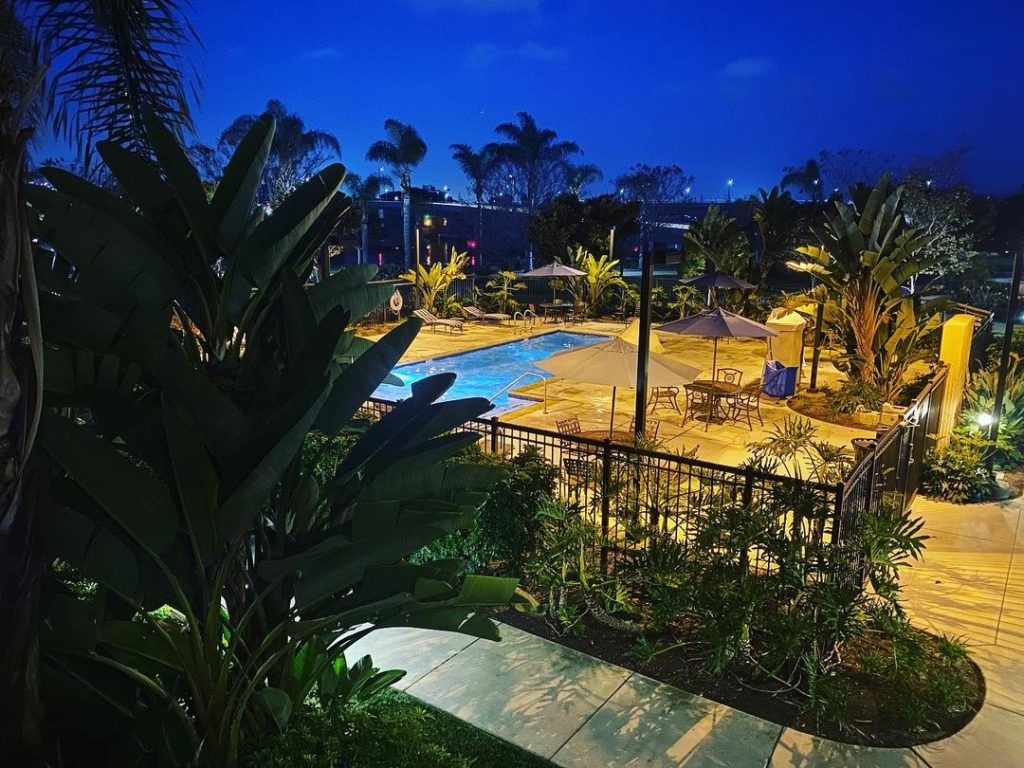 Best Western Yacht Harbor Hotel
The Best Western Yacht Harbor Hotel is in Point Loma, a neighborhood of San Diego, and is close to the airport and the beach. If shopping is on the itinerary, Seaport Village and Fashion Valley Mall are worth a visit, as are USS Midway Museum and Belmont Park if visiting attractions are among your interests.
This hotel offers a fitness center, as well as a 24-hour business center, and an outdoor pool. Free on-the-go breakfast, free Wi-Fi in public areas, and free self-parking are among the other services available. A spa tub, coffee/tea in a common area, and dry cleaning are also available.
Best Western Yacht Harbor Hotel Details
Best Western Yacht Harbor Hotel Amenities
Pool
Free WiFi
Breakfast included
Parking included
Air conditioning
Gym
Business services
Housekeeping
Laundry
24/7 front desk
Hot tub
Kings Inn San Diego
The best of Mid-Century design meets 21st-century convenience at The Kings Inn in San Diego.
Take advantage of their free Wi-Fi and unwind in one of their pleasant rooms. Take a swim or relax in our Pool and Hot Tub. There are also two wonderful restaurants on-site for your convenience. Their hotel offers a Guest Laundry, Fitness Center, and Private Meeting Room for your added convenience. Also, the Guest Service Desk is open 24/7.
Kings Inn San Diego Details
Kings Inn San Diego Amenities
Pool
Free WiFi
Air conditioning
Restaurant
Gym
Breakfast available
Business services
Bar
Room service
24/7 front desk
Parking available
Laundry
Housekeeping
Hot tub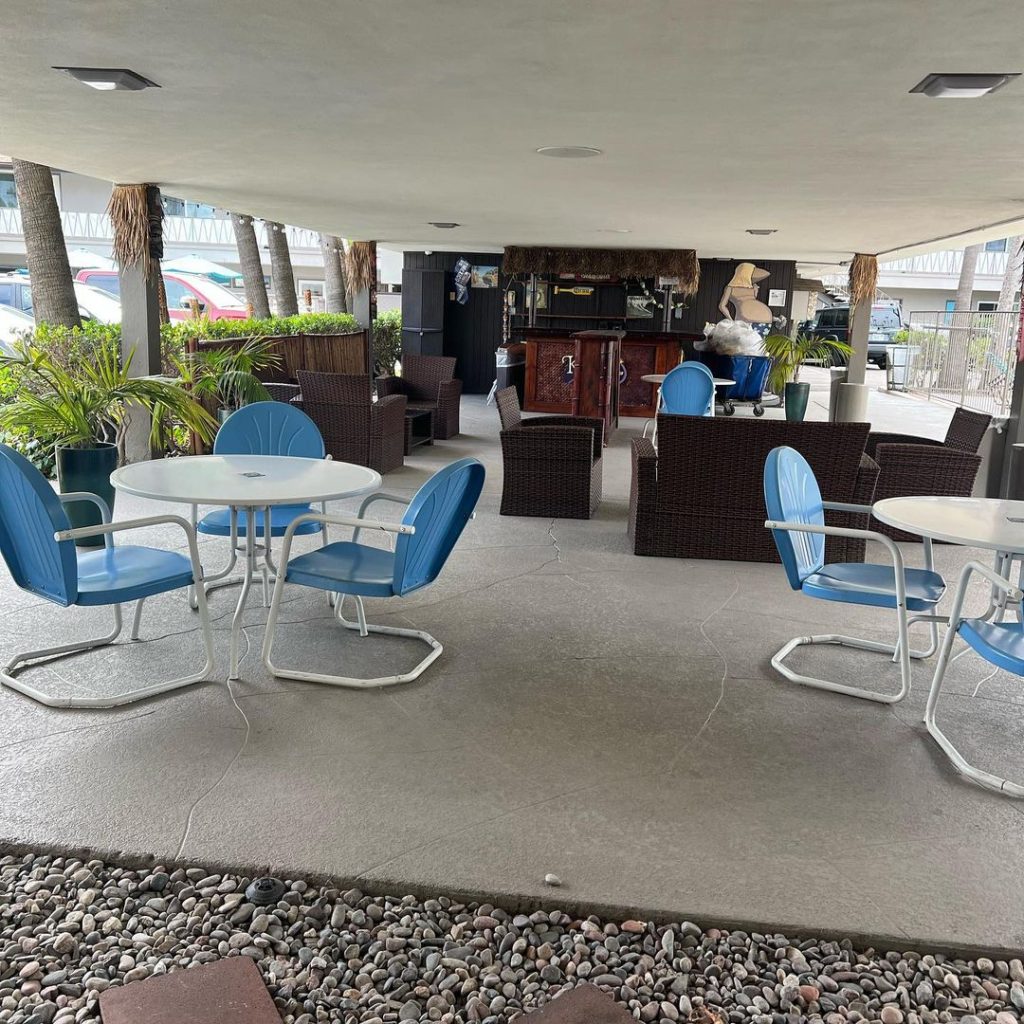 Frequently Asked Questions
Can you smoke cigarettes in a hotel room?
You can smoke cigarettes as long as you don't expose non-smokers to secondhand smoke and learn from clever tactics to do so.
Check to see whether the hotel has any designated smoking rooms available. While more and more hotels are eliminating this section of their website, there are still many that do not allow it.
A vape pen is a smart precaution against any problems. This cutting-edge substitute for smoking combustion is typically odorless and hidden. Vape pens are easy to transport, as well as being the greatest method to sneak in a "smoke" not just while at hotels but also in other non-smoking areas where lighting up is prohibited.
Wax and oil pens have gotten increasingly difficult to detect as e-cigarettes have grown in popularity over the last decade. If you're catching a flight to your hotel or going out in public, this feature makes them ideal for traveling because they leave a little residual scent.
How do hotels find out if you smoke?
Smokers are more likely to leave a trace of their presence in hotels. So, how do hotels know you smoked in your room? It begins with the most basic and progresses to the most complex, with the help of tools and technology.
Cigarette smoke leaves an odorous residue on the surfaces where it has circulated. It might be on a chair where the smoker sat, as well as the neighboring seat next to him or her. Pillows, curtains, luggage, and other items may all carry a smoky odor. Even after the smoker has left the area, the scent can linger.
Non-smokers are more likely to detect the scent of smoke than smokers. The employees of a hotel are very focused on detecting this.
Housekeepers are well-versed in the hotel room they clean and sweep every day. That includes rummaging into the garbage bins.
The degree of detection for how hotels know you smoked in the room has increased and is more accurate due to technology.
What is the best way to smoke in a hotel room?
A more complex technique is to use a simple but brilliant idea: simply blow any vapor toward the air conditioning vent, and the air-conditioning unit will dissolve any vapor as a result of its dehumidification function.
Consider booking a room with a balcony if possible. If you're visiting a metropolis rather than a tropical island, this may be difficult. Don't worry if you can't obtain a room with a view; we've got you covered.
You can usually crack a closed window open with a piece of wood or whatever you have on hand. If your room has a window that opens, even if it doesn't fully open, there's a good chance you'll be able to loosen the glass just enough.
After closing your door, hang the undisturbed sign outside, and lay a wet towel at the bottom to prevent smoke and odors from passing through. This will stop any smoke and scents from seeping under the door. But don't aim a fan or anything else in its direction!
If the hotel room has a fan, place it near the door and blow the smoke away from it to prevent particles from entering the micro spaces you didn't cover.
Can smoke detectors detect cigarettes?
We advise covering the fire alarm but remember to take off the cover after you're done smoking since doing so is both illegal and hazardous.
A plastic bag or a lightweight garment item can be used to cover the fire alarm.
Other articles you might like: