The term "five-star hotel" is sometimes used to describe a luxury accommodation, while the phrase "low-star hotel" has come to be associated with a less costly but lower quality option. The way that hotel star ratings work, on the other hand, is frequently misunderstood.
The star rating system was created to evaluate the standard of hotels. While you might expect a one-star rating to indicate a disgusting hole in the wall where illegal activities occur, and a five-star rating to indicate that a celebrity stayed there and loved it, this isn't always the case. A one-star ranking does not always suggest that recent bloodshed took place on the premises; it may simply imply that the hotel provides basic lodgings and restricted facilities.
Before scrolling down this list of our top four star hotels near Coronado, San Diego, you can check out these other recommendations from our team at Wandering California: Coronado: What You Need to Know and The Best Waterfront Hotels in San Diego
What does a four star hotel rating mean?
A hotel's rating is determined by how many stars it has. Hotels can be rated 1 to 5 stars, with 1 being the most basic and 5 being the most luxurious. A unified hotel star rating system does not exist, therefore you may discover the same hotel rated differently on various websites.
Four-star hotels, often known as superior lodgings, are large, deluxe resorts with full-time employees and a lot of extras. The lavish bedrooms have premium accessories such as luxurious bedding and exquisite bath products.
Four-star hotels provide a wide range of services and facilities, including concierge services, fine dining, several pools, and hot tubs, as well as high-end fitness centers, bellhops, room service, valet parking, day spas, limousine services, and luxury suites.
Four-star hotels are definitely more opulent—your room will be spacious, and you'll have access to a variety of convenient services—while five-star hotels are the greatest of the best. You'll be able to contact a concierge at a five-star hotel. Obviously, the hotel's star rating would influence your experience significantly, but a lower star rating doesn't always indicate an awful visit; it simply won't be as luxurious.
What to consider when booking a hotel room
Begin by identifying exactly what you want in a hotel before making a reservation.
When it comes to traveling, everyone has different priorities. Determine if this trip is a romantic getaway for you and your spouse, a family vacation in which you'll need more room, or a fast visit where you won't be in your room for long. Also, consider whether this is a business trip or not.
After that, do some research. Looking at just the star rating isn't sufficient because we've already established that they only indicate the facilities and extras supplied.
There's no doubt that the hotel star rating system is vague, misleading, and sometimes even capricious. However, it is quite feasible to select the ideal hotel for your specific demands while staying within your budget with a little study.
When you're researching hotels, read through what other customers have to say. Many travel websites include guest reviews in addition to their own star ratings, and while you should consider personal bias and quirks, they're frequently quite honest and accurate.
The majority of booking sites enable you to sort search results by average rating if you want to save time on your research. This will allow you to eliminate any hotels with an awful star rating, allowing you to focus your attention on ones with three stars or more.
Another topic to consider when reserving a room is the quality of your sleep, which may be directly linked to how much you spend. In a top-tier hotel, you'd anticipate a premium mattress and pillows, fluffy towels, a bathrobe, and an operational heat and air conditioning.
The look of a hotel is another "small thing" that makes a significant difference. This may not be a concern for some people, but others place importance on it. The décor in low-cost and high-end hotels is one of the most underappreciated aspects of travel.
Top Four Star Hotels Near Coronado
Loews Coronado Bay Resort
There's simply nothing like it, nestled between sparkling bay waters and the San Diego cityscape. This resort is uniquely Southern California in that it is a private sanctuary with endless activities, from sailboat cruises to beaches and pool cabanas.
The hotel has stunning vistas, thrilling activities, and more. It is a beautiful island destination with breathtaking views, exciting activities, and much more.
There are limited shuttle services to Silver Strand Beach during the winter months, but they are free.
On Friday and Saturday, from 7 – 9 p.m., Cays Lounge hosts live music while you drink local craft beverages and nibble on seasonal tapas. Monday through Friday, beginning at 3 p.m., there is a Happy Hour schedule.
Treat yourself to a day at the beach and receive pampering with their seaside service, which includes free transportation to and from the beach, a towel, as well as access to sand toys and boogie boards based on availability.
Loews Coronado Bay Resort Amenities
Free Wi-Fi
Onsite Dining
Marina
Spa
Gym
Sauna
3 heated pools
Children's Pool
Pet-friendly
24-hour front desk
Dry Cleaning
Laundry
Parking available
Loews Coronado Bay Resort Details
Hotel del Coronado, Curio Collection by Hilton
For over 130 years, the opulence of this Victorian-style resort has attracted royalty, celebrities, and beach-loving families along the California coast. An outdoor pool and wellness treatments are among the amenities available at this vacation spot.
With seven waterfront restaurants to choose from, you can enjoy California sunsets. If you are looking for a quick outdoor meal, the Beach and Taco Shack offer tropical cocktails, beer, wine, and fish tacos at Del's surf-inspired bar located conveniently just steps from the beach.
Named for the hotel's founders, Babcock & Story Bar offers delectable food and creative cocktails. Relive the hotel's illustrious history at the grandly restored original wood bar or enjoy yourself on the large outdoor patio with unobstructed views of Coronado beach.
ENO Market & Pizzeria has been rebuilt as a new restaurant concept. ENO Market features healthy grab-and-go meals, as well as coffees, baked goods, and sandwiches. ENO Pizzeria provides an attractive patio gazebo and comfy outdoor chairs for sharing hearty pizzas, sweet desserts, and sipping Italian cocktails or glasses of wine.
Serea is a seafood restaurant that provides an unforgettable sea-to-table dining experience. The straightforward, sustainable cuisine of Executive Chef JoJo Ruiz offers guests a rich selection of fresh fish and seasonal produce grown in Southern California by local farmers.
The Sun Deck is Coronado's top spot for fine cocktails and coastal classics. Relax by the cozy fire pits and taste delectable bites and beverages while taking in stunning views of the West Coast's most spectacular sunsets. Dining on the Sun Deck is unlike any other restaurant experience, with spectacular front-row vistas of the area's most beautiful sunsets on the West Coast.
A dreamlike island retreat offering ocean-inspired pampering to relax your mind, body, and spirit. A Marilyn Monroe-themed Beauty Bar & Salon and a private, oceanfront terrace with a vanishing edge pool are also available.
Of course, there is dessert offered at the resort as well in the form of ice cream-style gelato and hand-crafted paleta popsicles that you can dip, drizzle, and sprinkle with toppings and other flavor combinations.
The chandelier-lit ballrooms, flowering gardens, and panoramic views make events stand out.
Hotel del Coronado, Curio Collection by Hilton Amenities
Free Wi-Fi
Non-smoking rooms
Digital key
Concierge
Spa
Beach
Resort
Boutique
EV Charging
Streaming TV
On-site restaurant
Outdoor pool
Pet-friendly rooms
Business center
Meeting rooms
Hotel del Coronado, Curio Collection by Hilton Details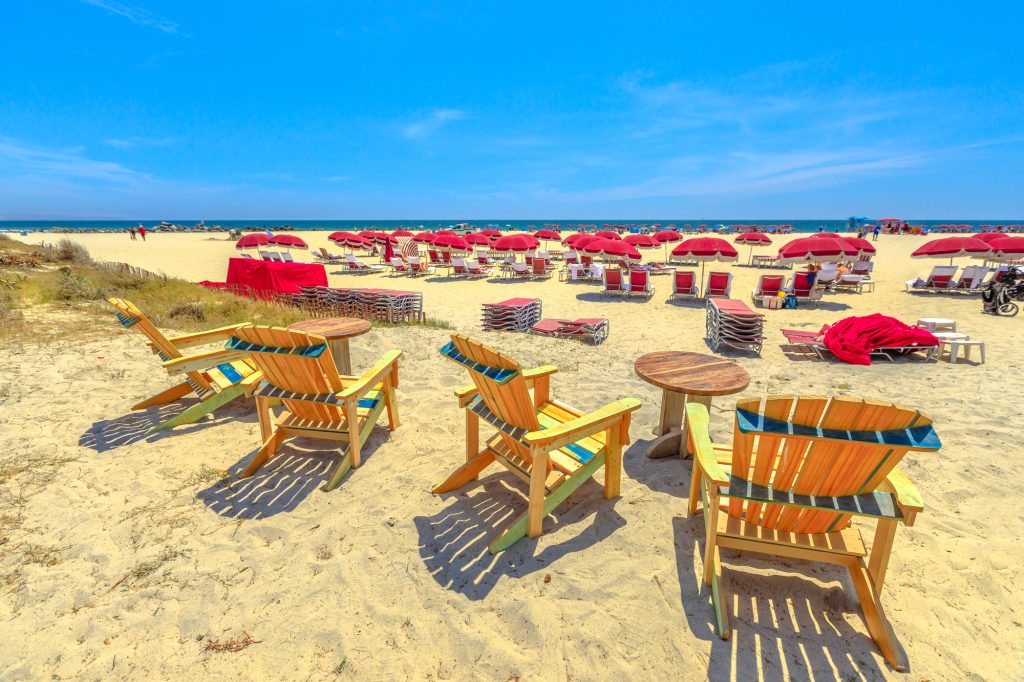 Coronado Island Marriott Resort and Spa
Whether you're in town for a conference or a relaxing seaside vacation, the Coronado Island Marriott Resort & Spa is the perfect destination. The hotel is conveniently located to provide quick access to Coronado Beach and San Diego sights such as the Gaslamp District and Balboa Park, with views of the San Diego skyline and Coronado Bridge.
Throughout, visitors may relax in large, refurbished hotel rooms, suites, and private cottages. Guestrooms include soft furnishings, enormous bathrooms with jacuzzi tubs, sofa beds, big desks with Wi-Fi access, and balconies. Kitchenette Cottage Rooms have kitchenettes that provide a full kitchen.
The resort has three swimming pools, a pickleball court, a recently updated health center, and spa, as well as delectable dining options. You'll appreciate the nearly 45,000 square feet of high-end hotel facilities on Coronado Island, including ballrooms to boardrooms. There are several available outside locations with panoramic views.
Coronado Island Marriott Resort and Spa Amenities
Free Wi-Fi
Fitness Center
Spa
Outdoor Pool
Hot tub
Meeting space
Activities for kids
Watercraft Rental
Convenience Store
Gift shop
Dry Cleaning Service
Wake up calls
Daily Housekeeping
Kitchenette
Service Request
Guest room entertainment
Coronado Island Marriott Resort and Spa Details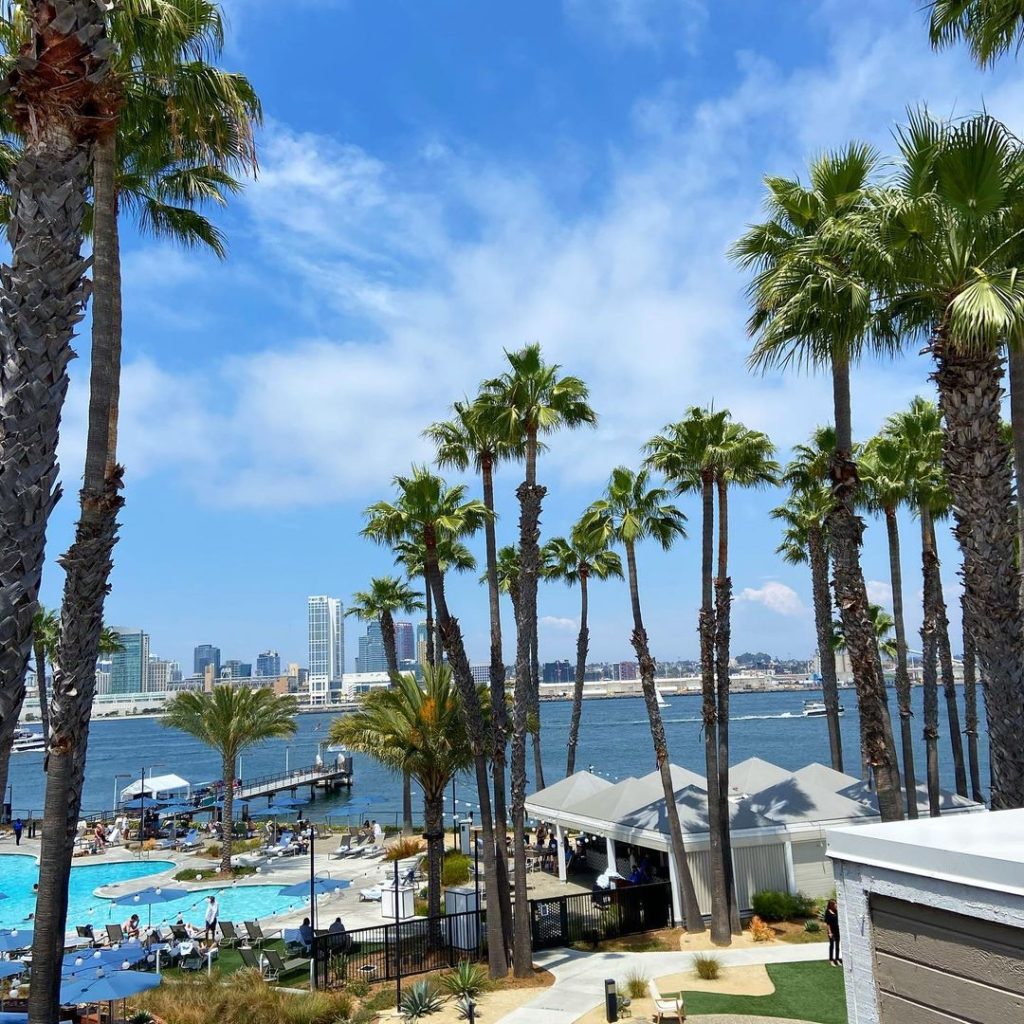 Hilton San Diego Bayfront
Off the Coronado Island, center near downtown Gaslamp Quarter, their rooms are an attractive starting point for your stay since they provide spectacular views of San Diego Bay and the city skyline. For a second living area and more features, choose a spacious suite.
On weekends, this hotel provides complimentary transportation to the beautiful Coronado Island on its own beach bus. Otherwise, if you want to get some sun while avoiding the crowds, take a dip in their heated bayfront pool.
Transcendental: eforea Spa is a hidden gem that offers an unexpected spa experience, as well as a spiritual escape. Eforea Spa focuses on balance, health, and transformative adventures. Whether you're unwinding or getting ready for a big night out, eforea Spa provides you with a customizable and revitalizing experience.
For your convenience, they will supply you with a bike during your stay! Lockers, a bike station, and information on our favorite routes located on the Promenade East level near Gull Street are all available for you.
Hilton San Diego Bayfront Amenities
Free Wi-Fi
Spa
Pool
Fitness center
Jogging track
Car charging station
Guest activity desk
Room service
Business center
UPS store
Concierge desk
Gift shop
Luggage hold
Pet-friendly
Non-smoking rooms
Hilton San Diego Bayfront Details
Other articles you might like: