If you're looking for a beautiful and unique way to experience the coastal art of La Jolla, the murals are a great place to start! These vibrant and colorful pieces of art line the streets of this seaside town, and they offer an amazing glimpse into the culture and history of La Jolla.
We will take a closer look at some of these murals and explore their significance.  We'll also discuss the artists who created them and how they've helped to shape La Jolla's unique identity.
Overview of La Jolla Murals
La Jolla Murals was founded in 2010 to commission public art projects and introduce contemporary art into the community. An Art Advisory Committee, led by the heads of La Jolla's top visual arts organizations, recruits an international list of artists to create new works on private property and privately funded.
The Athenaeum is the driving force behind Murals of La Jolla, a project of the Community Foundation for La Jolla. Murals of La Jolla shows that recruiting artists to paint public spaces stimulates a community and gives it life.
The objective of the mural project is to improve the community's civic character by commissioning public art projects on private land throughout La Jolla. The heads of major visual arts organizations that commission artists to propose the intervention of an image on certain walls on privately owned buildings makes up the Murals of La Jolla Art Advisory Committee.
There is a Murals of La Jolla Tour that is about one to two hours in length that allow you to stroll the streets of La Jolla to see some of the murals and learn about the artists and their concepts as well as the production of techniques.  This guided tour experience is a wonderful way to experience public art with a professional and informative guide.
Popular Murals in La Jolla
Murals of La Jolla has a solid track record of expanding public appreciation for modern art by commissioning new pieces each year and displaying them on the city's streets and sidewalks.
These are 10 murals that showcase the program's expansion and promise. From abstract creations to literal representations, these artists and their works have collectively altered perceptions of these locations and urged us to get out more often.
Once Upon a Time in the West
Year: 2017
Artist: Kota Ezawa
Location: 7905 Herschel Ave, La Jolla, CA 92037
Kota Ezawa's massive "Once Upon a Time in the West" is a tribute to one of the most iconic and historically important pieces of architecture in San Diego. The profile of architect Louis Kahn is superimposed over a dramatic view of the Salk Institute that faces the ocean.
The architect is depicted as someone looking outward, as though he is contemplating what might be in the surrounding countryside, in this stylized and pop-inspired line drawing that honors the landmark's powerful forms and shapes while also conveying the architect as someone looking outward.
At Sea
Year: 2012
Artist: Ann Hamilton
"at Sea" by Ann Hamilton, a three-story work from the turn of the century, once occupied the same place as Ezawa's mural. In Hamilton's piece, a ship sails from left to right and fades into view slightly upwards. The picture is serious, with a green tint that conveys menace.
This piece is more than a kitschy or feel-good connection to the coast. It's about overcoming difficult circumstances and the unpredictable stumbling blocks that must be overcome in order to achieve one's objectives successfully.
Blah Blah Bah
Year: 2015
Artist: Mel Bochner
Location: 1111 Prospect St, La Jolla, CA 92037
Our environment is full of visual stimuli that resemble a packed room filled with conversation. "Blah Blah Blah" by Mel Bochner not only captures this emotion, but it also suggests that our communication can be empty and meaningless. The imposing mural demands attention through repetition, size, and the vivid contrast between black and white.
Ironically, once we've seen it, the meaningless phrases are unable to provide anything of value. It's not difficult to imagine how this concept translates into social media postings that we readily offer out into the world.
Brain/Cloud (With Seascape and Palm Tree)
Year: 2011
Artist: John Baldessari
Location: 1250 Prospect St, La Jolla, CA 92037
"Brain/Cloud (With Seascape and Palm Tree)" is perhaps the most recognized public work created by Murals of La Jolla.  The image lines up with the beach when viewed from the neighboring structures, and it conflates our perfect Southern California view: a solitary palm tree set against a bright blue sea. "
The brain of a single cloud, for example, serves as both a brain and an endearing figure in Baldessari's "Clouds." His mix of found images with his sense of humor and deep interest in pondering our condition explains why a single cloud becomes two. These seemingly unique and distinct pictures have meaning when juxtaposed together.
Landing
Year: 2016
Artist: Heather Gwen Martin
Location: 7724 Girard Ave, La Jolla, CA 92037
The largest amount of electric orange paint climbs three stories to reveal Heather Gwen Martin's mural, "Landing." The geometric stiffness of the structure is broken down, and the smooth and organic forms flow up and down the horizontal composition. Reduced to two adjacent walls, the brick becomes a painting that seems to float in front of the building behind it. Colors alter how we interact with space, and Martin transforms this alley, parking lot, and residential area all affected by it.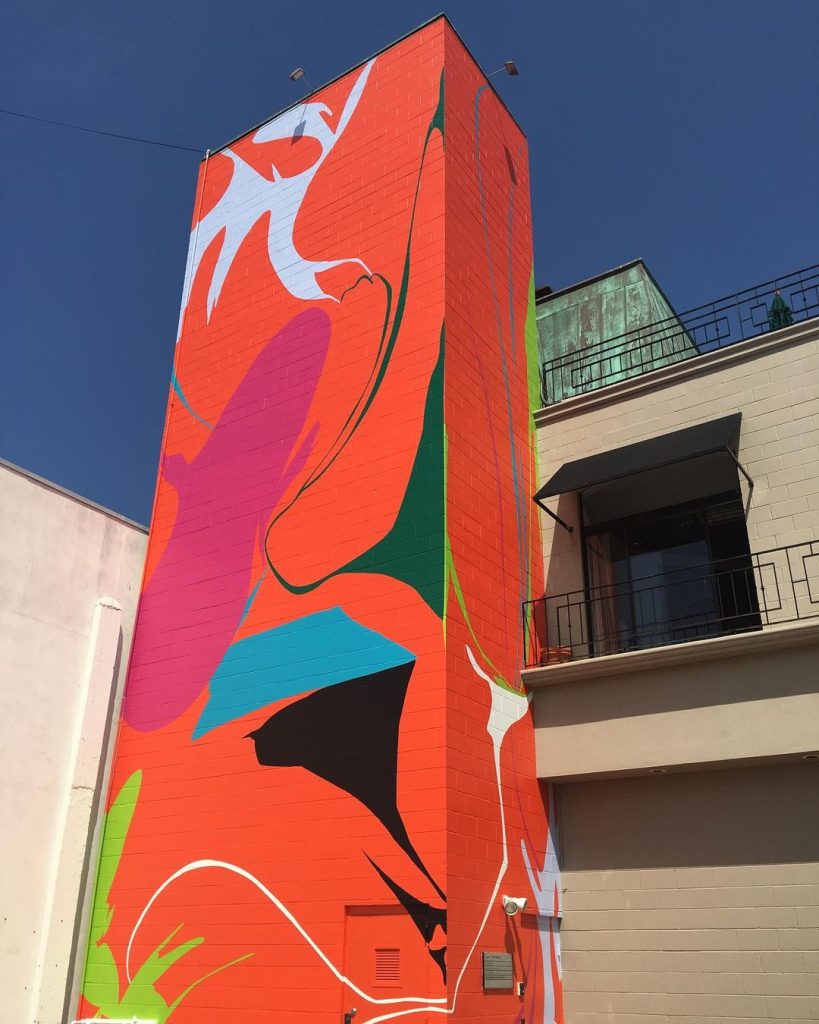 The Shores
Year: 2013
Artist: Katherine Opie
Temporality is a key aspect of murals' distinctiveness as a public art form. Catherine Opie's "The Shores," which was formerly located at 7509 Girard Avenue, is an excellent illustration of an activity that emphasizes the importance of seeing these works while they are still accessible. The fuzzy image of surfers wading into the sea recedes into the distance, gradually transforming into abstract imagery through the use of landscape photography.  These vacant areas are filled with memories of the coast, giving rise to an impression fueled by personal connections that makes it uniquely ours.
McCairn
Year: 2019
Artist: Roman de Salvo
Location: 5535 La Jolla Blvd, La Jolla, CA 92037
The 'McCairn' mural by Roman de Salvo, which is the newest addition to La Jolla, is a good example.  In a type and design that we can immediately recognize as belonging to the McDonald's brand, he depicts piled rocks forming the letter "M" in a font and style that are clearly recognizable.  The printed image and its dimensions are comparable to those of a promotion or billboard, placing it on top of a car repair business, furthering the perplexity and intent behind his work and Murals of La Jolla in raising aesthetic awareness.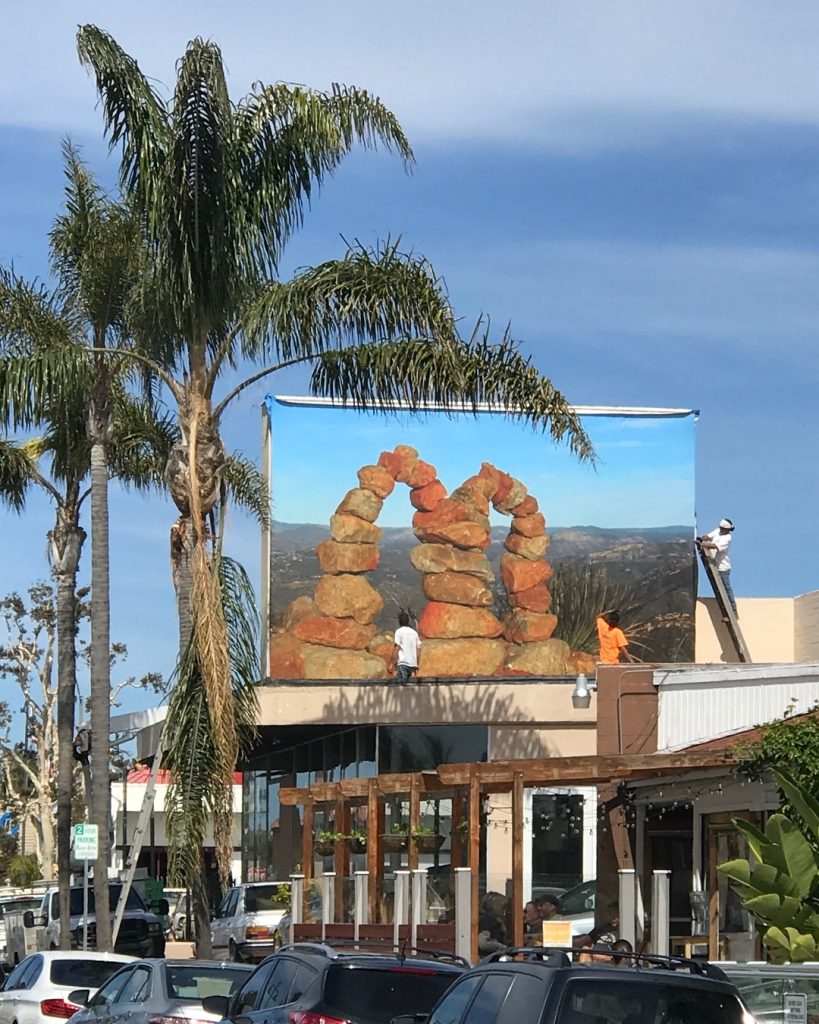 Walking in the City
Year: 2015
Artist: Julian Opie
"Walking in the City," a billboard mural painted by Julian Opie (2013) previously occupied the location where "McCairn" now resides. The painting was also double-sided and included several stylized individuals walking in opposing directions. These figures towered above La Jolla and served as a sign that this is a pedestrian area best seen and experienced on foot, based on observations from street level.
Tear Stains Be Gone
Year: 2015
Artist: Jean Lowe
Location: 7661 Girard Ave, La Jolla, CA 92037
"Tear Stains Be Gone" by Jean Lowe maintains that "Being human is difficult, but it doesn't have to appear to be so!" The ad features a humorous tone that addresses themes of consumer happiness and the false impressions we frequently portray as humans. It's a satirical reminder in a rich town that there are other things in life worth having.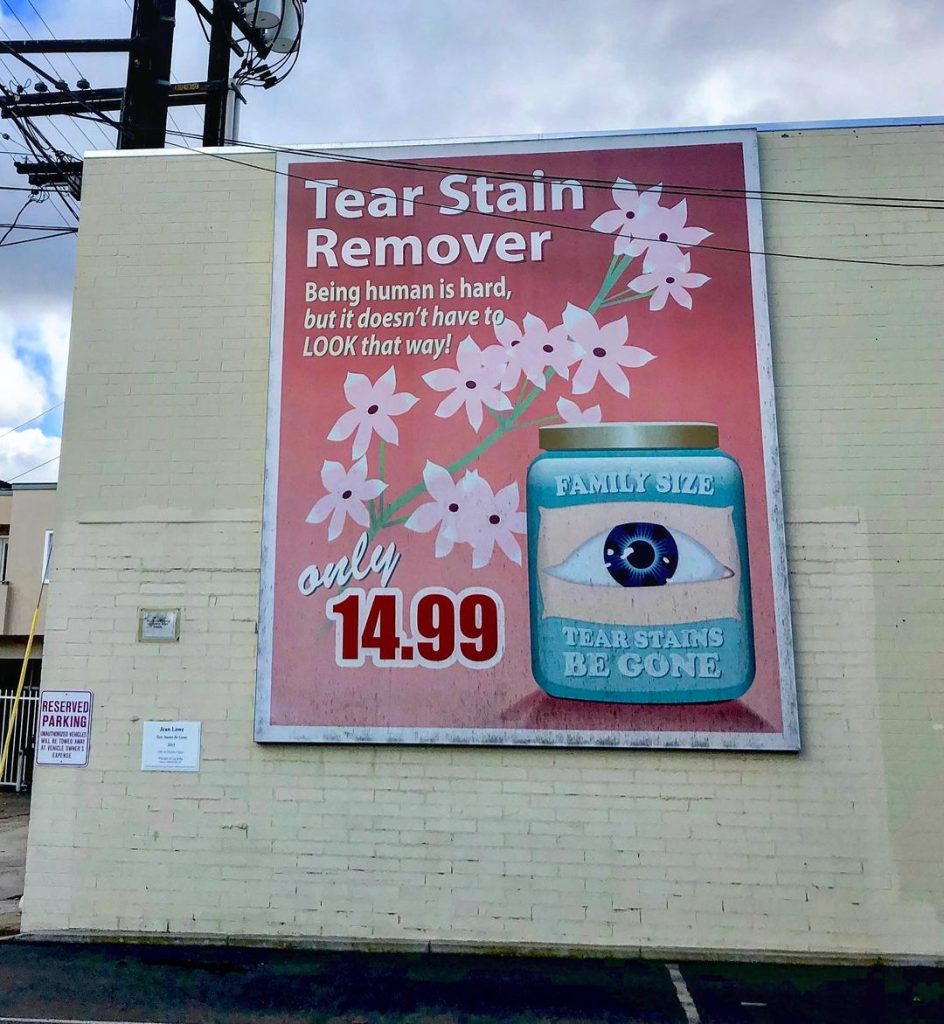 Favorite Color
Year: 2010
Artist: Roy McMakin
Location: 7596 Eads Ave, La Jolla, CA 92037
McMakin's "Favorite Color," which was created in 2010, may take home a prize for appearing in the most social media posts since it was painted.  Hundreds of participants voted on their favorite colors, and the collection of images is put together in a grid of joy, featuring a representation of their favorite colors chosen by them.  The vibrant, joyful, and largely bright hues stand out from one another, demonstrating diversity while also reaffirming that such a variety of preferences can exist together.  The end result is a fun and optimistic experience combining elements of social experiment and design thinking.
Conclusion for La Jolla Murals
Murals may be used for a variety of purposes.  They were originally designed to beautify public or private areas.  However, as time passed, murals evolved into a tool for political and social commentary.  Murals may also be utilized to commemorate or document a historical event.
Murals may brighten the appearance of otherwise drab building surfaces and walkways. Urban city walls can be unappealing and go unnoticed in many regions. We can completely change areas that were previously austere or downtrodden with the application of murals.
La Jolla Murals in San Diego are some of the most unique and beautiful in all of California. Situated on the coast, these murals reflect the natural beauty of the area with their bright colors and ocean themes, transforming a public space by adding color and beauty.
Take a peek at some of these engaging art forms in La Jolla, San Diego.
Other articles you might like: