Address: 600 F Street, San Diego, CA 92101
Phone: 619-849-1234
The Andaz is located right in the heart of San Diego with a rooftop offering stunning views of the busy Gaslamp Quarter, where contemporary living spaces epitomize Californian cool. The landmark structure—originally constructed in 1913 as a World's Fair exhibit celebrating the completion of the Panama Canal—is less than a mile from the San Diego Convention Center and is home to vibrant nighttime life.
The upscale Andaz San Diego was rebranded from Ivy Hotel in 2007 as part of a relatively new Hyatt Hotels luxury boutique chain designed for major urban hubs in other cities such as Los Angeles, New York, and London.
The Andaz San Diego is a convenient three-mile drive from the San Diego International Airport (SAN) and 1 mile from the Santa Fe Depot Amtrak station. Westfield Horton Plaza shopping is only a six-minute walk away, and Petco Park is about half a mile away.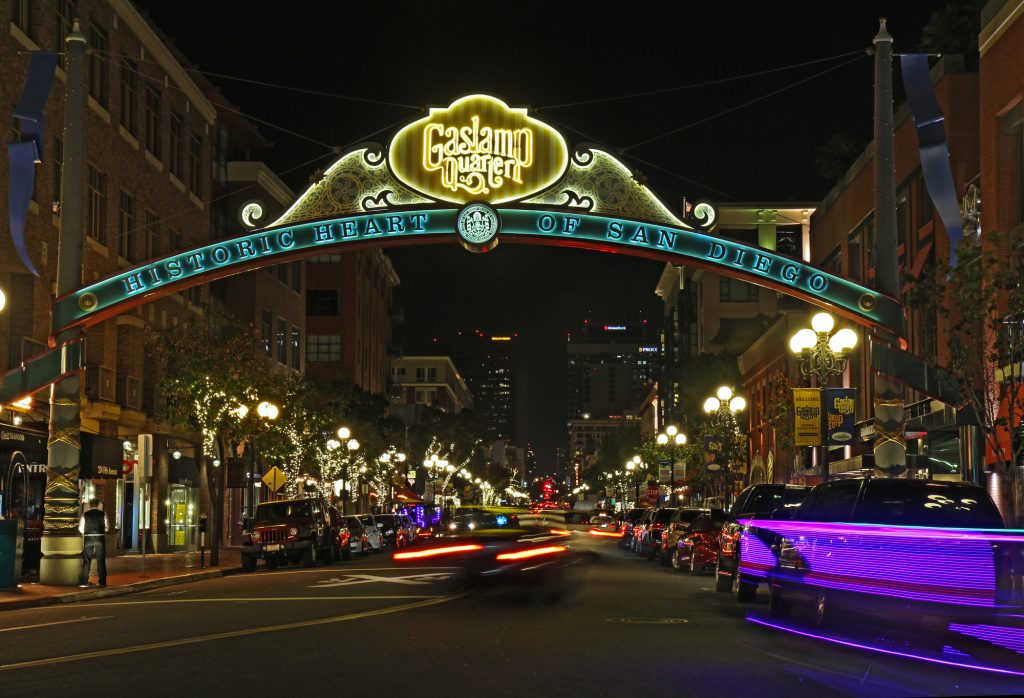 What does Andaz San Diego Feature?
Upon check-in, guests are immediately welcomed with a complimentary beverage. You will also receive complimentary daily select beverages along with daily select snacks in the guest rooms.
The Andaz San Diego features spacious guest rooms with floor-to-ceiling windows that offer amazing views of the cityscape below. Each room comes equipped with a flat-screen TV, mini-fridge, and coffee maker. The hotel's signature beds are sure to provide a restful night's sleep after a busy day of sightseeing. Guests can also enjoy access to the hotel's fitness center, which features state-of-the-art equipment and stunning views of the harbor.
Guests are offered complimentary Wi-Fi throughout the property, making it easy to stay connected while on vacation. In addition, there's an iPad station in each room so that you can easily browse through your itinerary or find restaurants.
There are many unique event spaces for any occasion. Between the West Rooftop and the East Rooftop, there is plenty of space to host a wedding, reception, or theater-style space. Plus, their experienced catering team will work with you to create a custom menu that fits your taste and budget. So, whether you're planning an intimate gathering or a large celebration, you will find the perfect space here for what you are looking for.
Andaz San Diego hotel also offers creative meeting spaces that can accommodate up to 120 guests. The hotel has several different room configurations that can be tailored to fit your needs, including boardroom style, classroom style, and theater-style. Plus, the hotel's location in the heart of downtown San Diego makes it easy for guests to get to.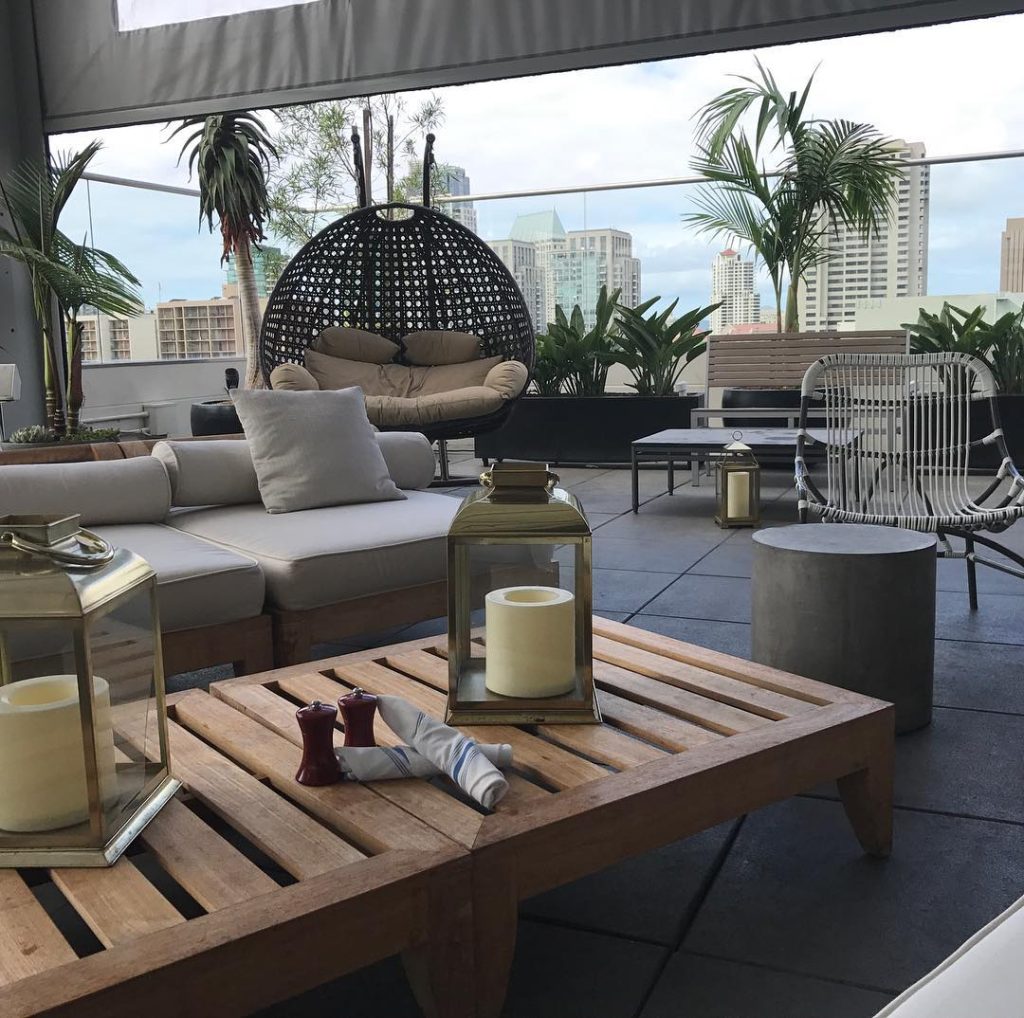 Dining:
Phone: 619-814-2002
Email: ly.costales@andaz.com (for bottle service or Cabana Rentals)
Hours: Breakfast Monday – Thursday 7:00 A.M. – 11:00 A.M., Brunch Friday – Saturday 7:00 A.M. – 2:00 P.M. (extended on Sundays until 4:00 P.M.), Lunch/Dinner Monday – Thursday 4:00 P.M. – 9:00 P.M., Lunch/Dinner Friday – Saturday 2:00 P.M. – 9:00 P.M.
Andaz San Diego has you covered for any occasion, whether it's a lavish breakfast or a morning drink from a rooftop table while watching the city wake up. Head up to dine outside on locally sourced ingredients at The Rooftop by STK, the largest, premier rooftop pool, bar, and dining, in the Gaslamp Quarter, or walk past the front desk and ask for a caffeinated pick-me-up on your way out. With skyline views, inventive cocktails, and delectable platters, the Rooftop by STK is the ideal venue for a night on the town or special occasion. The cabanas at the pool at highly utilized during the summer and STK offers reservations ahead of time.
Please be advised that the food in the restaurant differs from that of STK Steakhouse on the hotel's lobby level, and there is a different dress code.
Phone: 619-354-5988
Hours: Brunch Saturday – Sunday: 9:00 A.M. – 3:00 P.M., Dinner Sunday – Thursday: 3:00 P.M. – 11:00 P.M., Dinner Friday – Saturday: 3:00 P.M. – 12:00 A.M.
The on-site STK Restaurant, located on the lobby level, is open daily for dine-in, takeout, and delivery.
STK Steakhouse offers a unique VIBE DINING experience that artfully blends the contemporary steakhouse with a stylish lounge.
Creamy leather seats surround a large central lounge area, which is complemented by an elevated dining room for more formal dining. Theatrical lights illuminate each table and large windows offer patrons views of the bustling Gaslamp Quarter, while a DJ creates an exciting atmosphere throughout the entire venue.
At STK San Diego, you'll find something to satisfy every taste. Steak is, as expected, the main attraction. STK San Diego serves modest, medium, and large cuts of meat as well as naturally raised options and market-fresh fish dishes often paired with a glass of wine. Parmesan Truffle Fries; Lil' BRGs; Tuna Tartar; and Sweet Corn Pudding are among the signature items on offer.
Of course, happy hour is offered Monday through Friday starting at 3:00 P.M. to 6:30 P.M.
Pet Friendly
The Andaz in San Diego is a great retreat for not only you but also your furry friend. Before you go exploring in the Gaslamp District, curl up with your furry companion in one of their comfortable pet beds, stay hydrated with an Andaz dog bowl, and get energized with a treat at the front desk.
The pet-friendly policy requires a $75 pet fee per stay. Your favorite four-legged companion would be delighted to join you at Andaz San Diego. In the guest rooms, one pet weighing 50 pounds or two pets weighing 75 pounds are permitted.
Conclusion for The Andaz San Diego
If you are looking for a luxurious getaway that is close to all the action, the Andaz San Diego is the perfect place to stay during your next visit to San Diego. With its prime location in downtown and stylish amenities, this hotel is sure to please even the most discerning traveler. Maybe catch a few sunsets on the largest rooftop in San Diego. The location of Andaz is convenient to walk around downtown or take public transit to other areas like Coronado Island or La Jolla Beach. So, whether you're in town for business or pleasure, you'll love everything about this hotel.
Other articles you would like: