Are you looking for the best Japanese restaurants in Gaslamp San Diego? We have compiled a list of the top six spots for sushi, ramen, and more. These restaurants offer delicious food and great service and are sure to satisfy your cravings.
Each of these restaurants offers a unique experience and delicious menu items that will have you coming back for more. So, what are you waiting for? Start planning your dining itinerary now!
Address: 555 5th Avenue, San Diego, CA 92101
Phone: 619-338-0555
Hours: 5:00 P.M. – 9:30 P.M. (Monday – Thursday), 5:00 P.M. – 10:30 P.M (Friday – Saturday)
The chefs at Taka combine a contemporary, innovative approach with classic methods and procedures. They only use the highest-quality and most fresh ingredients, all of which come directly from Japan. The end result is a unique combination of traditional-contemporary sushi and sashimi as well as hot dinners and appetizers.
Considering there always being a line out the door for guests to be seats, you may want to join the waitlist offered on Yelp to reserve your spot ahead of time.
If you are looking for a night in but still want to have sushi, order online through the website for either pick up or delivery by DoorDash.
Address: 366 5th Avenue, San Diego, CA 92101
Phone: 619-329-5864
Hours: 5:00 P.M. – 11:00 P.M. (Sunday, Tuesday – Wednesday), Closed (Monday), 5:00 P.M. – 12:00 A.M. (Thursday), 5:00 P.M. – 1:00 A.M. (Friday – Saturday)
Lumi is a vibrant, upscale rooftop experience that serves innovative Japanese cuisine and sushi together with handcrafted libations in a vividly distinctive atmosphere.
The views of the city go well with traditional Japanese architecture, modern design elements, and bursts of color to create a vividly distinct ambiance.
If you are looking for a night out, Lumi by Akira Back is a stylish, creative restaurant in the Gaslamp Quarter that combines dining, drinking, and socializing.
The Michelin Star Chef, Akira Back, was inspired by his culture, expertise, and love of travel to create all the featured dishes.
Pair delectable sushi rolls with Akira Back's original sake offered only at Lumi, or a Japanese-inspired shared platter with a drink from our Toki Japanese Highball machine.
Flawlessly blended DJ music will help to create an energetic atmosphere, allowing guests to try unique shareable dishes and sake brews beside rooftop fire pits.
Reservations can be made ahead of time through the website, however, keep in mind, cancellations made less than 24 hours prior to the reservation time, each guest will be charged $35 per person.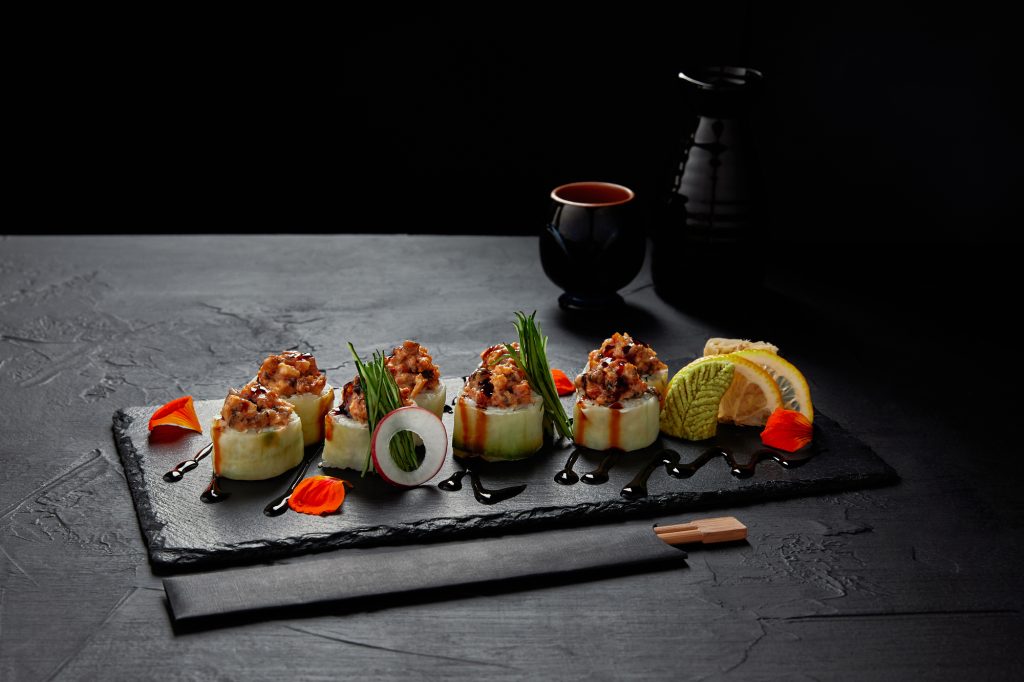 Address: 207 5th Avenue, San Diego, CA 92101
Phone: 619-814-4124
Email: sandiego@noburestaurants.com
Hours: 5:30 P.M. – 9:30 P.M. (daily)
Nobu is a more upscale Japanese dining option offered in Gaslamp. The restaurant is known for its quality and freshness of sushi and sashimi dishes being so consistent. Their service is more than exceptional for a fine dining experience.
The restaurant has a modern and sleek décor with dark wood furnishings and low lighting.
An interesting feature offered on their menu is their Nobu Style Tacos where you can choose from creamy ceviche king crab, Matsuhisa Bluefin tuna, wagyu, or caviar nori tacos.
Omakase is a great option and usually the more preferred to get a wide tasting menu directly from the chef.
Address: 135 Broadway, San Diego, CA 92101
Phone: 619-233-3072
Hours: 11:30 A.M. – 8:30 P.M. (Monday – Thursday), 11:30 A.M. – 9:00 P.M. (Friday), 12:00 P.M. – 9:00 P.M. (Saturday), 12:00 P.M. – 8:30 P.M. (Sunday)
Sushi 2 has a wide selection of sushi, sashimi, ramen, and even chicken wings, all for a great price.
Happy hour is from 2:00 P.M. until closing on select food items but happy hour drink prices are offered all day on Mondays. Their ever-changing menu is due to the numerous daily and monthly specials offered.
They only take reservations for parties of six people or more.
Sushi 2 even offers a rewards program where each dollar you spend here earns you 1 rewards point. Redeem your points for free mochi ice cream, a roll of your choice, a bento or sushi combo, or $25 off.

Address: 801 5th Avenue, San Diego, 92101
Phone: 619-310-5782
Hours: 11:30 A.M. – 10:00 P.M. (daily)
Gyu-Kaku Japanese BBQ is a franchise that specializes in "shared plates," perfect for gathering with friends and family. There are over 700 Gyu-Kaku restaurants worldwide with the first U.S. location opening in West Los Angeles in 2001.
Gyu-Kaku is another term in Japanese for, "Horn of the Bull."
With a personal grill installed at every table, anyone can cook their own food selecting from a menu offering a wide variety of meats. The best part is that the grill has a draft system allowing the smoke to be sucked into the bottom of the table and not onto the guests.
To increase tenderness and enhance flavor, some of our Angus Beef is aged for 21 days. You will want to try out the most popular cut, Harami Miso Skirt Steak!
You can reserve a table through OpenTable ahead of time to beat waiting in line.
Address: 926 5th Ave, San Diego, CA 92101
Phone: 619-310-5571
Email: info@fullmoonsandiego.com
Hours: 5:00 P.M. – 9:30 P.M. (Tuesday – Thursday), Closed (Monday), 5:00 P.M. – 10:00 P.M. (Friday – Saturday), 5:00 P.M. – 9:00 P.M. (Sunday)
Open six days a week for dinner only, Full Moon Sushi and Kitchen Bar was first established in May of 2014.
Chef Sung Kim's Full Moon Sushi is elegantly and uniquely positioned in the Gaslamp Quarter. It is the first Kaizen sushi restaurant in San Diego. Kaizen in Japanese is a term for "change for the better" or "continuous improvement." A team of skilled chefs and staff here are dedicated to quality and service round out this innovative culinary group.
All dishes on the menu are tapas-style, with Japanese influences. Seasonal fish species from all around the world are offered to guests, ensuring that the cuisine changes as the seasons do.
The laid-back layout is designed for individuals with a discerning sense of style, allowing guests to sit and converse while eating or drinking.
To cater to your preferred type of sushi dining experience, space is anchored by an open kitchen with cozy banquette seating to complete your foodie adventure.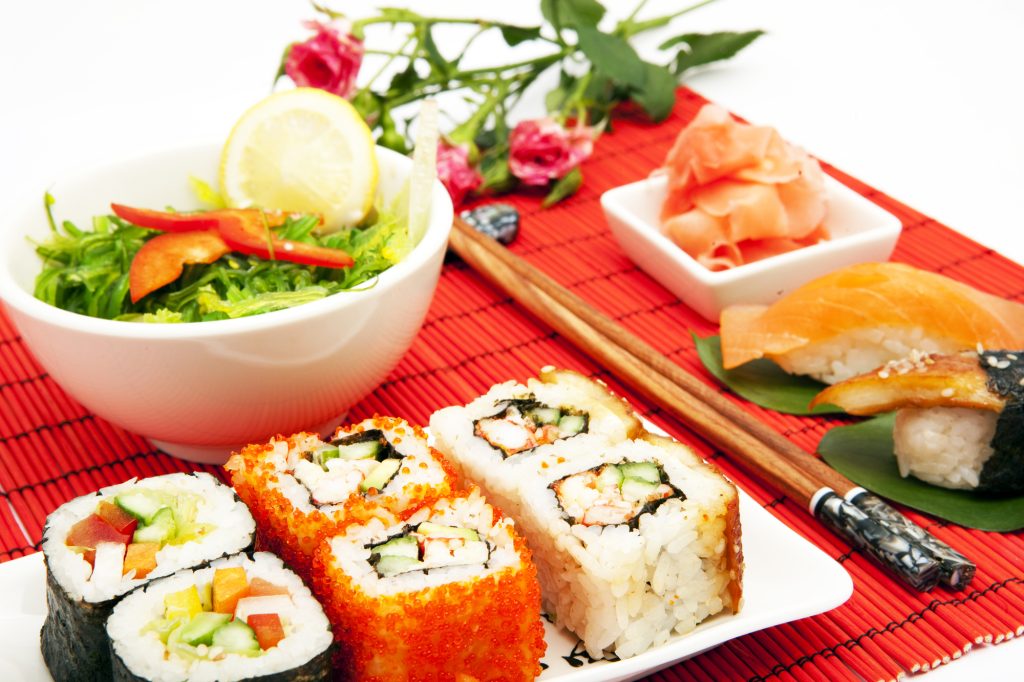 Conclusion for the 6 Best Japanese Restaurants in Gaslamp San Diego
If you're looking for an amazing Japanese dining experience, look no further than the Gaslamp Quarter in San Diego.  There are many incredible restaurants to choose from, but we've compiled a list of the six best.  Whether you're in the mood for sushi, omakase, or ramen, these restaurants will not disappoint!  We hope that you can check these out when you are in the Gaslamp area!
Other articles you might like: