Here's what you need to know if you plan on sleeping in your car in Anaheim, California. Chances are if you find yourself needing to sleep in your car, you're either, too tired to keep your eyes focused on the road, saving a few dollars spent on a hotel, or for simple convenience. There are plenty of benefits to sleeping in your car, but also a few drawbacks.
For whatever reason you need to sleep in your car, we are happy to provide you with a list of places to stealthily get a night's rest in Anaheim, California.
If you're looking for a place to sleep in your car in Anaheim, California, you are in luck. You can sleep at one of the many camping sites in the area, or you can find a spot in a parking lot. There are also a few hotels that offer overnight parking for guests and many more options.
Before scrolling down this list of places to sleep in your car in Anaheim, California, you can check out these other recommendations from our team at Wandering California: Where Can You Sleep in Your Car in LA and Where Can You Sleep in Your Car in San Diego?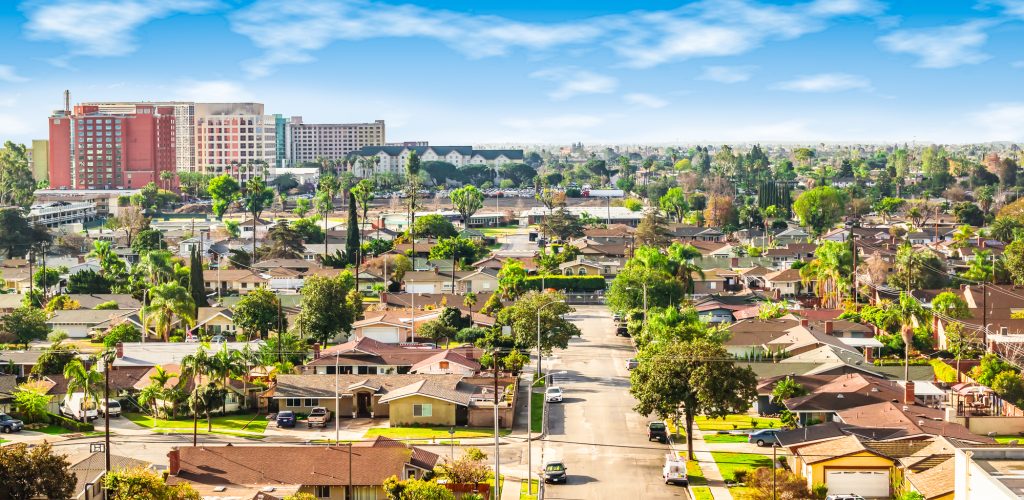 Why sleep in a car?
Sleeping in your car is a great way to save money on accommodation while you're traveling. It's also a convenient option if you're planning on driving long distances. Just be sure to check the laws in your state or country before you do it, as it may not be legal everywhere.
Some people like to sleep in their cars because it feels more comfortable than sleeping in a tent or an RV. Others do it because it's cheaper than paying for a hotel room. And some people just don't have any other choice.
Places to sleep in your car in Anaheim, California
It may be difficult and daunting at first to find a decent or safe place to sleep in your car, but we have listed a few starting places to check out in Anaheim, California.
Rest Stops or Truck Stops
The first thing that springs to mind when people think about where they should stop for the night on a long journey is a Rest Stop. These are typically easy to locate, well-lit, and equipped with services and food, making them an excellent place to rest…and relax!
Walmart
Walmart, with 24-hour access to facilities, food, and, yes, entertainment, may be a wonderful stop for the night or a day or two if it's located in one of your road trip destinations.
Below is a list of Walmarts in Anaheim:
Casino Parking Lots
This is one of those little-known options that has big advantages. Casinos are open 24 hours a day, 7 days a week, and attract regular customers at all hours of the day and night, meaning you'll have access to restrooms whenever you need them, and food is frequently quite inexpensive.
A casino's security may be a benefit or a hindrance. You're more likely to be disturbed, but you also have a nearby eye in the sky.
24-Hour Gyms
24-hour gyms are excellent locations to park for the night since they are constantly full of people coming and going, and most of the time they aren't keeping track of cars in the lot. Here you must be cautious because this is another grey area legally. If you cause a disturbance, you can be evicted. It's a good idea to acquire a membership so that you can utilize the services and establish trust with the owners or employees.
Below is a list of 24-hour gym locations in Anaheim:
Street Parking in the City
Sleeping in your automobile on city streets is one of the more daring choices accessible to you, as you are right in the middle of everything. If you prefer a little less background noise, choose your site wisely. Bonus points if you can discover a stretch of open parking along an empty lot or a vacant concrete wall since passers-by are less likely to notice you there.
Large Shopping Centers
There are numerous parking lots in shopping areas that are not permitted, and you have a significant chance of being towed, fined, or both.
On the other hand, these spots are generally safe and well-lit, with access to services and food during working hours, but there's a risk of being startled by security or someone looking to create a little trouble around an apparent empty vehicle. If you're in a rural area, it may be worth going into one of your town's numerous companies for a quick rest. You could sleep better knowing that you have their approval to be there!
Below is a list of shopping centers in Anaheim:
Hotel Parking Lots
A hotel parking lot is a fantastic location to stop and unwind for the night. Hotels are accustomed to people coming and going, as well as all sorts of vehicles in the parking lot. Choose a secluded area that is far away from the main entryway and conceal yourself. Because some hotels ask guests to register their license plates upon check-in, you wouldn't want to stay more than two nights.
Below is a list of hotels in Anaheim:
Churches
Traditionally, religious institutions have been regarded as a refuge where you may get assistance. Religious congregations of all kinds are frequently happy to assist someone in need, so it's worthwhile opening the big doors and looking for someone who might allow you to use the parking lot on their day off (many religions conduct services on Friday through Sunday).
Below is a list of churches in Anaheim:
Apartment Complexes
Apartment complexes are typically quite safe, with gates and assigned parking. Some, on the other hand, are extremely open and feature numerous visitor parking spaces that remain almost empty. If you discover a suitable complex, you'll need to be your most discreet and good neighbor individual if you want people to think you're a friend or family member of a resident while there.
Tips for sleeping in your car in Anaheim, California
If you're going to sleep in your car, there are a few things you should do to make sure you're safe and comfortable. First, choose a safe location. If you're in a city, look for a well-lit parking lot or garage. If you're in the countryside, find a spot off the road where you won't be disturbed.
Second, make sure your car is clean and comfortable.
Remove all your valuables from the car so they don't attract attention and put them in the trunk or somewhere out of sight.
Cover your windows with blankets or curtains to block out the light and keep nosy people from looking in. One good tip is to use the front windshield sunshade to stay discreet.
Be sure to change locations each night. Don't keep your car in the same spot each night.
This goes along with parking your vehicle later in the evening and leaving early morning.
The darker the bedding, the easier you'll blend in.
Brush your teeth and go to the bathroom as far away from where you'll be camping as possible.
Turn your lights off when it starts to get late. This includes your car lights, cell phone, or even watching movies.
And finally, make sure you're prepared for the weather. If it's cold outside, bring a blanket and some pillows to keep yourself warm. If it's hot, crack the windows to let some air in.
Frequently Asked Questions
Is it illegal to sleep in your car in Anaheim?
It's not necessarily unlawful to sleep in your automobile, especially if you're catching a quick snooze on a city sidewalk. There are no federal or state laws prohibiting individuals from sleeping in cars.
So, it's up to the city, county, or state you're in whether it's legal to sleep in your car.
Sleeping in cars is not expressly prohibited by any jurisdictions, although there are time restrictions on where you may park in specific areas. Signs have also been found prohibiting overnight parking on certain roads.
Can I safely sleep in the car in Anaheim?
The key is to be extremely quiet, follow parking regulations and restrictions, come late and go early, and maintain your car looking clean and organized.
If you're thinking of sleeping in your car, be sure to examine the situation thoroughly and search for any hazards or safety concerns.
The amount of danger you're willing to take when sleeping in your car is entirely up to you.
Conclusion for Where Can You Sleep in Your Car in Anaheim California
Sleeping in your car can be a great way to save money on accommodation while you're traveling. Just be sure to follow these tips to stay safe and comfortable. Happy travels!
Other articles you might like: