Alila Ventana Big Sur is a place for the aspirant, daydreamer, and romantic. Everyone can benefit from finding their mental solitude, different perspectives, and self-reflection. With so much beauty including towering redwood forests, the ocean waves colliding below, and the crisp air, the environment fosters and encourages you to find your own distinctive path.
What is Alila Ventana Big Sur?
Take a Look Inside the Rooms
Once you've booked your reservation at Alila Ventana Big Sur, get excited! About a week before your stay, a staff member will reach out to you directly to get more details about you (and the remainder of your party) to customize the experience. A couple of these questions will include any dietary restrictions or preferences and the reason for your stay.
There are only 54 rooms, suites, and villas in the resort, nestled amongst the California lush forest. Since there are a limited number of rooms, the hotel staff gives each guest a more intimate experience and caters to your needs. You'll have your own "butler" to text right at the tips of your fingers. Each and every hotel staff member truly make this a special experience. This resort truly offers a "worry-free zone."
I had the pleasure to stay in the Big Sur Forest Shower Suite which included one king bed, two dual outdoor showers, a private deck, a hammock, a wood-burning fireplace, a hot tub, and a forest view.
Check-in: 4:00 P.M.
Check-out: 11:00 A.M.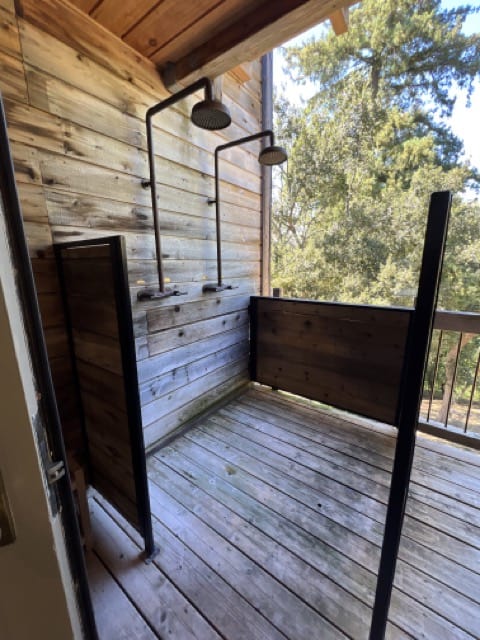 Standard Amenities at Alila Ventana Big Sur
Free Internet Access
Free Parking
On-Site Restaurant
Room Service
Fitness Center
Pool
Pet-Friendly
Spa
Digital Check-in
Resort Property
Laundry
Concierge
Meeting Facilities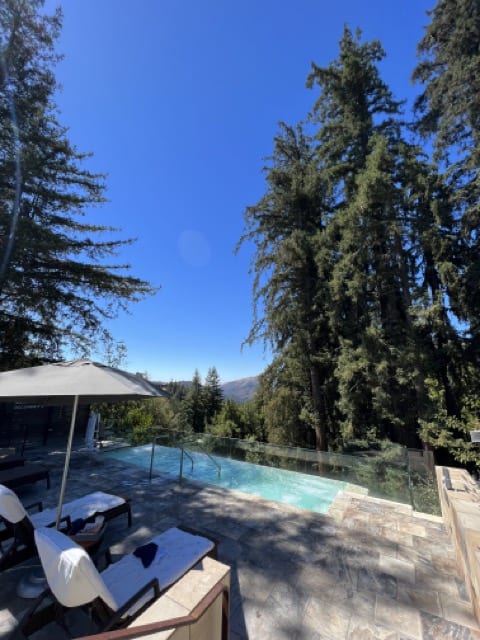 Inclusive Offerings with your Stay!
Dining in-room, which includes all meals
Sit poolside in a comfortable lounge chair
The Sur House for breakfast and dinner with spacious seating
Healthy snacks for daily adventures with complimentary reusable water bottles
Access to signature fitness class experiences such as yoga, meditation, Thai chi, and hikes
Chauffeur service within a three-mile radius
Outlook lounge nooks located conveniently all around the grounds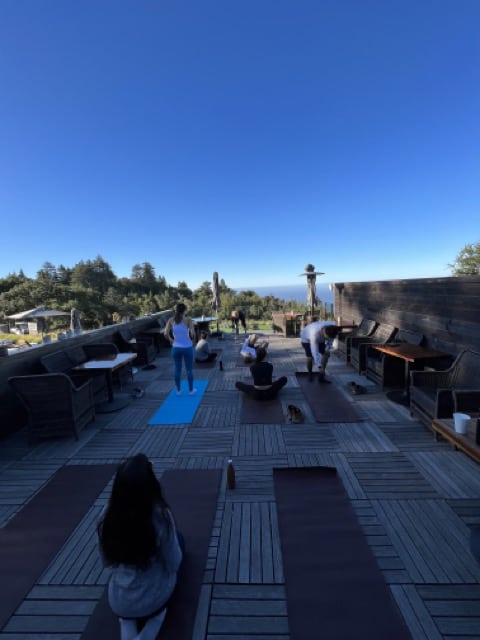 Special Notes
Any spa service, retail, Alila Experiences, upgraded food or alcoholic beverages are available for purchase.
This resort is exclusive to adults-only (18 years of age or over)
Daily gratuity towards the service members will be added to your guest portfolio
What to do near Alila Ventana Big Sur
Although you may want to stay at the resort for the entire duration of your reservation (we completely understand why), there are a variety of activities, hikes, or sightseeing to do outside the grounds of Ventana.
Take a picture near the famous Bixby Bridge! This is a must-see road trip spot to stop at. Completed in 1932, soaring 260 feet above the ground, is one of the highest bridges. Think of this as Big Sur's version of the Golden Gate of San Francisco.
McWay Falls is one of the most photographed places in Big Sur. You absolutely cannot miss this one. If you are a nature lover, you are probably wondering if you can hike down to the falls. Unfortunately, it is illegal to walk down to the bottom due to the natural dangers presented here. However, there is plenty of opportunity for panoramic views from above.
Hike within Pfeiffer State Beach. Below is a list of current open trails to enjoy.
Buzzard's Roost: 3 miles roundtrip
Nature Trail: 0.7-mile roundtrip
River path and Warden's path: 0.6-mile roundtrip
Valley View: 2 miles roundtrip
Big Sur River Gorge: 0.5-mile roundtrip
Mt. Manuel Trail: 8 miles roundtrip
Pine Ridge Trail: 23 miles one way
Visit the historic Point Sur Light Station. Located in the Monterey Bay National Marine Sanctuary, just less than 20 miles south of Carmel along Highway 1, Point Sur is open to the public through volunteer-led tours. Tours are offered Saturday and Sunday at 10:00 A.M. with a slight elevation and two stairways averaging about three hours long.
Conclusion for Alila Ventana Big Sur
All in all, Alila Ventana Big Sur is a magical resort immersed in nature that offers stunning amenities, world-class service, and the ultimate relaxation guide. The location is as close to heaven as anyone can imagine. If you plan to step off the property, there are plenty of activities to keep you busy!