Palm Springs is a two-hour drive east of Los Angeles and is one of the West's most popular vacation destinations. It is best recognized as Hollywood's playground, where celebrities seek refuge from their hectic lives.
Palm Springs is a popular weekend getaway and high-end desert escape, with stunning mountain vistas. It's very laid-back and offers breathtaking mountainscapes.
Before scrolling down this list of comparisons between Palm Springs and San Diego, you can check out these other recommendations from our team at Wandering California: Scenic Drive from San Diego to Palm Desert
On the other hand, San Diego is a big, metropolitan city that is known for its laid-back attitude and is most recognized for surfing, golden beaches, ideal year-round weather, and a carefree atmosphere.
San Diego is busier and more touristy than Palm Springs, which is quieter and has a smaller population.
During the summer, temperatures in Palm Springs are very high since it is located in the hot desert. San Diego is a seaside city that never gets too cold or too warm.
Top Activities in Palm Springs
Palm Springs Aerial Tramway
Website: www.pstramway.com
Address: 1 Tram Way, Palm Springs, CA 92262
Set out from downtown Palm Springs and head up Tramway Road for a few minutes. This traditional canyon-hugging gondola ride may be found near the entrance to Palm Springs. Board a spinning vehicle within an angular 1963 station, and after ten minutes—and a double-digit temperature drop—you'll be able to see the entire Coachella Valley below. Stop at the peak eatery, café, or lounge for a rest or go deeper into the San Jacinto Mountains if you have time.
Living Desert Zoo and Gardens
Website: www.livingdesert.org
Address: 47900 Portola Ave, Palm Desert, CA 92260
This zoo, which is named after its location in the desert, looks exactly like a slice of the Sonoran Desert. The largely outdoor setting is divided into North American and African areas, with the majority of it being outside. An array of wild cats and hoofed animals can be found on the grounds, as well as giraffe feedings for $8 per person.
Palm Springs Art Museum
The Palm Springs Museum of Modern Art is a mid-size museum that features works by contemporary painters including Henry Moore, Robert Motherwell, Helen Frankenthaler, and other West Coast artists such as Sam Francis, Mark di Suvero, and Edward Ruscha. Modernism, Native Americans, and the American West are among the themes exhibited in exhibits at this desert museum. The museum also has a $5 architecture and design center in downtown Palm Springs (it's free) as well as a satellite location in Palm Desert (free).
Tahquitz Canyon
Is this a dream or reality? The truth is that this two-mile excursion leads to an 80-foot waterfall hidden within Tahquitz Canyon. Because the falls are on Native American reservation land, you'll need to pay $12.50 for access. On the plus side, because of the fee, the trail is meticulously maintained rather than like many of L.A.'s graffiti-covered waterfalls, which are neglected and vandalized by tourists every day. Ranger-led treks can also be booked.
Palm Springs Air Museum
The National Museum of the United States Air Force is located in Ashland, Nebraska and focuses on World War II as well as Korean and Vietnamese warbirds. You'll discover more than 40 flyable and static planes throughout three warehouses, from the B-17 flying fortress to the F-4 fighter jet, as well as a pair of aircraft on the tarmac, such as the C-47 and PBY Catalina Flying Boat. The museum also offers a limited number of high-priced flights aboard the C-47 Skytrain and P-51 Mustang.
Palm Springs Visitors Center
If you are looking for a unique destination to visit in Palm Springs, California, stop by the city's official welcome center. This distinctive spot is worth a look because of its treasured architecture; when the Albert Frey and Robson Chambers's retro design was planned for demolition in the 1990s, it was preserved and transformed into a visitors' center. You may also make reservations for a tour of Palm Springs right here.
Moorten Botanical Garden
This tiny botanical garden is home to a variety of prickly cactus and other desert plants. The family-owned garden, which dates back to the 1930s, contains more than 3,000 desert plant specimens from all over the world that are arranged by region. If you want to bring some plants back with you, there's also a nursery—a rather lively souvenir if you ask us.
Palm Canyon Drive
Palm Canyon Drive is home to a number of fascinating galleries, antique and furniture showsrooms. Palm Springs and mid-century modernism are synonymous, and you'll discover lots of galleries (particularly a showroom from retro-inspired artist SHAG) and furniture businesses dedicated to the jet-setting aesthetic.
Tennis Club Neighborhood
Palm Springs is home to a number of lovely mid-century modern mansions. Keep in mind that the vast majority of these are private homes, so don't be expecting to just walk up and ring the doorbell. However, cruise through some notable neighborhoods like Tennis Club and Araby Cove, and you'll discover plenty of architectural gems. The Del Marcos Hotel, Elvis's Honeymoon Hideaway, and the Edris House are among the landmarks.
Top Activities in San Diego
La Jolla Cove
The scenery in La Jolla Cove ranges from sandy cliffs to grassy hills and slopes, and local marine life includes starfish to sea lions. Swimming, kayaking, scuba diving, hiking, biking, and picnicking are all popular activities here.
San Diego Zoo
The San Diego Zoo, located in Balboa Park in San Diego, California, is one of the best zoos in the world. Tigers stalk through canyons. Monkeys swing from trees. In open-air buildings, birds and butterflies flap about.
Downtown San Diego – Gaslamp Quarter
With everything from hole-in-the-wall eateries to luxurious spas and resorts, downtown San Diego is one of the most entertaining and varied areas in the city.
If you're more modern, trendy cafés and glitzy boutiques may be found in parks, plazas, and shopping malls.
For more information about Gaslamp Quarter from our team at Wandering California, check out: Gaslamp Quarter: What You Need to Know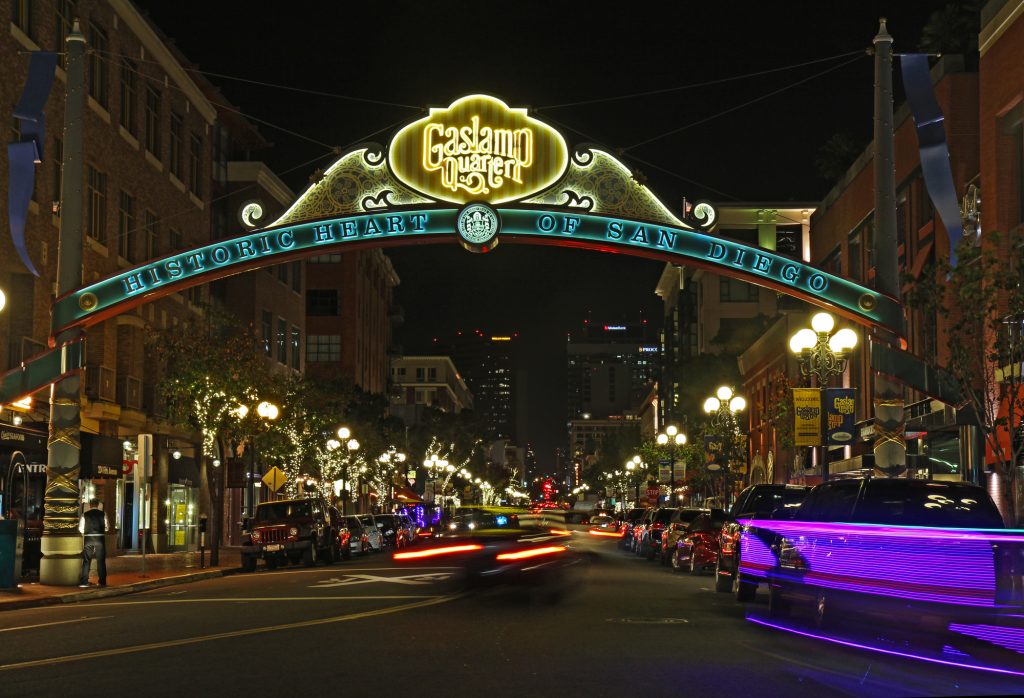 Balboa Park
It's California's second-largest city, and it has plenty to offer. It is home to botanic gardens, museums, zoos, theaters, concert stages, and recreational facilities that attract thousands of tourists each year.
Old Point Loma Lighthouse
Website: www.nps.gov
Address: 1800 Cabrillo Memorial Dr, San Diego, CA 92106
The Old Point Loma Lighthouse, located on top of a cliff, was formerly the highest lighthouse in the United States. You may go on a tour, see the park's attractions, view an exhibition at the on-site museum, and watch a show performed by historical re-enactors.
Belmont Park
It's the type of destination that will stop you in your tracks with a massive wooden roller coaster that meanders along the San Diego coast.
There are two slides, a carousel, zip lines, tilt-a-whirls, vertical drops, and bumper cars to choose from for higher octane excitement. There is laser tag as well as mini golf on the ground for extra fun.
Embarcadero
Embarcadero is a popular waterfront destination in California, located just five miles from downtown San Diego. It has several tourist attractions, including a sailing museum on the bay, but it also has a long and illustrious history as a harbor.
San Diego Air and Space Museum
The Air and Space Museum is a museum located in the United States that focuses on aviation, space exploration, and science.
Sunset Cliffs Natural Park
Sunset Cliffs Natural Park is one of the most beautiful places in San Diego, so it will provide an unforgettable experience during your holiday. With spectacular rock formations and vivid displays of nature and sea life, you can also explore caves, caverns, and coastlines.
Museum of Contemporary Art San Diego
The Museum of Contemporary Art, Dallas contains many types of art, including paintings, sculptures, scrolls, and 3D art installations that protrude from the walls and dangle from invisible threads. Self-guided tours or special events like lectures and auctions are available to visitors.
Sunny Jim's Sea Cave
Previously a smuggler's tunnel, it is now one of the most popular sites in the city for people who enjoy cool historical locations.
For more information from our team at Wandering California, check out: Jim Sea Cave: A Hidden Treasure in La Jolla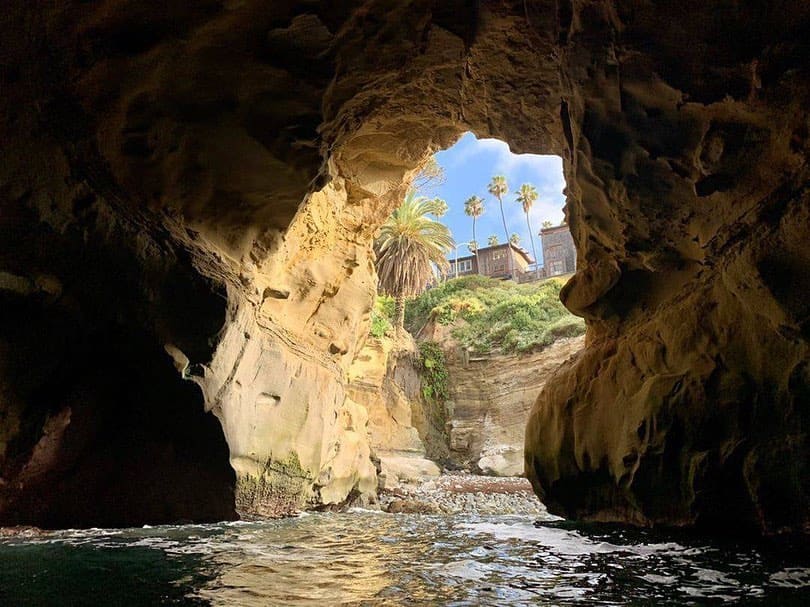 Petco Park
The San Diego Padres play at Petco Park, a baseball stadium that is fun for the entire family to attend. It's jam-packed with cutting-edge features including enormous video boards and little HDTVs placed throughout the bars and snacks booths, so you'll never miss a pitch.
Accommodations in Palms Springs
In Palm Springs, you'll discover a wide selection of five-star accommodation. All include huge, refreshing swimming pools that are ideal for cooling down after a hard day in the sun. Most of the hotels are large resorts with spa treatments, sports facilities, and more, allowing you to spend most of your time there for a perfectly tranquil vacation.
Accommodations in San Diego
San Diego has an impressive range of hotels from small B&Bs to luxury, 5-star hotels, and everything in between.
We highly recommend checking out our San Diego hotel recommendations for budget-friendly to beachfront resorts from our team at Wandering California:
Nightlife in Palm Springs
Palm Springs has a decent bar and club scene, although it is not as vibrant as other cities in the Coachella Valley. The nightlife in Palm Springs gets really hot after dark.
The finest pool parties are in the summer. One of the most well-known is Splash House, a summer festival series that takes place every June and August at three different hotels on Friday and Saturday evenings.
The pool decks are used as dance floors, and great DJs perform until late in the evening at these parties, which begin at noon and go 'till sunset. If you're not seeking for a festival but still want a beautiful pool area atmosphere, here are some suggestions:
The Pool Deck Bar at the Ace Hotel & Swim Club is where you'll find pool parties, DJ-hosted dance events, and gorgeous people. You can buy a one-time day pass; monthly pass; or year-round membership, which includes access to the gym and steam room as well as discounts at the spa and access to poolside DJ events and pool parties. Are you too hot outside? The Amigo Room offers stand-up comedy, bingo, and karaoke inside.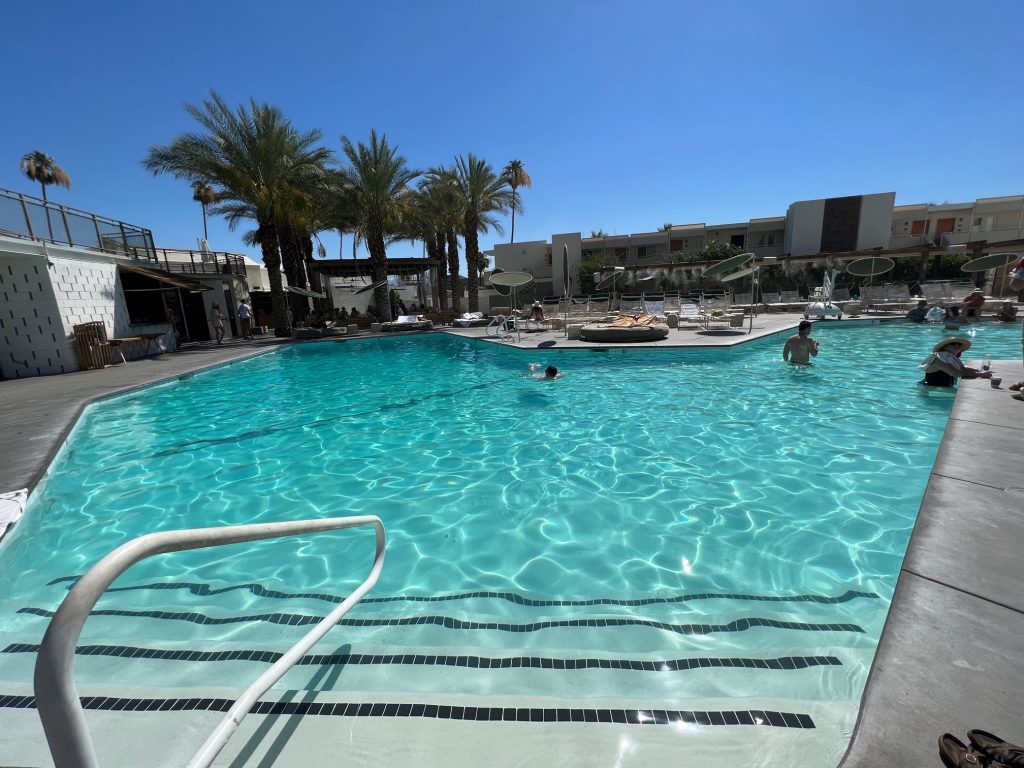 The Pirate Tiki: This kitschy and fun throwback bar's Happy Hour is twice a day (4 p.m. to 6 p.m., and 12 a.m. to 2 a.m.). You'll drink rum-based favorites in the same space as Don the Beachcomber, the original restaurant that opened here in 1953, since it's as authentic as tiki-era Americana gets. Under a tiki torch, order Mai Tais and daiquiris; thankfully, they've been refined to more sophisticated versions than the sugary originals thanks to boutique rums and house-made Falernum.
Seymour's: At this secret speakeasy-style cocktail lounge in a hidden chamber inside Mr. Lyons Steakhouse, vintage photographs cover the walls. It's all old-school clubby here, and it's the ideal spot for a perfectly crafted Old Fashioned or Pimm's Cup.
Nightlife in San Diego
Take a break from the bustle of life in this urban paradise and visit San Diego's Gaslamp Quarter, which is the heart of the city's nightlife scene. It is well-known for having a large number of rooftop bars, celebrity DJ events, and atmospheric jazz clubs.
With a variety of options, San Diego is also recognized for its craft brewing culture, so sample some on your night out.
Weather in Palm Springs
The summers in Palm Springs, California, may be scorching. It's best to avoid visiting during the summer since the sweltering heat might reach up to 118 degrees in June, July and August.
Temperatures in Palm Springs generally reach 100 degrees Fahrenheit on most days from June through September, with nights remaining above 70. Winter days have temperatures into the 70s, with more than a few days seeing highs of 80 degrees or more.
Weather in San Diego
Year-round ideal weather in San Diego makes it a fantastic holiday destination at any time of year.
March through May and September through November are the optimum months to visit San Diego. During the off-seasons, prices for travel vary significantly from those during the peak summer season.
Cost comparison between Palm Springs and San Diego
Conclusion for Palm Springs Vs San Diego
Palm Springs is an excellent vacation spot with a distinctive flavor. It's one of the most beautiful destinations in California, and it has everything you need for a wonderful family holiday. Palm Springs, which sits at an elevation of 3,842 feet, offers spectacular views of the San Jacinto mountains and desert flora while being surrounded by scenery that is both breathtaking and mystifying.
Palm Springs and San Diego are both expensive tourist destinations to visit. When arranging a holiday, be sure to consider the expense of hotels, car rentals if required, food, eating out, taxes, beverages, and transportation.
If you're firmly committed to one of the cities, you might save money by visiting in the off-season.
Palm Springs and San Diego are two fantastic holiday locations with a distinct atmospheres. However, if you're searching for more of a hot stay in the desert with pool parties, Palm Springs should be your first choice. If you want to visit somewhere more laid-back with some beach exploring, San Diego is ideal.