What is Zion National Park?
Zion National Park has become an extremely popular destination for hiking with expansive canyons everywhere you look. With 2,000 feet deep, Zion Canyon offers an array of paths for all levels of hiking. Even if you're only looking to get some good views of the canyon, there are plenty of overlooks as well.
Before making a trip to Zion National Park, it's best to plan ahead to understand which hikes would best fit you, and most importantly, to utilize your time wisely in these three days. In this blog, we're going to discuss everything you need to know about making a three-day trip to Zion National Park. We will give you an in-depth guide on making travel arrangements, how to get there, the best hikes, where to stay, what to pack, and overall, what to expect.
Travel Day 1: Southern California to Zion National Park
If you are looking to make a road trip from Southern California to Zion National Park, this will take around seven to eight hours with a stop or two. Interestingly enough, this sounds like a long drive, but you'll pass through three additional states to get there (Nevada, Arizona, and Utah). A quicker route would be to fly from your nearest airport to Las Vegas International Airport, rent a car, and drive to Zion National Park.
If you are interested in hiking Angel's Landing, you will need to enter a lottery the day before you plan that hike. There is a small fee (about $3) to enter with no guarantee of being awarded the permit. If you're lucky enough, you'll get emailed your permit information. Click to enter the drawing for Angel's Landing Permit.
The drive from Las Vegas International Airport to Zion National Park is just over two hours. During the winter, we recommend renting an all-wheel SUV for safety and comfort. Chances are, if you're planning on being in Zion National Park from December through January, there will be snow.
Drop your luggage off at your hotel, change into your hiking gear, and head for Zion National Park entrance. Remember to dress in layers with suitable hiking shoes and bring lots of snacks! At the park entrance, it is required to purchase a day pass.
Since this is a travel day, you're more than likely a little tired getting to the park in the afternoon with just a few hours before the sun goes down. In this case, we recommend hiking lower, middle, and upper Emerald Pools. This is an easy, 3-mile roundtrip hike leading to sparkling waterfalls and glistening pools. The lower pool is more suitable for children, strollers, and wheelchairs with some assistance. As you climb to the middle and upper falls, it becomes slightly more strenuous. Be careful during the winter as some parts of the hike can get slippery and icy.
Post-hike, head back to your hotel, clean up, and find venture off to dinner. There are plenty of eateries to choose from. Meme's Cafe was my go-to dinner spot for large comfort-style food.
Full Day 2: Zion National Park
Wake up early and catch a beautiful sunrise. Despite the cold conditions in the winter, I'd have to personally say it's still worth it. Make your way to the entrance of the park again early to beat the crowd. Since the shuttles do not operate in the winter, there is still plenty of parking in the lots or off to the side.
Conquer the Watchman hike first as you pull up to the Visitor Center to park. From there, you'll walk along the Virgin River upstream and see signs for the trail. This one is a relatively easy 2.7-mile out-and-back hike that passes overhanging cliffs. Many deer sightings along the way!
To let your legs rest, make your way to FeelLove Coffee for a little pick-me-up just outside the entrance of Zion Park. Their hand-crafted hot lattes are perfect on a snowy day!
Grafton Ghost Town is no more than a twenty-minute drive from the coffee shop to learn about the visitors that first settled in 1859, what happened, and why the entire city was abandoned.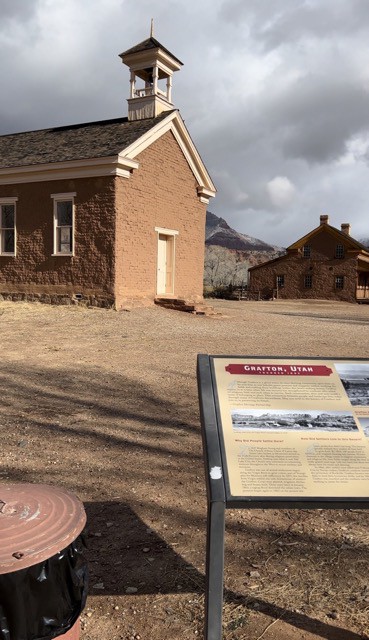 The Grafton Cemetery is about a half mile from Grafton Ghost Town that is worth seeing. With around 84 graves, and some missing headstones (replaced with rocks), the city experienced many hardships.
After sightseeing, make your way back to Zion Park to start Angel's Landing hike (if you received the permit). This is a more strenuous hike totaling 5 miles round trip, taking about four to five hours to complete. The total elevation change is nearly 1,500 feet with quite a few switchbacks. This hike can be fearful for anyone scared of heights as there can be 1,000-foot drop-offs along the way. We recommend not bringing children for safety reasons. However, don't let that hold you back from this iconic trail.
During the winter, you'll likely only get to Scout's Lookout with proper hiking shoes. At this point, California condors can be spotted flying above or nestled in the tops of trees. We advise not going past this Scout's Lookout as the chains can be dangerous in the snow.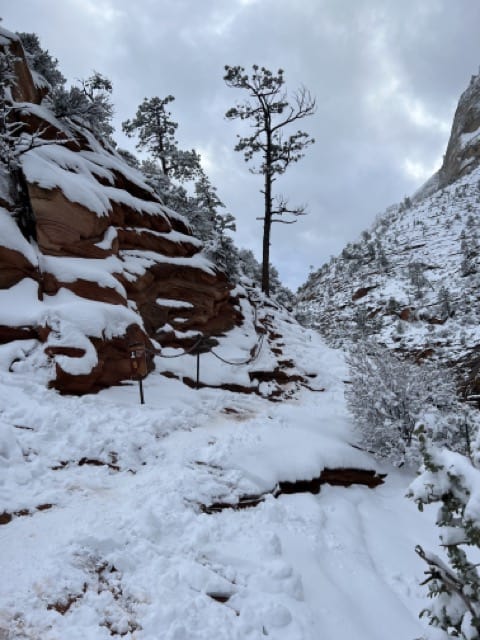 After this hike, head back to your hotel. This time, maybe find yourself a nice dessert after dinner! I found that Bumbleberry Gift Shop had a good selection of pies, ice cream, and other treats.
Travel Day 3: Zion National Park to Bryce Canyon
Wake up early again if you want to do another quick hike before your drive to Bryce Canyon. Zion Canyon Overlook Trail is the perfect stop along the way to Bryce Canyon located just east of the famous Zion Mt. Carmel Tunnel. This one-mile round-trip hike will take about one hour with spectacular views of the park.
It's about a two-hour drive from Zion Canyon Overlook Trail to Bryce Canyon.
Pros of Winter Hiking
No crowds
No bugs
No chance of wildfires
Experience nature and hiking from a new perspective
See plenty of wildlife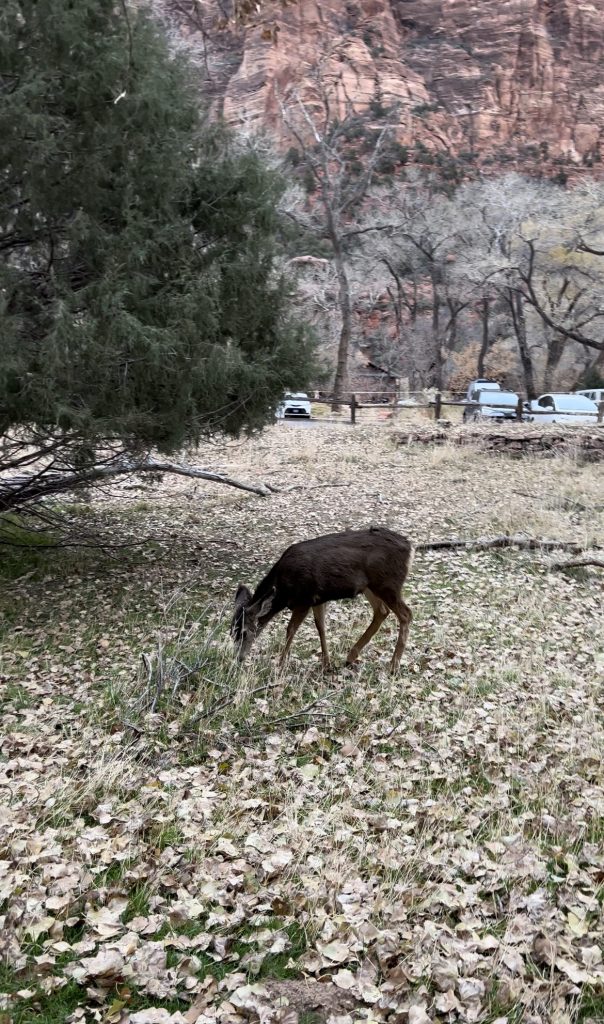 Fees and Permits
All visitors are required to purchase a permit upon entering the park. Purchase your National Park Permit ahead of time or at the entrance to the gate. All passes are non-transferable and valid for 7 days. Credit cards are accepted at the gate.
If you plan to go straight from Zion National Park to Bryce Canyon, I recommend buying the annual National Park pass for $80.
Private or non-commercial vehicle: $35
Motorcycle: $30
Per person (no car): $20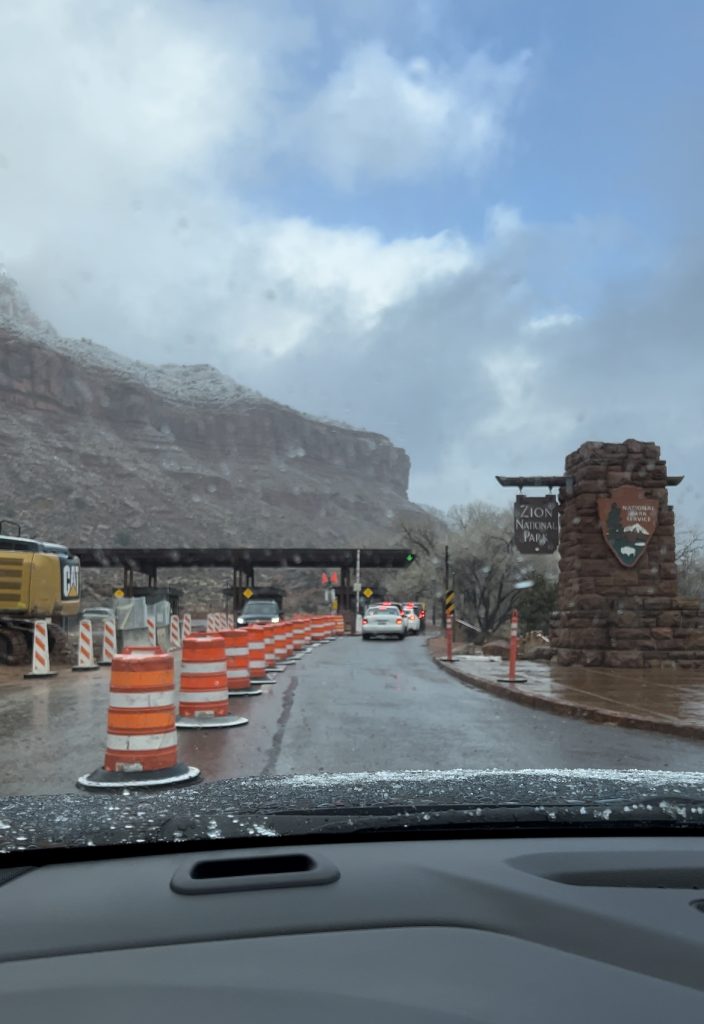 Where to Stay Near Zion National Park
If you are looking for the most bang for your buck, this hotel is perfect. This is where I stayed for two nights. It is located conveniently about a half mile from the entrance to Zion National Park with shops, eateries, and desserts all within walking distance. The rooms are spacious, offering free hot breakfast and free parking. Since I was here in December, the hotel was nicely decorated for Christmas.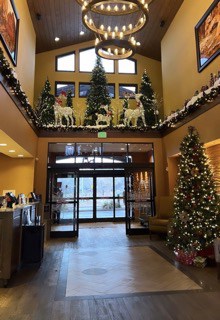 If you are looking for more of a glamping experience, this is your best option near Zion National Park. Driving by here, I saw luxury bungalows with options to stay in a canvas tent, covered wagons, or private bungalows including an abundance of entertainment. It won't even feel like glamping! From fun games in the yard, fire pits, and hammocks, I am sure you will find plenty to do.
Sometimes, convenience trumps all as this is the only in-park lodging within Zion National Park. If you are looking to have the viewpoints and popular hikes at your fingertips, I would recommend staying inside the park. Emerse yourself in this peaceful sanctuary surrounded by unique plants and animals. Just be prepared to a pay a lot more here than you would for hotels outside of the park.
Winter Essentials Needed For Zion
Crampons, microspikes, or snowshoes
Beanie or headband
Gloves or mittens
Neck gaiter
Layers for clothing made of wool or synthetic
Insulating down jacket
Hiking pants
Thick socks
Chains for your car
The key to winter hiking is to stay dry! There is nothing more miserable than to be walking in the snow with wet shoes and socks. We all know winter hiking can be cold, however, to be cold and wet is not only dangerous but can be deadly. That's one route to catching a cold! Be sure to be prepared with the right gear before you start your hike.
Other articles you might like: