Are you looking for a fun day out in San Diego?  Then head on over to Little Italy!  This vibrant district is home to some of the best restaurants, shops, and attractions in the city.
We will give you a rundown of everything you need to know before visiting Little Italy.  From where to eat to what to see, we've got you covered! So put on your walking shoes and get ready for some fun in the sun.
Overview
In the northwest sector of Downtown, Little Italy is located a few blocks from the Embarcadero. It is situated north of Columbia, south of Middletown, southeast of Core, southwest of Bankers Hill/Park West, and west of Cortez Hill. The neighborhood sits on a hill with a significant rise in elevation as one approaches Interstate 5.
The commercial thoroughfare, India Street, runs through the heart of Little Italy along with high-density mixed-use structures and single-family house-style historic homes in a walkable 48-square-block zone.
First and foremost, when it comes to food in Little Italy, you are spoiled for choice.  There are dozens of amazing restaurants to choose from, and each one offers something unique.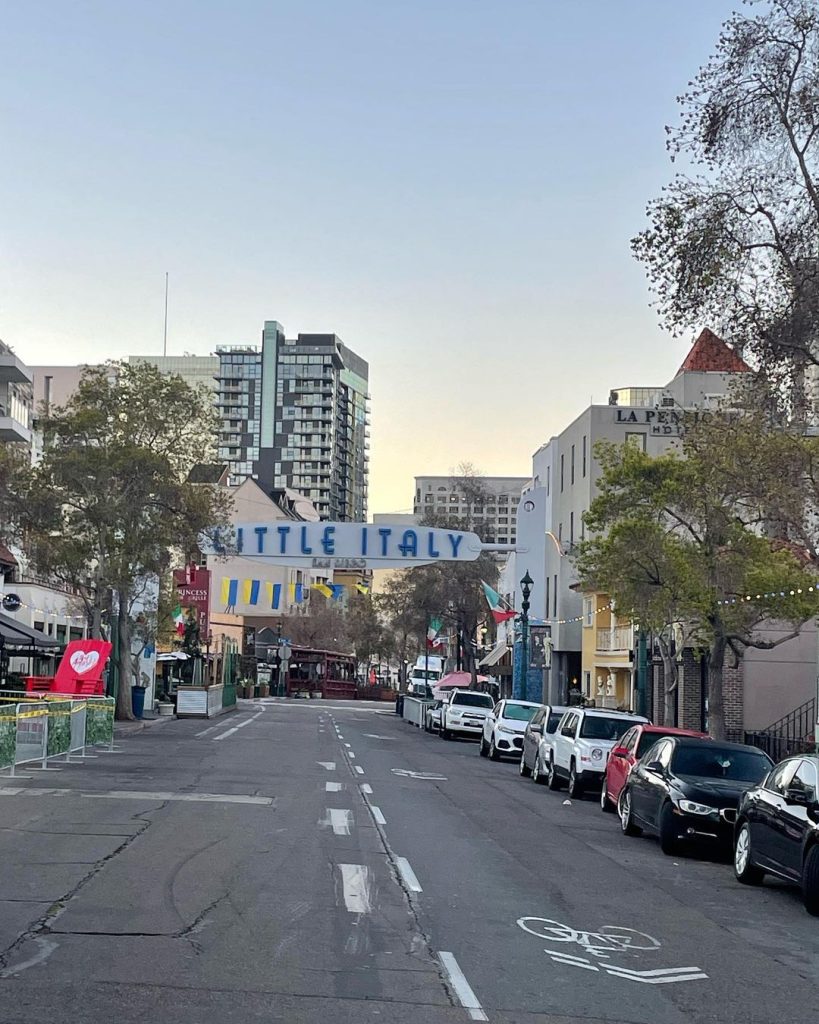 Brief History
The neighborhood of Little Italy in Downtown San Diego, California, was originally a largely Italian and Portuguese fishing village. It has been gentrified since then and is now a popular area with Italian restaurants, grocery stores, home décor businesses, art galleries, and residential apartments.
From the late 1800s through the 1970s, Sicilian-Americans, particularly from the Italian Riviera and Sicily, were primarily responsible for developing the boats that formed America's tuna fishing fleet and canning industry in San Diego, "the tuna capital of the American West Coast." The Pacific Tuna Canning Company was founded in 1911 as the first large tuna cannery.
Between the 1920s and the mid-1930s, the canneries employed over 1,000 people. The final of the canneries closed in the early 1980s due to increasing costs and foreign competition. A significant fishing fleet provided both food and employment for inhabitants of Little Italy and Point Loma, whose cultural influence is still apparent today.
Demographics
Little Italy, located in the North End, has a population of 41,159 people (38.5 years old). 56.03% are men and 43.97% are women. The majority of the Little Italy population is made up of US-born citizens (80.46 percent), whereas non-US-born individuals account for 11.99 percent of the total population. Non-citizen residents make up 7.55% of the community as a whole.'
In this neighborhood, there are 24,355 homes, each with a maximum of two individuals. Family establishments account for 26.57 percent of the Little Italy households, while non-family units make up the remaining 73.43 percent. Additionally, 5.19% of residents have children, while 94.81% have none.
The typical yearly household income in Little Italy is $103,464, while the average household income is $71,925 per year.
The most common house type in Little Italy is the single-family home, accounting for approximately 65% of the housing stock. There are over 28,000 homes in Little Italy, with a median year of construction of 2001. Of the 24,000 inhabited residences in Little Italy, 25 percent are owned by residents, while 75 percent are rented.
Popular Restaurants in Little Italy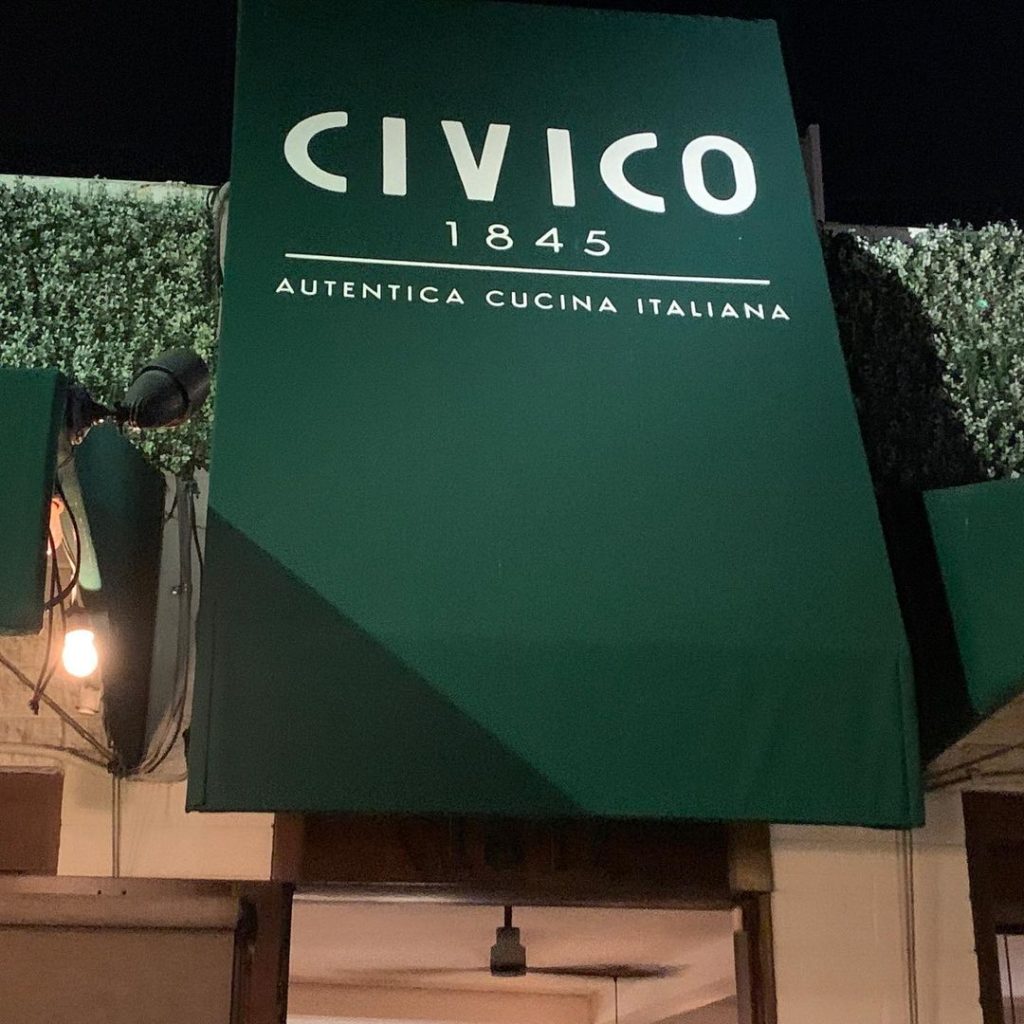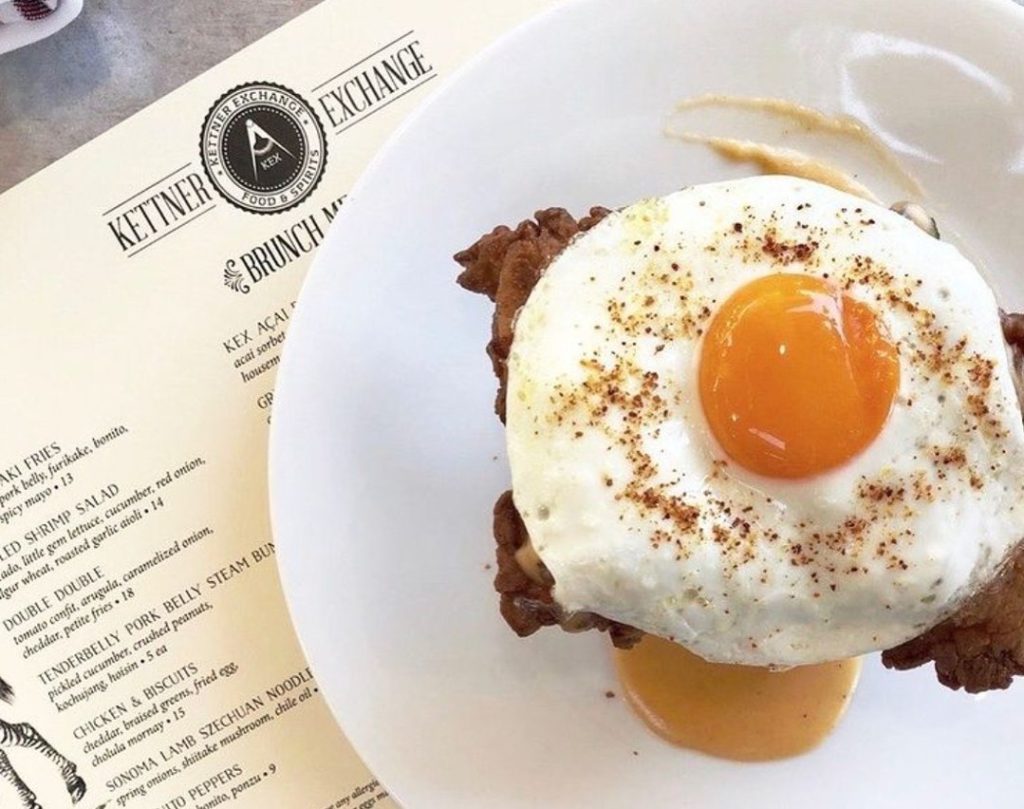 Things to Know Before You Visit
The Little Italy Area is a low-crime, vibrant part of town.  It is maintained by the Little Italy Neighborhood Association, which ensures trash collection, decorations, and special events.
The oldest home in Little Italy, the A.W. Pray House, which was erected in 1888 and is now a wine bar called M Winehouse, is a well-kept secret.
The Waterfront Bar, which may be the city's oldest watering hole, is located along San Diego's historic waterfront area. The bar was originally situated right on the water, and it was a favorite gathering place for Italian boat captains and tuna fishermen after work.
The Little Italy sign was erected to commemorate the immigrants who formed this colorful neighborhood. Look at the mosaic tile patterns on either side of the street to discover how this neighborhood is linked with the bay, the church, and Italy itself.
Quaint cafes and restaurants, as well as a few indoor dining rooms and lounge areas with tables adorned with colorful flowers, line the winding streets of Little Italy. The numerous outdoor sitting spaces with chairs, tables, and umbrellas encourage residents and visitors to sit down, drink their cappuccino, and take a moment to relax and unwind.
Points of Interest
The Little Italy Food Hall is a great place to gather with family or a group of friends because it allows for a wide selection of food for everyone of all tastes.  The food hall tucked away just beyond Main Street where the fountain babbles, awaits guests.  This food hall is ideal for a group if you want to try everything from lobster rolls to ramen, tacos, and gelato. If you're a Sam The Cooking Guy fan, visit one of his three restaurants: Graze by Sam (great cocktails), Not Not Tacos (amazing tacos), or Samburgers (huge burgers and tasty sides).
In addition to great food, Little Italy is also home to some of the best shopping in San Diego.  From quirky boutiques to high-end stores, you'll be able to find everything you're looking for here.  Some of our favorite spots include The Paperie, an adorable store that sells stationery and other crafting supplies, and Pappalecco, a traditional Italian bakery that offers up delicious pastries and sandwiches.
In addition to shopping in the historic villages, you can find some wonderful local boutiques such as Rosamariposa, a language boutique, and Stroll, where you'll discover colorful women's fashions and handcrafted local items.  The NoLi Art & Design District also has retail stores, design businesses, and art galleries.  Klassic and Architectural Salvage are both worth a look for house goods and unusual finds.
Little Italy has just a few more than a dozen art galleries, each with its own focus.  The Mee Shim Fine Art Gallery, for example, is recognized for its brilliant interplay of real and surreal artistic genres. It's fascinating to examine how artists convey emotions and postures.  Not only is Mee Shim not the only artist on the block, but she isn't even the most famous one!
Every Saturday from 8:00 a.m. until 2:00 p.m., several blocks of Little Italy are closed off for the weekly Little Italy Mercato—a dynamic farmers market where locals can purchase fresh produce as well as gourmet items, flowers, crafts, and ready-made meals.
Amici Park is a lovely little pocket of Little Italy that combines the dog park, Bocce Ball courts, and an amphitheater.  It's Little Italy's triple threat, combining ice cream eating, reading a book, playing bocce, and having your dog meet new people.
The Little Italy Dog Park is a super adorable fenced-in dog park located in the center of San Diego's Little Italy.  In this park, dozens of canine friends are found. It's secure, well-maintained, and pleasant! If you're concerned about the size of your dog, it also has an area for tiny dogs.
If you don't want to deal with large groups and just want to enjoy your time in Little Italy while sipping some wine, the Little Italy Walking Tour with Wine Tasting is for you.  You will go on a three-stop tour through Little Italy during this little Italy walking tour, which includes visits to three of the area's top wine bars.  As you stroll and sip, your guide will enlighten you about the history of the location while relating it back to you enthusiastically.
Conclusion for Little Italy
There you have it – a comprehensive guide to everything Little Italy San Diego has to offer!  
As we know, Little Italy in San Diego is one of the city's most popular tourist attractions. Visitors come in tour groups to explore or eat in the numerous great restaurants located in San Diego's Little Italy. They visit to commemorate their own Italian heritage or that of those who call Little Italy home.
Whether you're a first-time visitor or a longtime resident, we hope this article provides some helpful information and inspires you to check out the neighborhood for yourself.
Other articles you might like: