The trending hashtag #vanlife and the movie "Nomadland" may have made sleeping in vans and other vehicles more prevalent. Whether it's a way to see the world, save on rent, or just catch a quick nap between jobs or classes, sleeping in your car can be part of life for many Americans.
Not every city welcomes people to park for a quick nap or a good night's sleep, though. If you're considering sleeping in your car in Irvine, California, here's everything you need to know about car sleeping there.
Before scrolling down this list of places you can sleep in your car in Santa Barbara, California, check out these similar recommendations: Where Can You Sleep in Your Car in San Diego? or Where Can You Sleep in Your Car in San Francisco California
All About Irvine
A planned community in Orange County, California, Irvine is home to numerous technology companies and universities, including the University of California-Irvine, the Orange County Center of the University of Southern California, and campuses of California State University-Fullerton and Pepperdine University. 
The city's mild winters, numerous parks, and miles of nature trails make it a magnet for visitors, including car campers who may want to sleep in their vehicles. 
How To Sleep in Your Car
If you're thinking about sleeping in your car in Irvine, California, it's important to follow a few rules and best practices for comfort and safety.
Know Where Car Sleeping Is Allowed
The Irvine Municipal Code doesn't allow sleeping in vehicles parked inside the city limits between 9 p.m. and 9 a.m. the next day. However, car sleeping in campers, motor coaches, and vans is allowed if the vehicle is parked in an authorized trailer court or campsite in the city. It's also illegal in Irvine to park a trailer coach or a camp car overnight along any public highway.
The city does offer permits for overnight parking, but city officials frown upon people sleeping in their cars even if they have an overnight parking permit. The law is aimed at discouraging homeless people from living in Irvine.
This Irvine city law has irritated hikers who use cars to sleep at trailheads to get an early start on hiking in Orange County, as well as car campers and nomads.
Make Car Sleeping Comfortable
A comfy pillow, sleeping bag, and mat can make sleeping in your car easier and with fewer backaches in the morning. Our car sleeping tips include:
Sleep With Your Head Above Your Feet
Sleeping with your head above your feet will give you a more restful sleep if your vehicle is parked at an incline.
Think About Ventilation
When sleeping in your car, you will need ventilation to keep windows from fogging up with condensation. Open your sunroof or a car window just enough to allow for ventilation but not so much that an animal or person could break in. Add mosquito netting to keep out insects.
Keep a Headlamp or Lantern Close
It's always a good idea to have a light close by when nature calls in the middle of the night. You might also want to use the light for reading before bed.
Park in a Safe Area
Campsites and trails where car sleeping is permitted in Irvine are safer than trying to sleep in your car in parking lots or along highways and city streets. You also won't be ticketed there.
Lock Your Doors
It's always a smart idea to lock your car doors before dozing off inside your car, van, or camper.
Where To Sleep in Your Car
In Irvine, the only legal spots for sleeping in your car are RV parks and campgrounds. Some of the city's car-sleeping options include:
Bonita Ranch, located near Irvine in Lytle Creek, California, is open all year and is close to Southern California attractions and hiking areas. 
Bonita Ranch Campground and RV Sites Details
Address: 900 S Fork Rd, Lytle Creek, CA 92358
Phone: 909-887-3643
Hours: 10:00 A.M. – 3:00 P.M. (Monday – Tuesday), 10:00 A.M. – 5:30 P.M. (Wednesday, Sunday), 9:00 A.M. – 5:30 P.M. (Thursday), 8:30 A.M. – 10:00 P.M. (Friday), 9:00 A.M. – 10:00 P.M. (Saturday)
Open for camping year-round, O'Neill Regional Park offers more than 23 miles of scenic hiking trails you can hike or cycle.  
O'Neill Regional Park Details
Phone: 949-923-2260
Hours: 7:00 A.M. – Sunset (Daily)
Orangeland RV Park celebrated its 50th anniversary this year. This family-owned RV park has a range of sites, including smaller ones where someone could sleep in their van, car, or camper.  
Orangeland RV Park Details
Other stealth car camping options
24-Hour Gym Parking Lots
Below is a list of 24-hour gyms in Irvine:
Church Parking Lots
Large Shopping Centers
Below is a list of large shopping centers in Irvine: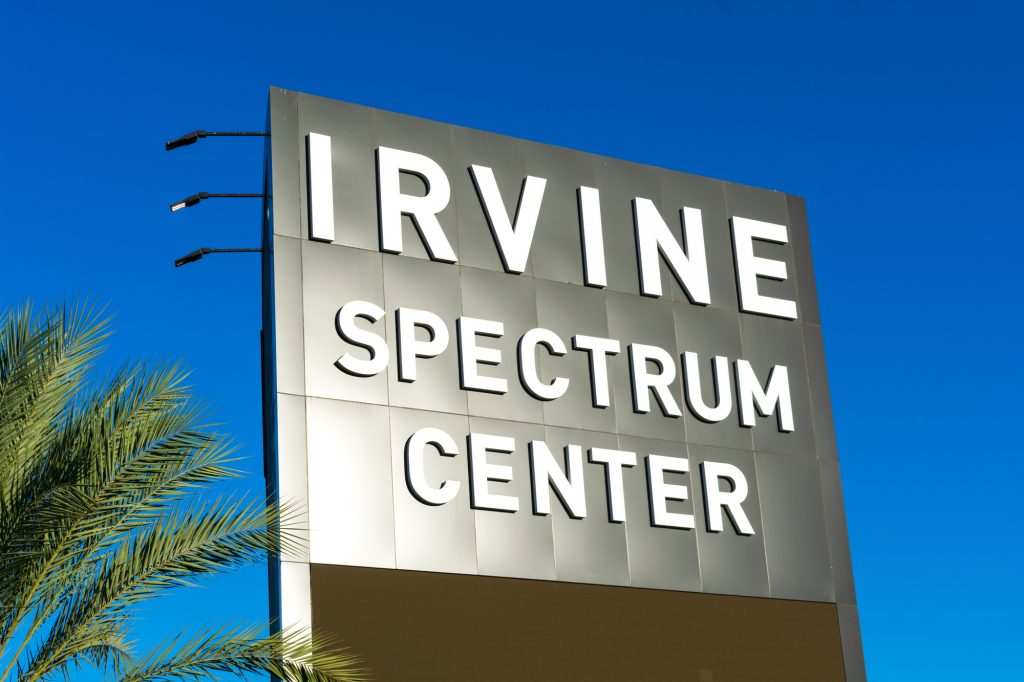 Things You Need To Sleep in Your Car
In Irvine, the most important thing you need to sleep in your car is a reservation at a campground or RV park. Otherwise, you will be breaking city laws and could be awakened by police.
Camping gear such as a sleeping bag or blanket and a pillow are car-sleeping basics. Include a light source and mosquito netting to keep bugs out.  
Here is a quick checklist:
Towels
Phone chargers
Blankets, pillows
Clothes
First aid kits
Trash bags
Cooler
Plenty of snacks, food, water
Sleeping bags, sleeping pads, or air mattress
Tent
Toiletries
Is it Safe To Sleep in Your Car?
Wondering how to safely sleep in your car? The first step is to find a safe place to park. Campgrounds and RV parks are safe because they usually have security guards and are close to traffic during the evening. You'll still want to lock your vehicle and be aware of your surroundings.
Is it Illegal To Sleep in Your Car?
Sleeping in your car in Irvine, California, is illegal unless you are parked in a campground. Even Walmart – a store known for allowing RV camping in their parking lots in other cities and states, doesn't allow car sleeping at their Irvine location. At least one Yelp reviewer noted that security guards will ask campers to leave the premises.
At best, those who are sleeping in their car in Irvine, California, will get a rude awakening and a warning from security guards or police. Others may be ticketed, fined as much as $1,000 or more, or even arrested.
Car Sleeping in Irvine
Sleeping in your car is a growing trend, with Instagrammers and YouTubers posting photos and videos offering car camping tips. Stretching dollars, going on adventures, or even RV and van life as a lifestyle all may have people wanting to sleep in their cars.
Car campers in Irvine should be aware that the city has laws against sleeping in cars unless those vehicles are parked at campgrounds or RV parks. Security guards will even evict campers from the Walmart parking lot there. So, if you're planning to do some car sleeping in Irvine, California, you'll have to get a space at one of Irvine's RV parks or campgrounds.
Other articles you might like: