Here's what you need to know if you are searching for the best place to sleep in your car in South Lake Tahoe. Sleeping in your car is actually a very common thing these days, and it's no wonder why. The convenience factor and saving money are both hard not to love! If you are thinking about sleeping in your car, there are more perks than you think if you are willing to sacrifice a little bit of comfort.
When thinking about sleeping in your car, especially on your way to and from South Lake Tahoe, your first thoughts might be car camping. What you may enjoy from car camping in South Lake Tahoe is the beautiful scenery constantly surrounding you everywhere you look. Car camping is simple! You'll save hours setting up your tent or campsite, but instead, you can pull down a car seat and have everything you need inside your vehicle.
Before scrolling down this list of places you can sleep in your car in South Lake Tahoe, California, check out these similar recommendations: Where Can You Sleep in Your Car in San Diego? or Where Can You Sleep in Your Car in San Francisco California
What is car camping?
In essence, car camping is being able to drive to a primitive campsite close to your vehicle and not have to trek. With the advent of vanlifers, however, car camping has taken on a new meaning. It's exactly what it sounds like: campers nowadays sleep in their cars or vans rather than tents, either removing or folding up the seats to create a comfy camping bed area. Car camping is ideal for couples only. We advise bring a tent for others to sleep in if you're going with more than two people.
Why people sleep in their cars
More and more people are finding themselves sleeping in their cars for various reasons. The obvious reason is to save money on lodging to spend either on gas, tickets to museums, or food. Sometimes it convenient to park in your car near the trailhead as an alternative to tent camping. It will save you some time to get an early start.
How to comfortably sleep in your car in South Lake Tahoe, California
Sleeping in your car doesn't have to be uncomfortable! There are many ways to get any vehicle prepared as best as possible to leave you feeling refreshed in the morning. Usually, the larger the car the better. This allows for more leg room and to store your other items for the trip.
Your best bet is to lower the backseats to and sleep in the trunk part of your SUV. Always use the front visor and cover the windows to keep the sunlight out.
Invest in a good bedding such as mattress pads, blankets, and pillows to lay down in the car.
Pick a quiet spot to park and bring some noise-cancelling headphones to plug in your ears.
Be prepared with the car camping essentials listed below in this article!
Now that we know you can sleep comfortably in your car, we will discuss some of the places you can sleep in your car in South Lake Tahoe.
Places to sleep in your car in South Lake Tahoe, California
Walmart
Walmart is the most significant example. The usual advice for long-distance driving is to pull in at a Walmart and settle in for the night. However, this isn't always permitted. Give the store manager a call and ask them if you're allowed to stop there – just call the first number listed on Google and request for the manager in charge. This applies to any other 24-hour business as well.
Below is a list of Walmarts near South Lake Tahoe. It looks like you'll have to make a small drive to Nevada which borders South Lake Tahoe, California.
Casino Parking Lots
Parking your car overnight at one of the casinos won't seem out of the ordinary because most customers are gambling late into the night. Often times drinking goes hand and hand with gambling, so be sure to not drink and drive.
Below is a list of casinos near South Lake Tahoe:
24-Hour Gyms
Gyms that are open 24-hours are a perfect spot since there will be several cars parked there at odd hours of the day. It will be unlikely that anyone will report you sleeping in your car if you're caught. You can even consider getting a gym pass to one of the local gyms so that you can use their amenities.
Below is a list of 24-hour gyms in South Lake Tahoe:
Campgrounds
Luckily, campgrounds are extremely popular in South Lake Tahoe. Many folks come here to camp. Some of the campgrounds are accessible on a first come first serve basis. Others you may have to pay ahead of time to reserve your spot. Campgrounds in South Lake Tahoe can be open seasonally.
Below is a list of campgrounds in South Lake Tahoe:
Rest Areas
The name says it all: a normal rest stop is where you'll find one. These can range from two hours to 24 hours in length, making them ideal for a power nap. Always double-check the signposts near the rest area since state regulations may alter at any time.
Truck Stops
Although you may not be inside an 18-wheeler, truck stops are generally safe to sleep in. If there is a sign post, it's worth double-checking for any signs and talking with the shop's owner.
Residential Parking or Apartment Complexes
There are plenty of residential and apartment complexes for you to park your vehicle not only safely but also for free. Always check for signs first to see if there are any parking permits needed to proceed. Some neighborhoods have street sweeper that you'll want to be aware of.
Street Parking
There is street parking on both sides of the road on Hwy. 28, however it is restricted to two hours during peak seasons.
Large Shopping Centers
Sleeping overnight at shopping centers are convenient as they have both food and drinks readily accessible. However, most centers are usually monitored by security.
Below is a list of shopping centers in South Lake Tahoe:
Churches
There are plenty of churches in South Lake Tahoe for you to chose from. Just be sure to check their online hours to leave the parking lots before the start of church.
Below is a list of churches in South Lake Tahoe:
Hotel Parking Lots
Sleeping at hotel parking lots can be a great option to sleep in your car as they expect their guests to be parking overnight. There shouldn't be any red flags, except look to see if there are any parking passes on the other guest cars.
Below is a list of hotels in South Lake Tahoe: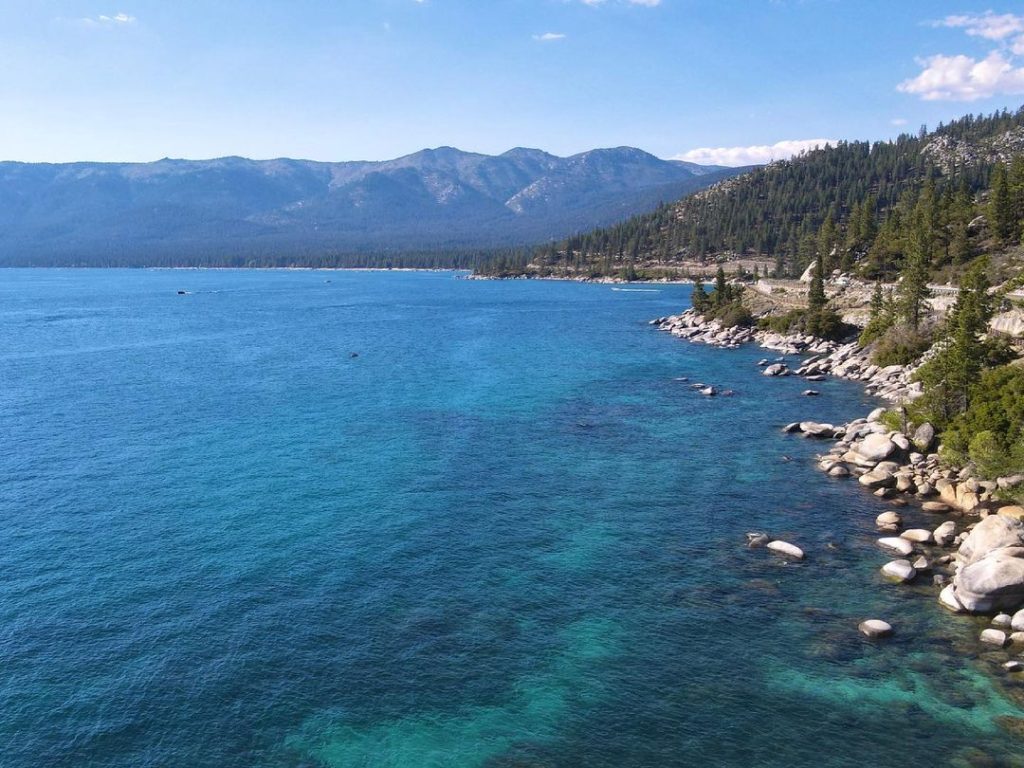 Tips for sleeping in your car in South Lake Tahoe, California
Turn off your lights to be discrete.
Hide your belongings in the trunk of your car if you can.
Use your best judgement to pick the safest parking area.
Pick a parking spot near other cars so that you are not alone.
Frequently change your location. Don't park in the same spot more than a couple of nights.
If it gets hot, crack the window slightly to get some air in.
Park your car late in the evening and leave as early as possible.
Be sure to tint your windows to avoid any passers looking in. This also helps to avoid theft.
Keep your electronic devices charged at all times.
Bring a headlamp or headlight.
Let a family member or friend know of where you will be sleeping.
Do not leave the keys in the ignition but keep the car keys nearby you at all times.
Do not leave your car running for too long. You certainly do not want to wake up and have a dead battery.
What to avoid when sleeping in a car
It's not advisable to sleep in parking lots, view points, along the side of the road, or similar places. There is no dispersed camping in the Lake Tahoe region. And you can't sleep in parking lots— so look into Campgrounds again. You may nap in your automobile on long-distance highways and rest areas in California.
If you've had a few drinks, it's best to avoid your car completely. Keep in mind that even if you don't get behind the wheel, you might still be fined. You might still be over the limit the next morning, or when you wake up. Instead, take a taxi or a bus home and then return to your car when you are certain that you will not drink again.
What to pack for car camping
We advise packing light so that you have more room in the car for comfort. See our list of essentials of what to pack for car camping that will make your trip that much better!
Cooler for snacks, drinks, food. Pack plenty of water!
Paper towels, utensils, plates, cups
Trash bags
Blankets, towels, mattress, mattress topper, pillows
First aid kit
Clothes
Toiletries such as wipes, hair brush, hand sanitizer, toothpaste, toothbrush, deodorant
Here are some car camping extras that you might find enjoyable:
Camera! You'll likely be near Tahoe Lake with plenty of scenery for some candid pictures.
A grill to cook your food, coal, foil
Foldable chairs
A good book to read
Day backpack for hiking
Games
Chargers
Frequently Asked Questions
Why is it legal to sleep in your car?
The most essential thing is to keep yourself from nodding off while driving. According to statistics, as many as one in five significant accidents are caused by a driver falling asleep behind the wheel. If you're weary while driving, take a break. You are encouraged to park somewhere safe and secure and take a quick snooze if you can do so.
Is it illegal to sleep in your car in South Lake Tahoe?
Because of this, it is often unlawful to sleep in your automobile for two reasons. The first is that certain cities attempt to limit the number of homeless people congregating in popular areas. Second – it's not always illegal to sleep in your car just anywhere. It's just against the law to park in a lot of public places for lengthy stretches of time. Be sure to read the signs in that area before you park overnight to sleep.
The most important thing to note is that naps are almost always permitted in these situations. It's when a vehicle is parked for four or more hours that it becomes an issue.
Is it safe to sleep in your car in South Lake Tahoe?
Relatively speaking, yes, it is safe to sleep in your car in South Lake Tahoe. Keep in mind, this is a popular tourist destination year round, so be sure to keep an eye out for all of your belongings and extra food traffic in the area you plan to sleep.
Other articles you might like: