Laguna Beach and San Diego are two very different cities. San Diego is one of the largest cities in the US, while Laguna Beach is much smaller but has a thriving arts community a little more than an hour north of San Diego.
Laguna Beach is best suited for travelers who want to take things slow, and love the arts, while San Diego is much faster-paced and has more attractions than you could hope to visit in two weeks.
How far is San Diego from Laguna Beach? It's about seventy miles south, or an hour's drive. They have similar climates, but the beaches and summertime weather are pretty much alike. So, the weather isn't the dealbreaker between these cities. It's what you want to spend your time.
Laguna Beach is much more than a slower-paced beach town than the larger, faster city of San Diego. They have different characters, prices, crime rates, and overall vibes. But one thing they both share is the gorgeous southern Californian weather and the lovely beach where you can whittle away hours just relaxing.
Big City Vs. Arts and Nature: The Difference Between San Diego and Laguna Beach
San Diego is much larger than Laguna Beach, meaning it has more of everything. More hotels, restaurants, beaches, neighborhoods, and attractions. But that also means more bad stuff, like crime, traffic, scams, and crowds.
And this is where Laguna Beach shines. They pride themselves on the arts and have a thriving art community with dozens of galleries and artists to celebrate. They have excitement with plenty of festivals and restaurants to celebrate, but certainly not as much, which means a slower, more personal experience in San Diego.
So, which one is better is entirely up to personal preference. Laguna Beach has a better art community, more natural surroundings, and plenty of beaches to go around. San Diego has enough attractions to fill two months of vacations, more accommodations on the beach, and famous historic and popular landmarks to see.
But they both have beaches to enjoy, places to explore, and delicious food to eat. They're relatively similar destinations in terms of Southern California, and they both make lovely beach vacations. They both have fantastic weather, great art communities, and plenty of exploring and seeing. Ultimately it comes down to what you want to see and do on your own vacation.
San Diego: Beaches, Museums, and Excitement
If San Diego is known for one thing, it's the beach. The perpetually sunny and warm weather is incredibly fantastic during the summer when the beaches are at their prime. La Jolla, the most popular beach in San Diego, has a full platoon of hotels and restaurants to enjoy. And the city has plenty more where that came from.
San Diego has several different neighborhoods to choose from, some lining the beaches, some not, but no matter where you are, you'll never be too far from the beach. The variety of attractions like the museums and galleries at Balboa Park or the marine show at SeaWorld attracts travelers far and wide. And with travelers come two significant downsides: Crowds and crime.
San Diego has many more visitors than Laguna Beach, and naturally, the more considerable popularity means a higher crime rate, though it has decreased over the last few decades. Nevertheless, it's wise to be cautious and frequent popular attractions early in the morning to avoid trouble.
When you compare Laguna Beach and San Diego, it's clear to see that San Diego has more to do and see. But that doesn't necessarily mean a better vacation. It might be better to book somewhere that has fewer attractions but fewer crowds, especially if you're looking to mainly relax on your vacation.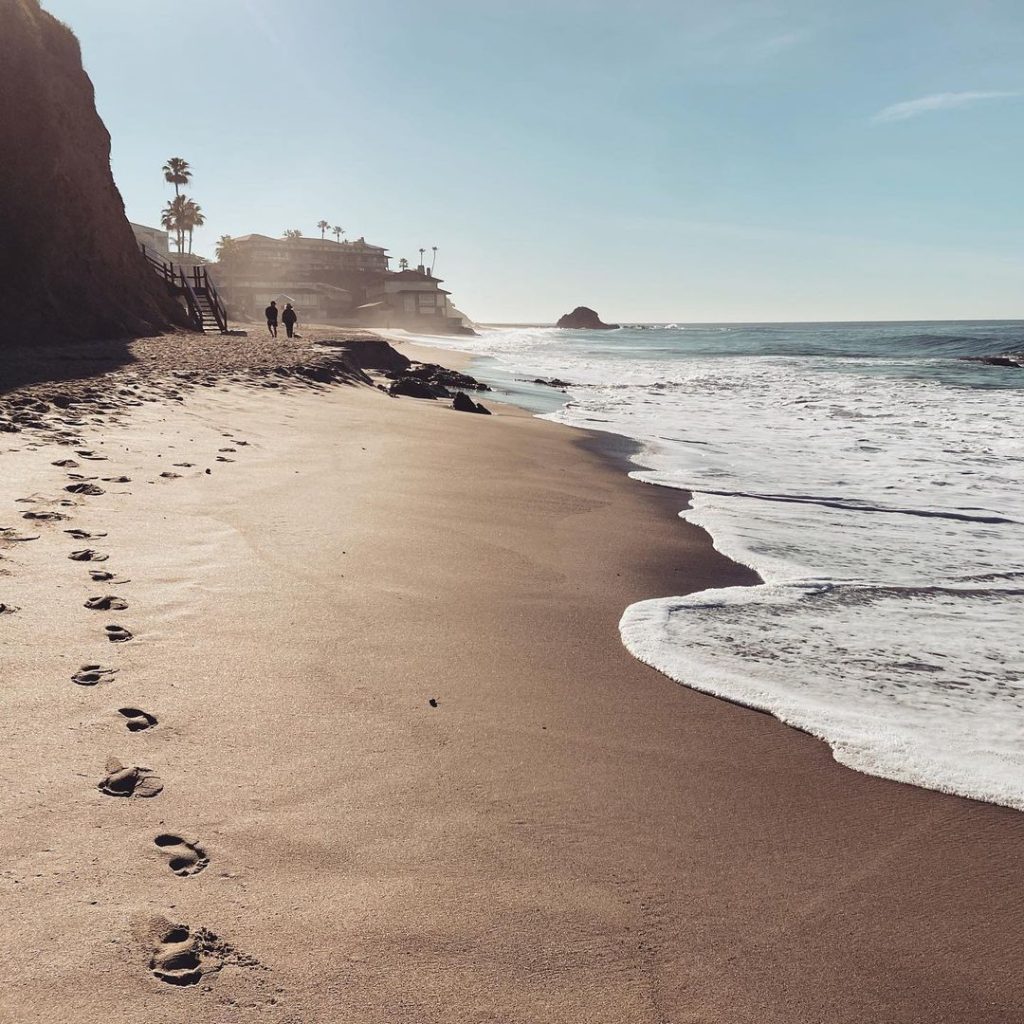 Laguna Beach: Classy, Art, and Nature
Laguna Beach, on the other hand, has fewer residents and visitors than the always bustling San Diego. From San Diego to Laguna Beach is seventy miles, about an hour of driving. It's about 30 miles south of Los Angelos and is easily reached from the highway.
Laguna Beach is not as developed as other seaside Californian towns, meaning there's plenty of nature and trails in the area to enjoy. It's famous for its mountain biking trails, making it a perfect getaway for fans of the sport.
Besides mountain biking, Laguna Beach is known for its art community, and they hold regular festivals and plays celebrating the arts. One glance at the event calendar will tell you how important the artist community is to Laguna Beach, with festivals like Pageant of the Masters alongside the Laguna Festival For Fine Arts.
Art enthusiasts can also enjoy the beautiful and varied coastline, which is dotted with sea caves and coves filled with wildlife from the nearby marine reserve.
However, it's not all sunshine. Laguna Beach is more expensive than San Diego, and there aren't nearly as many attractions. Where you could spend two busy weeks in San Diego, you'll only be able to fill two or three days here.
Once you've explored nature and the arts, there isn't much else to explore, making Laguna Better for shorter weekend trips unless you visit during a festival.
Which Is Better? It's Up to You
Both destinations are a lot of fun, with sunshine, beaches, and attractions to see. It all comes down to where you want to travel and what you want to do on your trip. San Diego vs. Laguna Beach all comes down to what you want. If you mainly want to relax on the beach with a drink while occasionally going out to explore the city, pick Laguna Beach.
If you want to take in the fast-paced city life and hit dozens of attractions on your trip, choose San Diego. They are two very different places you visit for very different reasons. But no matter which you choose, that has the beach, great places to stay, lovely art and sculptures, and fantastic food. So you can't go wrong with either. Both Laguna Beach and San Diego are lovely places to visit for your vacation.
Frequently Asked Questions
Is Laguna Beach worth visiting?
Laguna Beach is one of the most beautiful seaside towns in Southern California. We don't see any reason not to visit.
Laguna Beach was built as an artist's haven, and it maintains its artistic passion to this day, with outstanding art galleries and fun summer arts festivals. You'll discover an excellent beach ambiance in Laguna as well that will keep you busy for the entire weekend.
What is between Laguna Beach and San Diego?
If you're traveling from San Diego to Laguna Beach, we did the legwork for you and came up with some fantastic places to stop on the route including La Jolla, Carlsbad, Temecula, Escondido, Coronado, Dana Point, San Clemente, Oceanside, and Encinitas. Alternatively, popular attractions like Coronado Island and Balboa Park or the ever-popular Coronado Bridge
Is Laguna Beach more expensive than San Diego?
Overall, Laguna Beach is a lot more expensive than San Diego. We are talking more than 100% more expensive than San Diego in every aspect including housing costs. Just to put this into perspective, the median home cost in San Diego is closer to $650,000, while the median home in Laguna Beach is over $2 million.
Other articles you might like: