If you're searching for the best restaurants near USS Midway Museum in San Diego, this list will help you find a variety of cuisines in the area. USS Midway Museum has grown in popularity as a tourist destination when visiting San Diego. If you are considering a trip to San Diego for the USS Midway Museum, it is helpful to know where to go to lunch or dinner upon visiting.
Before scrolling down the list of the restaurants near USS Midway Museum in San Diego, you can check out these other recommendations from our team at Wandering California: Resident-Free Museums in Balboa Park
What is USS Midway Museum?
A trip to San Diego is not complete without a harbor tour. The USS Midway Museum, one of the United States Navy's oldest carriers, is located in the port of San Diego.  There are more than 60 exhibits and 25 restored aircraft on board the aircraft carrier.
The USS Midway was the United States' longest-serving aircraft carrier of the 20th century, from 1945 to 1992. Approximately 200,000 Sailors served aboard the carrier, known for several naval aviation firsts as well as numerous humanitarian missions. It was the only carrier to operate throughout the course of the Cold War and beyond. It is now a museum ship in San Diego, California.
Harbor cruises depart from the bay frequently with scenic seaside excursions for visitors. The "oldest active sailing ship" is housed at the Maritime Museum, which features Harbor Drive restaurants with city views.
USS Midway Museum Details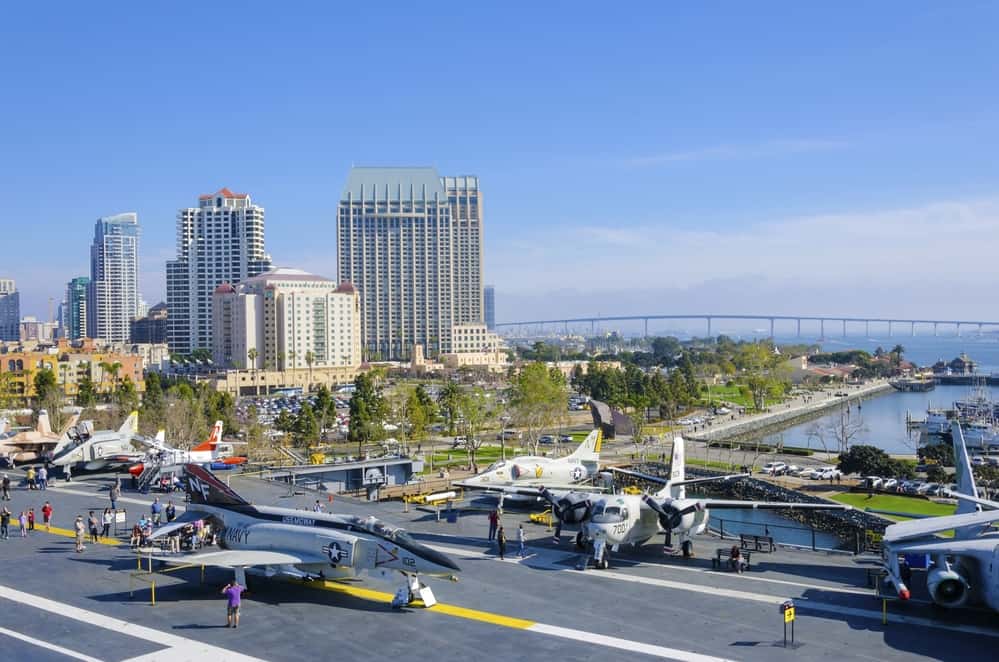 List of Current Exhibits
Hangar Deck Exhibits
Investigate the world's largest aircraft, see restored WWII planes and walk around real cockpits! Experience the breathtaking Battle of Midway Theater, which includes an interactive exhibit.
Flight Deck Exhibits
The Midway Flight Deck is home to over 20 aircraft. The Bridge and the Captains' and Admirals' cabins are on display.
Below Decks Exhibits
Browse the quarters where the crew members lived, worked, and played.  Travel through mess halls, galley, chapel, laundry services, and other areas.
Aircraft Gallery
In addition, Midway has more than 30 restored planes and helicopters on display.
Food around San Diego Aircraft Carrier Museum
After a long day at the USS Midway Museum, head on down to one of these restaurants nearby:
The Fish Market
In 1989, a sports fisherman and his group of business partners built The Fish Market in San Diego with the goal of offering fresh, high-quality fish to customers.  The Fish Market on Harbor Drive is composed of two restaurants: the casual dining area and the Top of the Market, which is located on the main level.
The walls and ceilings are covered in timber paneling. The walls are decorated with black-and-white photographs of anglers fishing and mounted fish. Diners may enjoy views of the San Diego Bay while dining on distinctive meals such as the daily catch special or sushi from the sushi bar.
The Fish Market Details
Website: www.thefishmarket.com
Phone: 619-232-3474
Hours: 11:30 A.M. – 9:00 P.M. (Sunday – Thursday), 11:30 A.M. – 10:00 P.M. (Friday – Saturday)
Distance from USS Midway Museum: 0.1 miles
Cuisine: Seafood, Market
Island Prime
The Island Prime, which is supported by stilts and has views of San Diego's cityscape and Coronado Island, extends into the harbor. The streamlined design of the window-lined restaurant, as well as its high ceilings and wood beams, attracts visitors of all sorts, including families celebrating a special event or couples in search of an intimate atmosphere.
The Indigo Grill's cedar plank roasted salmon is paired with black linguine in a chipotle cream sauce, and a cucumber salad, according to Deborah Scott, head chef. Island Prime is only open for dinner, but the adjacent C-Level bistro serves lunch, dinner, and happy hour.
Island Prime Details
Website: www.cohnrestaurants.com
Phone: 619-298-6802
Hours: Closed (Monday), 5:00 P.M. – 9:00 P.M. (Tuesday – Thursday), 5:00 P.M. – 9:30 P.M. (Friday), 4:00 P.M. – 9:30 P.M. (Saturday), 4:00 P.M. – 9:00 P.M. (Sunday)
Distance from USS Midway Museum: 3 miles
Cuisine: Seafood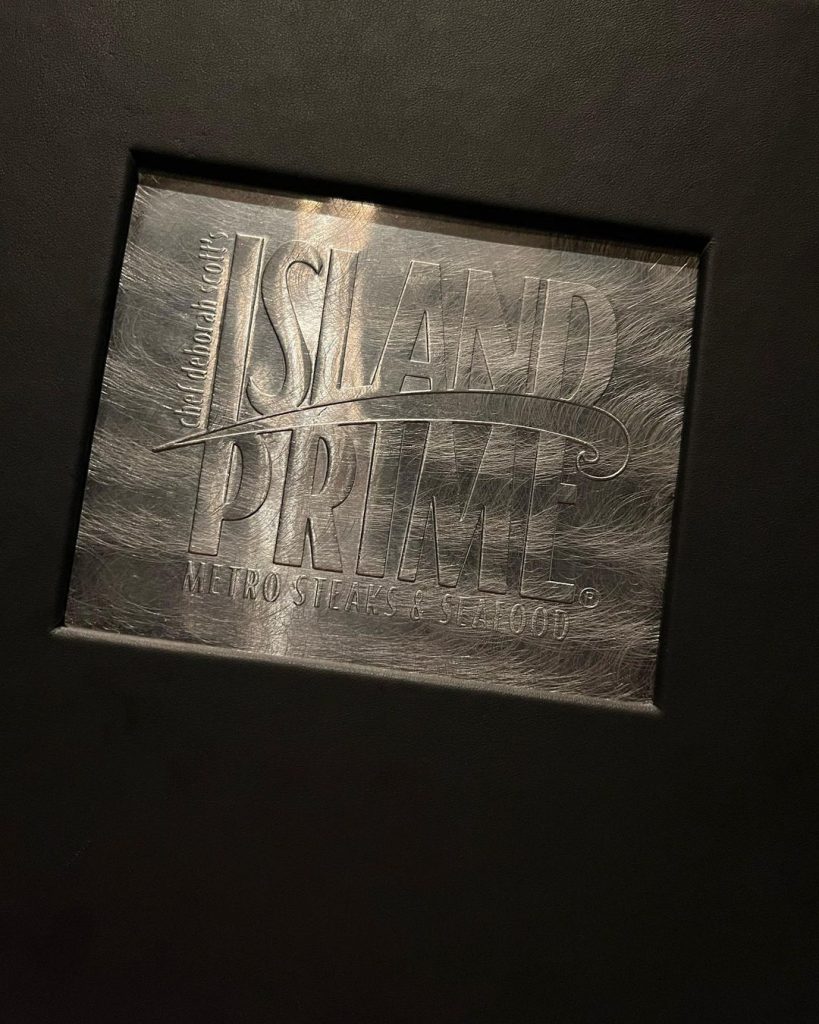 Lael's Restaurant
Lael's buffet is a must-visit during your stay at Manchester Grand Hyatt.  At least once, eat something hearty for breakfast or lunch at Lael's buffet.  You won't even need lunch; you'll likely be so full!  This buffet has everything from a continental-only selection to a full spread with an omelet bar, waffle bar (complete with every sugary topping imaginable!), and plenty of healthy choices including fruit, granola, yogurt, and oats.
Definitely try the pastries and sample the cage-free eggs, as well as bottomless mimosas if you're into that sort of thing.  The staff is courteous and quick with coffee, juices, and anything else ordered, and there are no annoying tricks or gimmicks used by management to drive up business.
Lael's Restaurant Details
Tom Ham's Lighthouse
Tom Ham, the founder of Tom Ham's Lighthouse, opened it in 1971. Beacon #9, a functioning lighthouse, was built into the design of the restaurant.  The California Restaurant Association has dubbed Sunday Champagne Brunch "Best Sunday Brunch" since 1978.
A seafood bar and hot dishes are featured at the brunch, as well as an omelet station.  Fresh seafood is available for lunch and dinner.  For special events with a view of San Diego Bay, there are two banquet rooms and catering staff on site. Why not go for the amazing views!
Tom Ham's Lighthouse Details
Website: www.tomhamslighthouse.com
Phone: 619-291-9110
Hours: 11:30 A.M. – 9:00 P.M. (Sunday – Thursday), 11:30 A.M. – 10:00 P.M (Friday – Saturday), 9:30 A.M. – 2:00 P.M, 2:30 P.M. – 9:00 P.M. (Sunday)
Distance from USS Midway Museum: 0.8 miles
Cuisine: Breakfast, Brunch
Cafe21 Gaslamp
Prepare to have a unique Cafe 21 experience, with fantastic cuisine and beverages, as well as a great company and lovely ambiance, all part of the Cafe21 way.  Their concept is small plates so that guests may try different tastes and flavors.  Everything from their style of service to spices and methods is an authentic representation of Azerbaijani culture.
Prepare to be amazed by Nature's Kitchen, the renowned and most inventive Chef Leyla's culinary vision.
Cafe21 Details
The Lion's Share
The Lion's Share, which was founded in 2011, is a one-of-a-kind, eclectic, and comfortable experience with no airs. You'll have the chance to do more than compete in a staring contest with one of our undefeated mounted antelope at The Lion's Share, where you may dine or drink.
Venture into the wild with popular dishes like antelope sliders, our game sausage board, or bison tartare. Indulge further by pairing these with one of our 40 craft cocktails or a variety of beers, wines, and spirits.
The Lion's Share Details
Website: www.lionssharedsd.com
Phone: 619-564-6924
Hours: Closed (Monday), 4:00 P.M. – 2:00 A.M. (Tuesday – Sunday)
Distance from USS Midway Museum: 0.6 miles
Cuisine: American, Lounge
Vistal Bar + Restaurant
First established in 2018, Executive Chef Franck Tasic and Executive Chef Todd Bencivenni, with a focus on locally sourced ingredients, create new interpretations of coastal Southern California classics; and with panoramic views of the bay, you'll get a fresh perspective on genuine San Diego.
Vistal Bar + Restaurant Details
Website: www.vistalsd.com
Phone: 619-535-0485
Hours: 7:00 A.M. – 11:00 P.M. (Daily)
Distance from USS Midway Museum: 0.4 miles
Cuisine: Seafood, Cocktail Bar, American
Hazelwoods on the Bay
Located in the Beautiful San Diego Bay, the cafe and deli serves healthy, fresh foods with the highest quality ingredients.  They serve breakfast, lunch, and dinner as well as a wide range of beer, wines, and Margaritas.  Any dietary restrictions?  No problem.  Choose from numerous vegetarian, vegan, and even gluten-free options.
You may eat your delicious meals indoors or on our outdoor patio where you can enjoy the view of the Bay.
Hazelwoods on the Bay Details
Website: www.hazelwoodsonthebay.net
Phone: 619-231-9866
Hours: 6: A.M. – 8:00 P.M. (Daily)
Distance from USS Midway Museum: 0.4 miles
Cuisine: Deli, Cafe
Conclusion for Restaurants near USS Midway Museum in San Diego
For foodies, what you consume may be just as essential as what you do on your vacation. The culinary community in San Diego understands and meets this need. Although tacos and burritos are delicious, the culinary scene is much more than that. The city has a plethora of creative fusion dishes, traditional cuisine, trend-forward chefs, artisan creations, and farmers' markets.
If you are in the area visiting USS Midway Museum in San Diego, check out these restaurants or cafes on your way there or after!
Other articles you might like: