I'm sure I'm not the only one who likes taking car pictures in front of scenic backdrops near historical places like Long Beach. Long Beach, California is a lovely spot to set up shop, take in the sunlight, enjoy the view, and get some amazing car photos.
In fact, Long Beach may be one of the best places to take car photography and make the best memories. There are a lot of places you can explore to take some nice pictures in front of your hot rod that will look nice in your photo album.
By the end of this article, you'll have a good idea of how to find Instagram-worthy car photography places all by yourself. We'll also inform you of some sites that will give you top-tier car pictures in Long Beach, California.
The Queen Mary
The Queen Mary has been a historic site since it first set sail from the English mainland, making it a premier car photoshoot location. The Queen Mary area is known for many things, including:
Fine restaurants
Scenic backdrop
Fantastic weddings
A glorious hotel
Tourists flock there whenever they visit Long Beach, California, and can't help but take memorable photos. Who can blame them? Queen Mary is home to one of the most glorious backdrops in California, especially if the picture includes a smoking hot car.
At the address of 435 Shoreline Village Drive, you will be able to find a great angle of The Queen Mary as your glistening vehicle shines in the foreground. Your followers on Instagram will see the photo as a #Winning moment.
 If you're lucky, you'll be able to reorient your car and get a pic of yourself in front of fancy yachts (you can pretend one of them is yours). Who knows, you may even be able to ask someone for a ride on their expensive boat.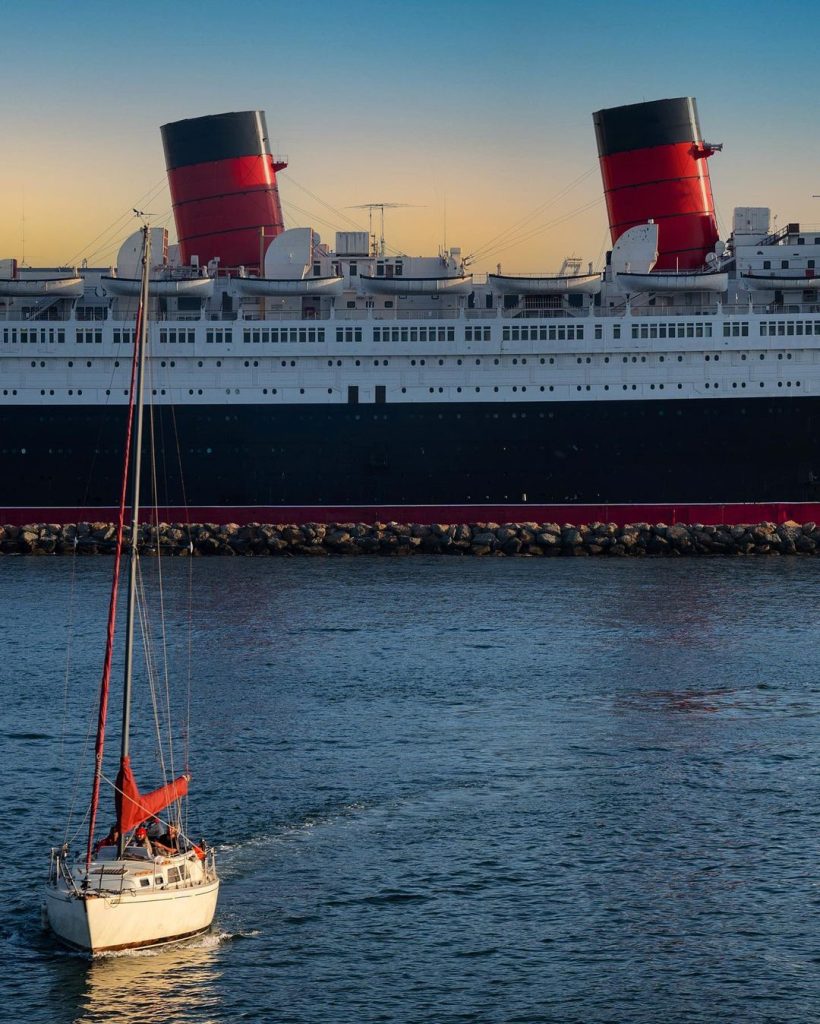 The Long Beach Airport
The Long Beach Airport is home to many private jets and commercial airplanes. The space was officially inaugurated in 1919 when Earl Daugherty opened a 20-acre field for flight training.
Not long after it opened, the famous female pilot, Amelia Earhart, took an interest in flying. Earhart led a luxurious career, reading many women towards a life of aviation before her untimely disappearance in 1937.
Today, that location is a thriving airport that shelters the commercial and private jets watching down on Californian soil. Taking your car to 2813 Wardlow road will give you a chance to photograph yourself in front of one of those glorious birds. Remember to always be mindful of the security personnel.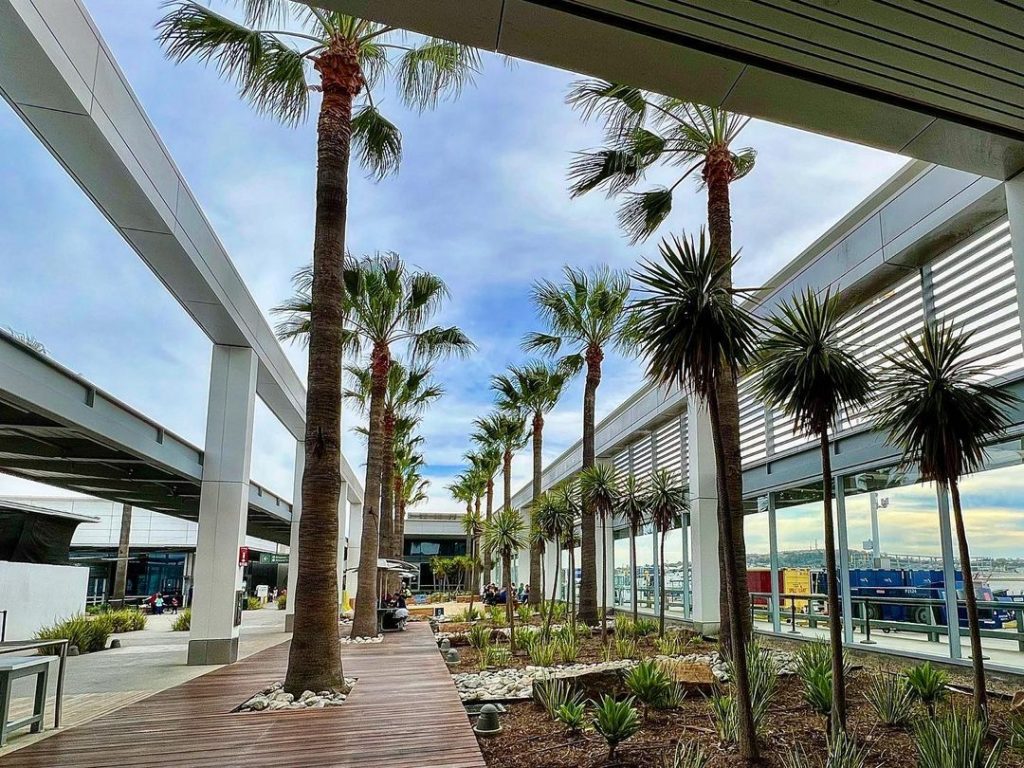 Long Beach Pike Outlets
The Long Beach Pike Outlets in downtown Long Beach is a central shopping hub for every fashionista and clothing savant. It has dozens of outdoor shops, cinemas, and clubs that will keep you busy for hours after you take a nice picture of the neighbor in high-rises.
Since 1902, the Pike Outlets have been supplying tourists and locals with a place to find their favorite food, clothes, and entertainment. You will also be able to find a great Ferris wheel and a heart-throbbing roller coaster in the same vicinity.
In the parking structures close to the Pike Outlets, a picture is ready to be taken and posted to Instagram. Finding the place on 65 South Cedar Ave and climbing to the top will give you the best high-rise backdrop Long Beach offers.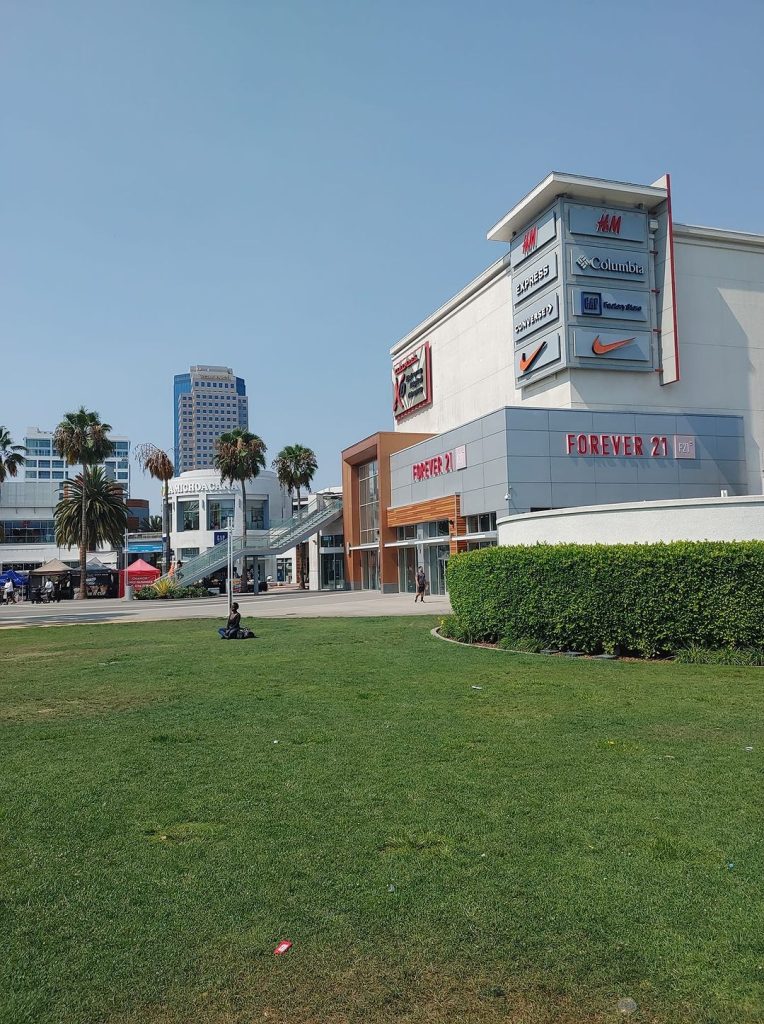 Long Beach Skyline
The Long Beach Skyline is one of the most beautiful scenes in the country. You will have all of Long Beach's impressive skyscrapers, palm trees, and shoreline to complement your car. We can't forget to mention the beautiful water!
The erection of tall hotel suites and cozy office buildings fills Long Beach's extensive history. The hotel's increase is partly due to its well-known reputation as a major hotspot for sightseers. People can't wait to stay there and enjoy the fabulous weather and sandy beaches.
However, you're not reading this article because you want a stay at a comforting homely high-rise. You want to get your car in front of those picturesque buildings and take a breathtaking photo.
Earlier in the article, we told you of a spot across from the Queen Mary, but now, you're going to get up close and personal.
Right next to the Queen Mary is their restaurant parking lot at 1126 Queens Highway, giving you the ultimate Long Beach skyline backdrop.
If you are inclined, you can also take an even closer picture with your car next to the Queen Mary, assuming the parking lot isn't too crowded.
Long Beach Beach Front
Rosies Dog Park Is the best spot to take car photography when you want a sandy beach in your background. You don't have to get on the sand to take a top-notch photo.
Rosie's dog park has been open since 2003, and there are no fences to get in your way as you try to find the perfect car photoshoot locations. A little fun fact about this park: it is not a dedicated dog park despite its name.
Now, for some fantastic photos with the ocean in the background, head over to 5000 E Ocean Boulevard and pop a squat on the sidewalk right before you touch the sand. You'll be able to get the ocean with all its glory as your car sparkles in front of it.
Conclusion For Best Places To Take Car Pictures in Long Beach
These are the five top locations for the best car pictures in Long Beach. If you follow our tips for car photography, you will create some of the most iconic photos that will last a lifetime.
The best part is that these locations are not far, so you will get most of these photos taken in roughly three or four hours. So what are you waiting for?
Get over the long beach with your all-black Dodge Charger or ruby-red Ferrari and take some of the best car photography at these pristine locations. Make sure you post those pics on social media for everyone to see!
Other articles you might like: